Looking for complete information regarding Android 13 new features?
If yes, keep reading this article to the very end to find out everything you wanted to know about Android 13 new features.
Google released Android 12 last year and it was a major update to the most popular mobile operating system in the world. While not with a major upgrade, Android 13 for Pixel phones is now out and brings with it a slew of new user-facing features and functionalities that you should familiarize yourself with.
Android 12 was a massive upgrade last year, while Android 13 is more incremental. The updates are to improve Material You along with the rest of the greatest mobile OS out there.
There have been more than 50 improvements and new features for users this year, but we've narrowed them down to 10.
The highlights of Android 13 new features are as follows:
1. Vibration mode fine-tuning
With Android 13, the Sounds and vibration menu has been revamped to allow for more customization of vibrations. Three new menu options, "Calls," "Notifications and alarms," and "Interactive haptics," have been introduced by Google.
Pixel is the first Android device—outside of Gboard—that allows you to customize the intensity of vibration feedback for each notification category. The function of the linear bar is analogous to that of a volume slider.
In addition, there is a handy new switch that, if you don't answer your phone immediately away, will cause it to vibrate before turning on the ringtone. However, your device must have sound turned on for this to operate.
It is convenient to be able to turn off alarm vibrations from this option. In addition, a new switch allows you to activate vibration for any interactive media. Haptics is utilized with speakers to give media additional "oomph," but just a handful of applications now support the capability.
2. Brand-new photo picker
Not only does this help with privacy, but it also looks better. The new picker slides in from the bottom of the screen and is docked when a picture is added to an app. Images are organized in a way that makes it simple to browse and choose the ones you want.
Android 13's new photo picker is a standout addition because of the privacy it provides to users' local data. Since the new picker only gives applications access to the photographs you grant them access to, it looks far nicer than the previous, functional pop-up panel.
3. Combined security & privacy menu
At IO 2022, Google announced its plans to roll out a new unified "Security & Privacy" menu later this year. Instead of using several drop-down menus and tabs, this centralized hub consolidates all of your device and account settings into a single, streamlined interface.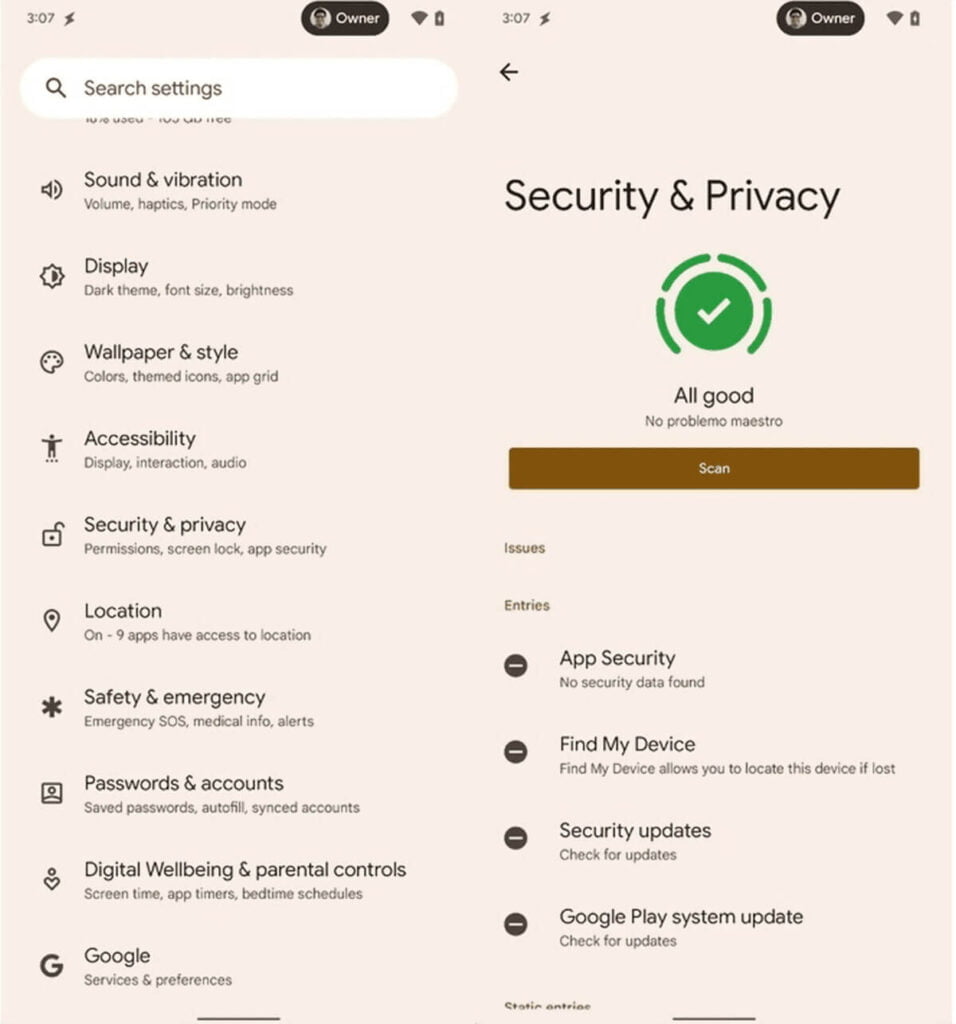 Color-coded security status indications and removal reminders for programs with questionable or even hazardous histories are particularly notable features. Those who aren't familiar with data breaches or the signs of a hacked account might benefit from this. Enhancing the safety of your mobile interactions.
4. New QS tiles
In Android 13, Google included a much-needed QR code reader and a new tile for accessing the convenient One-handed mode. The latter can read any kind of QR code because it is powered by Google Lens. It's time-consuming to open Google Lens before scanning, but this feature works from everywhere on Android.
In addition to being a significant time saving, being able to toggle One-handed mode on and off without entering the Settings menu is also quite convenient. This means you can turn off Reachability whenever you need it, regardless of where you are in your device's ecosystem.
5. More accessible Power and Settings notification panel shortcuts
We cannot emphasize how helpful is the Quick Settings panel's Power and Settings shortcut buttons, particularly helpful when using a huge display.
Android 13 includes new accessibility features. The Quick Settings panel's Power and Settings shortcut buttons are now located in the panel's far right corner. This removes the need to reach up to two key places, and it also helps to declutter the primary notification panel.
6. Improved media player
The Android 13 media player has undergone a significant overhaul. There is a limit to how much Google can improve this part of Android, but the most recent updates have made it not just more practical, but also more aesthetically pleasing.
The redesigned media player is perhaps the most notable new feature in Android 13. Google has updated the media player so that it better matches the theme and iconography of Material You, and they have also reinstated certain features that made the player even more useful.
Play/pause track controls have been relocated to the right of the mini player, and a playback progress bar has been reinstated.
Depending on what you're playing or viewing, contextual app buttons will pop up, allowing you to do things like shuffle or fast forward. A further nod to the past is the inclusion of album art player theming in Android 13.
No matter what you're seeing (including videos), the mini player will be themed in the colors from the album cover.
7. Per-app language controls
One of the best new features in Android 13 is the option to change the language and/or location of individual apps without impacting the rest of the device. This is a convenient option to have if you are learning a new language or if you already speak more than one dialect.
8. Ability to pause app activity if unused
We believe one of the best new features in Android 13 is the ability to terminate or disable malicious applications that are draining your power or operating in the background. The number of background applications will be shown in a new area of the enlarged Quick Settings panel.
When you tap, a little floating window will appear with information about the currently active applications. Apps like Google Fit and Samsung Health, as well as others that rely on monitoring or the device's resources, fall into this category.
Some programs, though, maybe work in the background without your knowledge. If you don't want them running, you can simply enter the settings menu and choose "Force stop."
9. High battery usage notification in the Settings section
The "Higher battery utilization" warning in Android 13's Battery menu is a useful addition, albeit it could use more emphasis. By doing so, you may determine which programs are draining your internal resources and perhaps shortening your life expectancy, even at light use levels.
When you tap this notification, you'll see which of your apps is using the most battery. There's a warning that you "may run out sooner than" the battery would ordinarily on the pop-up panel. If you want to deactivate or force-stop any of these applications, you'll have to go into the advanced battery options.
10. Better and smoother animations
When paired with all of the other animation improvements, the new fade-in unlock motion when opening or unlocking your Pixel is quite welcome and makes Android 13 seem like silk, even when compared to Android 12. When you open your device now, the Pixel Launcher home screen will gradually fade and zoom in to reveal all of your applications.
The "buttery" smoothness that has become associated with Google's pristine take on Android is the consequence of increased animation softening.
What are your top Android 13 new features?
Do you have the latest stable version of Android 13? Tell us about your experience if you have upgraded to Android 13 and what you think are the most notable new features. Describe it in the comments section below.