According to 9to5Google, an update to Google Messages for Android allows it to correctly show emoji reactions made from the iPhone's Messages app. The update resolves a long-standing issue that arises when users of Apple's iMessage service talk with pals on Android using the Messages app. Previously, when an iPhone user used an emoji to respond to an Android user's message, it showed as a distinct text message when received on Android, causing confusion and a lot of unwanted clutter.
However, after the upgrade, the communication flow is much simpler. 9to5Google screenshots illustrate how the emoji replies appear connected to the intended text. As though delivered by another Google Messages user. When you tap an emoji reaction, a window appears stating that it has been "Translated from iPhone."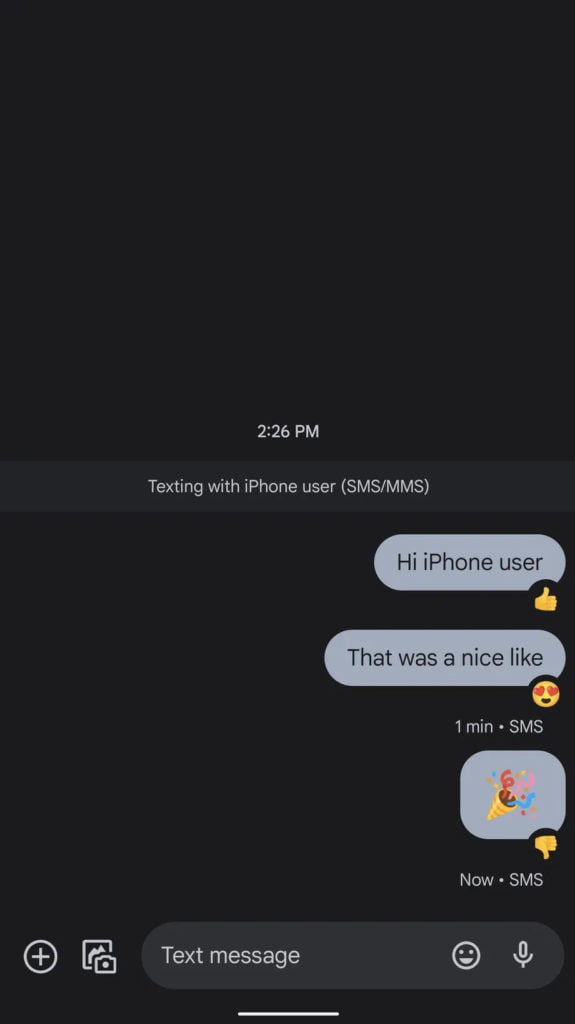 Emoji reply visibility on Android and iPhone:
Surprisingly, sometimes emoji replies made from the iPhone appear as different emoji on Android. On Android, for example, the heart emoji will appear as heart-eyes.
The functionality does not appear to have been extensively disseminated out yet, even for users of the most recent beta version of the Google Messages app – we attempted but were unable to force the emoji replies to display in our own testing. However, when it does arrive, it will eliminate a minor stumbling block in iPhone-to-Android communication, even if it is still a long way from enabling iMessage natively on Android.
Also Read:
1. Google Messages is trying to add a feature to highlight unread messages.
2. Google Messages To Automatically Delete Your Old OTPs SMS.
3. Google To Roll Out Messages end-to-end encryption for RCS Chat Soon.
4. Google Pixel phones will support WhatsApp's iOS to Android chat transfer feature.
5. Google Assistant Driving Mode Finally Gets Its Home Screen Makeover.