As the popularity of electric cars grows, two big problems arise. The first consideration is, of course, the price. However, locating EV charging stations is another major issue for many customers today, but Google's Waze app will soon help with that process.
Waze is launching a campaign with Volkswagen this week. That will offer the option for the Waze app to highlight EV charging locations in the United States. The Waze app can now display EV charging stations for the first time. Drivers using the Waze app will be able to view and add stations along their current route.
This capability is accessible beginning today, although it is not yet operational as far as we can tell. Waze's Head of Industry Jeffrey Kohl made the announcement in a statement.
"This is an incredibly exciting moment for Waze as Volkswagen brings electric vehicle (EV) charging stations to our map for the first time ahead of a very busy holiday travel period. Volkswagen is helping to shape what EV looks like on the Waze map and we're looking forward to highlighting the breadth of EV stations available across the US, especially as more automotive brands move towards an electric future."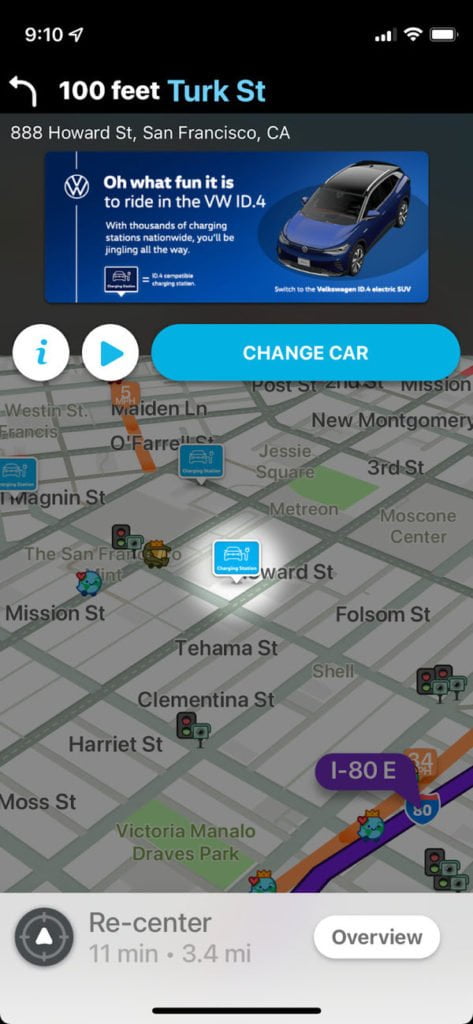 Waze is also enabling users to change their car symbol within the app to the Volkswagen ID.4 EV to commemorate the relationship.
Google Maps, for example, was the first to include support for displaying EV charging stations in 2019, replete with real-time availability statistics.
Also Read:
1. Android Auto Receives Support For Gaia, An Off-road Mapping Service.
2. New Apple Maps Feature Will Let Users Know About Accidents, Hazards.
3. Google To Add A Dedicated Car Mode UI To Google Maps.
4. Facebook SDK Causing Apps On iPhones To Crash.
5. iPhone users will soon be able to use Google Maps in dark mode.