According to recent reports, some Roku smart TV users came across ad banners displayed over live content.
Here is the image shared by the users that reported the issue: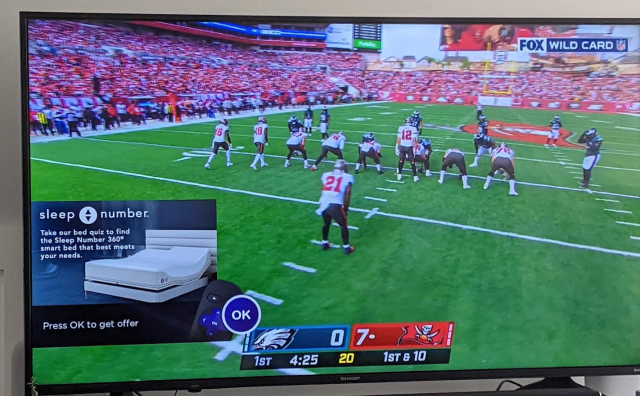 It can be clearly seen from the image that there is an ad for a bed over a live sports broadcast.
Ad Banners Doesn't Appear Everywhere
What's more, it is important to note that these ad banners don't appear on Roku's own hardware, including Roku Ultra, Express, Streambar, or Streaming Stick. As of now, it is appearing on smart TVs running on the Roku TV platform. Plus, it might be limited to certain brands, including Sharp. Moreover, some TCL Roku TV owners revealed that they haven't seen any ads.
Also Read: Samsung Galaxy S22 Ultra Peak Brightness Levels Are Better Than iPhone 13 Pro Max.
Anyways, users have also mentioned that it is possible to disable the feature in privacy settings. However, it also means that you will also need to disable Roku features too.
It is worth noting that Roku is not the only platform adding ads to content. We have already seen reports suggesting Samsung TV displaying ads. Plus, we haven't noticed ads appearing on live content on webOS TVs from LG. However, they are displayed on other parts of the TV's software. In addition to that, few of these TV platforms even collect and monetize user data.
It is not a surprise that Smart TV platforms offer convenience to the users but at a cost. For instance, if one platform is offering you service for free, it has to find ways to earn money. They do it by showing ads, monetizing user data, or both. Plus, the profits are not that high in the case of TVs, and supporting software and providing updates is costly. Hence, TV makers have to find other ways to earn profit.
Also Read: Xiaomi 11T Pro Hyperphone Might Arrive in India This Month.