The YouTube TV app for smart TVs has been experiencing problems all across the world. Many smart TV users have reported that the Youtube TV App service has frozen. This problem appears to be impacting folks across several platforms.
Users of smart TVs from several brands have experienced issues with the YouTube TV app service, according to a 9To5Google article. The platform as well as the material being broadcast are affected by the freezing problem. Exiting the program and restarting it from the home menu provides a temporary workaround for the problem.
According to the report, the problem initially appeared a few days after the Roku update. This problem now affects a wide range of streaming devices, including Roku, Fire TV, Chromecast, Apple TV, Nvidia Shield, and others. Additionally, the issue has affected gaming consoles from the PlayStation and Xbox platforms although the freezing glitch has not affected users of smartphones and tablets. Notably, the problem originally appeared on Roku devices, with a popular workaround requiring users to uninstall and reload the TV software. Unfortunately, because the TV app has been inaccessible on the Roku Channel Store for months, this may not be feasible.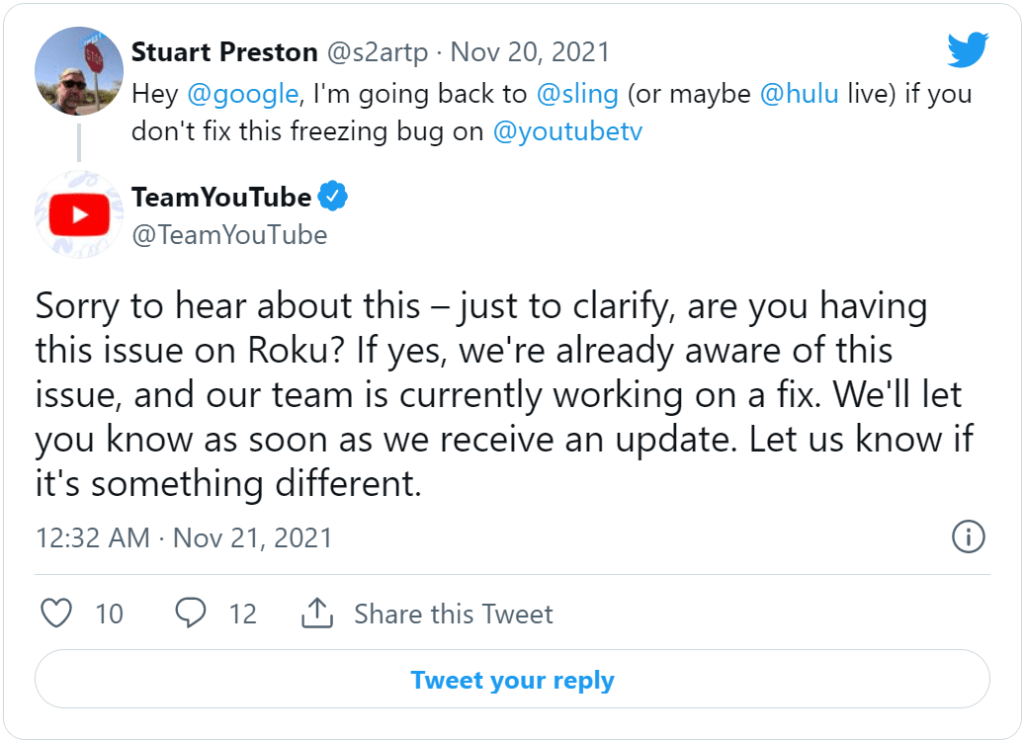 However, while Google provided a smart solution in the normal YouTube app, the company's core service is due to be withdrawn from Roku next month as the two businesses continue to quarrel.
Also Read:
1. Next month, YouTube will start demonetizing 'low-quality' children's videos.
2. YouTube Adding New Features Including Livestream Captions To All Creators.
3. YouTube 'Premium Lite' membership provides ad-free watching for a reduced price.
4. YouTube Shorts, Google's TikTok competitor, is now available globally.
5. YouTube TV Rolled Out A New 4K Add-on For $20.