Apple vs Android is a pretty deep topic and is also interesting enough to have a healthy debate on. One of the main aspects of this topic is performance, which directly depends upon the SoC of the smartphone. As we all know, Apple uses its SoC chips in its iPhones and iPads and has also started doing the same with its Macbooks. But Android smartphones rely on Qualcomm for the best possible performance in their flagship smartphones. Hence, Apple chips vs Qualcomm's Snapdragon chips have been another major topic of discussion quite a long time, where Apple has been leading ever since the beginning. But the Android users like me expect Qualcomm's Snapdragon chips to match the Apple chip in performance every time they launched a new flagship SoC.
That expectation has got a new face this year and, it is in the form of Snapdragon 888 vs Apple A14 Bionic. In this specific article, we are going to talk about this and, we will find out whether Qualcomm has succeeded in matching our expectations or not. Overall, this article will give you a good idea about where Qualcomm's new Snapdragon 888 flagship stand against Apple A14 this year? So, let's get started.
Also Read: Confused About Which One To Choose Among Laptop and Desktop? This Guide will Help You.
Apple A14 Bionic VS Snapdragon 888
Snapdragon 888
A14 Bionic
CPU
Kryo 680, 8-core CPU
Apple 6-core CPU
CPU Cores
1x 2.84GHz (Cortex-X1)
3x 2.4GHz (Cortex A78)
4x 1.8GHz (Cortex A55)
2x 3.0GHz (Firestorm)
4x 1.8GHz (Icestorm)
Fabrication
Samsung's 5nm
TSMC's 5nm
GPU
Adreno 660
Apple 4-core GPU
Machine Learning and AI
6th-gen AI Engine + Hexagon 780 DSP
26TOPS
16-core Neural Engine
11TOPS
ISP
Spectra 580 Triple 14-bit ISP
Apple-designed ISP
Camera Capability
Spectra 580
Up to 200 MP; 28 MP triple camera with Zero
Shutter Lag;
N/A
Video Capability
8K @ 30 FPS, 4K HDR Dolby @ 60FPS, 720p @ 960FPS
4K HDR Dolby @ 60FPS
Charging
Quick Charge 5 (100W+)
Fast Charging
Modem
Qualcomm X60 5G Modem
7.5 Gbps Peak D/L and 3 Gbps Peak U/L
Qualcomm X55 5G Modem
7.0 Gbps Peak D/L and 3 Gbps Peak U/L
WiFi Support
Wi-Fi 6E-ready
Wi-Fi 6-ready
The 5nm Fabrication
TSMC and Samsung are the two most popular fabrication companies. The next bleeding edge and energy efficient lithography is the 5nm fabrication. And there is nothing to doubt as both the SoC has adopted this substantial change. Both Snapdragon 888 and Apple A14 Bionic SoCs are built over the new 5nm lithography.
Hence, both the Snapdragon and Apple chips could not be more different in the inner core design. Regardless of the fact that Apple uses TSMC's 5nm fabrication and Qualcomm has given this responsibility to Samsung, the design efficiency will be very similar.
CPU & GPU Improvements
This time Qualcomm has taken some serious calls in the CPU and GPU hardware. As for the CPU, the Snapdragon 888 comes with eight cores that are based on three different ARM micro-architecture. Qualcomm calls it the Kryo 680 CPU.
Moreover, the CPU comprises one highest performing Cortex-X1 core, which is designed to deliver an extreme level of power with a little compromise on efficiency. The next 3-cores are based on the Cortex-A78 IP design that provides a minute performance upgrade over the A77 but has gone up further in maintaining efficiency while processing. And rest of the 4-cores are based on the Cortex-A55 efficient design for handling light tasks.
On the contrary, the Apple A14 has gone with the 6-core CPU design. In this CPU design, Apple has used its in-house designed cores in a 2+4 distribution manner. The two performance cores are called the Firestorm cores and, the rest of the 4-efficiency cores are call the Icestorm core. These cores provide a clock speed of 3.0GHz and 1.8GHz respectively.
Furthermore, Apple had always been one generation ahead in 64bit CPU design as Apple was the first one to introduce the world's first 64bit mobile SoC back in 2013. And after one year of that, companies like Qualcomm also shifted from 32bit to 64bit. Hence Apple has always been leading in the single-core CPU performance.
This time Apple has claimed a 21% of performance boost over the A13. Meanwhile, Qualcomm has also gained a 25% improvement in its Snapdragon 888 over its predecessor. Hence, Apple has got success in maintaining the lead. But it's also worth noticing that the performance gap b/w Apple and Qualcomm has been decreased to a good amount. But this performance gap is unnoticeable in the real-life performance in most of the apps loading, opening, and processing time.
And as per GPU and Gaming is concerned, the call is even much closer. The Apple A14 4-core GPU has an 8% performance improvement over the Apple A13 Bionic. Hence you can expect a pretty similar gaming performance in both.
On the other hand, the Snapdragon 888 comes with the new Adreno 660 GPU. And as per Qualcomm, the SD 888 has a 35% boost in graphics performance over its predecessor. Hence in the Gaming performance, the gap is even much smaller and is even more un-noticeable in practical usage.
Also Read: Planning To Build Your Gaming PC? Follow Our Gaming PC Build Guide.
The Benchmarks
Qualcomm has just announced its benchmark score taken on a reference smartphone device running the Qualcomm Snapdragon 888 SoC. Though the actual commercial device is a bit far from market reach as of now but we can definitely have a look at the early benchmark comparison.
Starting the benchmarks from the GFXBench, AnandTech compiled the GFXBench benchmark data for the chips and found that Apple A14 is leading with a significant amount. In the benchmarks, the A14 Bionic had sustained 77 FPS performance with 102FPS being the peak performance. Whereas in the same test, the SD 888 gave 86FPS of peak performance from the reference device.
The compiled GFXBench data also included the Apple A13 Bionic, SD 865, and Kirin 9000. The A13 was at 2nd place, outperforming the Snapdragon 888 followed by the Kirin 9000 and the Snapdragon 865. Hence, the SD 888 chip is a lot improved from its predecessor but is a quite low performing than the A14 Bionic. But as per AnandTech, the sustained performance will depend on the amount of power supplied to the chip. And hence that is a scope of improvement as it's just a reference device.
Moving on to the Geekbench Benchmarks, the Apple A14 is again in the lead. The Single and multi-core scores for the A14 are 1603 and, 4187 respectively. On the other hand, the SD 888 has become the first-ever android chip to cross 1000 points in the single-core score. It has scored 1135 and 3794 points in single and multi-core scores respectively.
The single-core performance gap is much higher as compared to the multi-core. Even the A13 chip has a better single-core score than the SD 888. This completely justifies the domination of Apple chips in the single-core performance.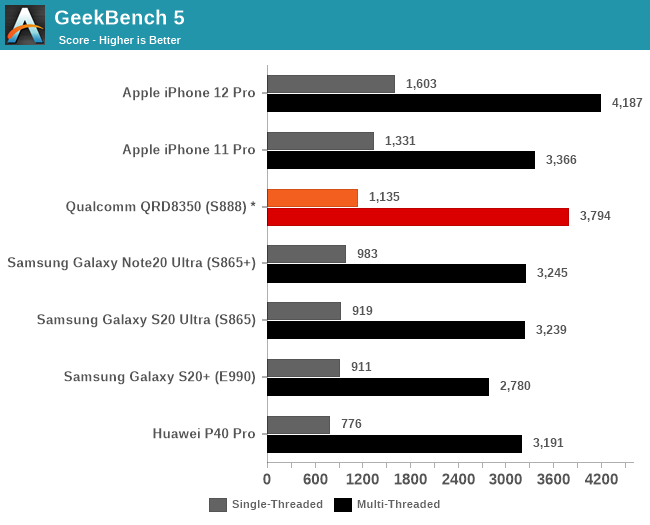 Other Aspects of being a Better Chip
Apart from CPU & GPU performance, things like image processing, memory speeds, AI hardware, etc. are also really very important. Such things are playing a very crucial role in making the present smartphone stand out from what they were used to be in the past.
The LPDDR5 RAM support is one such thing. The SD 888 has the support to handle the LPDDR5 RAM on a smartphone whereas the A14 is still on the LPDDR4X memory. This could be a big thing to notice as the new LPDDR5 RAM is faster and 30% more power-efficient.
The AI & Machine learning capabilities of a smartphone are also getting a lot of importance from tech geeks. But many of the companies are just marketing high TOPS (Trillion Operations Per Second) value that their chips can achieve. But I wouldn't recommend you to just go with these heavy numeric values. At present, it is very difficult to find out the actual AI performance as there is no specific standard to measure this. And in the case of Android v/s iOS, the scenario gets even more complicated and unclear. But what I can clearly say is that every company is improving its AI department and the chips are now a lot capable than they were ever before.
Talking about the A14 Bionic, the chip has boosted the AI performance to 11TOPS which, was just 6TOPS in the A13. It is a clear-cut boost of 83% in the AI performance, which is a huge leap in just one generation gap. The Qualcomm Snapdragon 888 is also nowhere compromising in this silicon block. The SD 888 has an eye-watering 26TOPS of compute, which is a 73% boost from the SD 865's 15TOPS.
The camera department is one of those segments, where the smartphone has seen a lot of improvements both from the software as well as in the hardware front. The chips themselves are capable than ever to handle the heavy image data. This has opened new doors of possibilities to mobile photography. Things like 8k video recording, HDR & high fps video shooting, all can be done with just a palm-sized smartphone. Let's see what the Apple A14 and SD 888 chips are providing in this department.
With the Snapdragon 888, Qualcomm has adopted the new triple ISP design and can now process triple camera data simultaneously. This has also improved the HDR capabilities, making SD 888 to support multi-exposure HDR video, enhanced noise reduction, and object segmentation. The support for 10-bit HEIF images is now here which was limited to just videos. On the other hand, the A14 has introduced the new ProRAW editing and Dolby Vision video capture at 60fps along with a significant boost to the image processing power.
5G Connectivity is better in Android
5G is another one of the main aspects of a high-end smartphone. 2021 is going to play big in terms of 5G and, the current iPhones with the A14 Bionic are not as good as what SD 888 is offering. For 5G connectivity, Apple itself is reliable on Qualcomm and has provided a separate Qualcomm X55 5G multimode modem. Now, this is the 2nd gen 5G mobile modem made by Qualcomm and was provided with the SD 865 and 865 Plus separately for 5g connectivity.
Further, the Snapdragon 888 has been integrated with the latest 3rd Gen Qualcomm X60 5G modem. Moreover, this modem brings some enhancements over its predecessor like VoNR (Voice Over New Radio), enhanced carrier aggregation across mmWave, and Sub-6GHz 5G networks. This modem can communicate via both Sub-6GHz and mmWave 5G simultaneously. All in all, Qualcomm is providing a better and much more futureproofed 5G tech, which is nice to have as 5G is going to evolve at a fast pace.
There is also 5G multi-SIM support, FDD-TDD sub-6GHz carrier aggregation, and is more feasible to adopt the newer and more efficient mmWave antenna components. The network speeds are not so different with 7Gbps and 7.5Gbps downlink speed tags on the X55 and X60 modems respectively along with the same 3Gbps uplink speeds.
On the contrary, to be one generation ahead in CPU performance, Apple is one generation behind in modem technology as Apple has entered into the 5G market one year later. However, recent reports have claimed that Apple is working on its modem solutions and is currently in its early stage. But until then, Qualcomm is going to lead the 5G segment.
Which One Is Better?
See, it's tricky to answer the question as the performance is not just based on the hardware but on the best combination of hardware and software. And in terms of Apple, both hardware and software are under its control, making to optimize the overall performance of the smartphone. On the other hand, Android is from Google, Snapdragon chips are from Qualcomm and the smartphone manufacturer is so another company. This thing somewhat hinders the SD 888 chip to reach its max potential.
There is no doubt that both the chips are providing a bleeding edge improvements and hence the smartphones will be better than their predecessors in every aspect. Apple still relies on the company's own CPU and GPU design which is already shouting its capabilities in the benchmarks. Whereas Qualcomm has tried something even better by incorporating three different types of core-designed for different use cases. A heavy investment can also be seen in the gaming and GPU department of the chip where Apple has not improved much this time.
The facts and figures are saying that the Apple A14 is better than Snapdragon 888 just like every year. But the commendable improvements that Qualcomm has come up with are definitely resulting positively as the historic performance is lower than ever. And based on this we can expect Qualcomm to match Apple in the near future.
Ultimately, what matters is the actual smartphone and the real-life performance is very likely to be unnoticed by any of the users using a smartphone powered by any of these chips. And if you are judging the Android v/s iOS competition based on the leading chip's performance, then I don't think this thing matters a lot in this case. Apple and Android both are a whole lot different worlds with different pros and cons, 3rd party support, streamlined ecosystem, etc. So better to dig that side of the software experience first and not the performance. Both Apple and Snapdragon produce flagship-grade chips that are not made to provide you any kind of compromise.