If you've been following the world of smart TVs, you'll know that Google TV has taken center stage, pushing its older sibling, Android TV, to the sidelines. But fret not, both platforms are about to receive some exciting upgrades with the latest Android TV 14 beta.
Journalist Mishaal Rahman recently shared a comprehensive Twitter thread delving into the Android 14 TV beta, launched alongside the Android 14 Beta 3 release for phones. Since both Google TV and Android TV devices operate on the Android TV OS, these enhancements are expected to arrive on both platforms.
So, what can we expect from the Android TV 14 beta? Let's dive in and find out.
Shortcuts and Call Notifications
One of the most significant revelations in the Android TV 14 beta is the addition of shortcuts and call notifications.
Rahman explains that users can now "create a shortcut for your favorite app," allowing you to map a favorite app to the TV remote's star button.
However, this is a bit puzzling since there isn't a "star button" on the Google TV remote. Rahman believes this refers to a star button shown in early Google TV remote renders.
It remains to be seen how this feature will work, but if it makes it to the stable build of Android TV 14, it could be a game-changer for both Google TV and Android TV.
Another exciting upgrade is the introduction of Call Notifications. With this feature, users can "receive calls from supported apps on smart TV with google TV OS on it." It's unclear whether the entire call can be conducted on the Google TV or Android TV device, or if it just informs you of an incoming call.
Also Read:Google Tensor G3: What to Expect from the Pixel 8 According to Recent Leaks
Regardless, this is a welcome addition. Call notifications will only appear on your personal user profile, unless you modify the default settings.
Advanced Picture Settings & Accessibility
The Android TV 14 beta also comes with performance upgrades. In advanced display settings, under the Display sub-menu, you can set your device to always convert SDR to HDR formats like HDR10, HDR10+, Dolby Vision, and HLG, or maintain standard dynamic range.
Alternatively, you can let the device choose the correct HDR format by selecting System-Preferred instead of Force Conversion. Choosing Passthrough will make your Google TV or Android TV device match the content's format.
Accessibility has gained more prominence in this Android TV 14 beta, now occupying a top-level sub-menu within the Settings menu.
New accessibility features include a shortcut for text scaling, a bold text setting for improved readability, and a color correction setting for those with red-green or blue-yellow color blindness.
Power Saving & Energy Efficiency Settings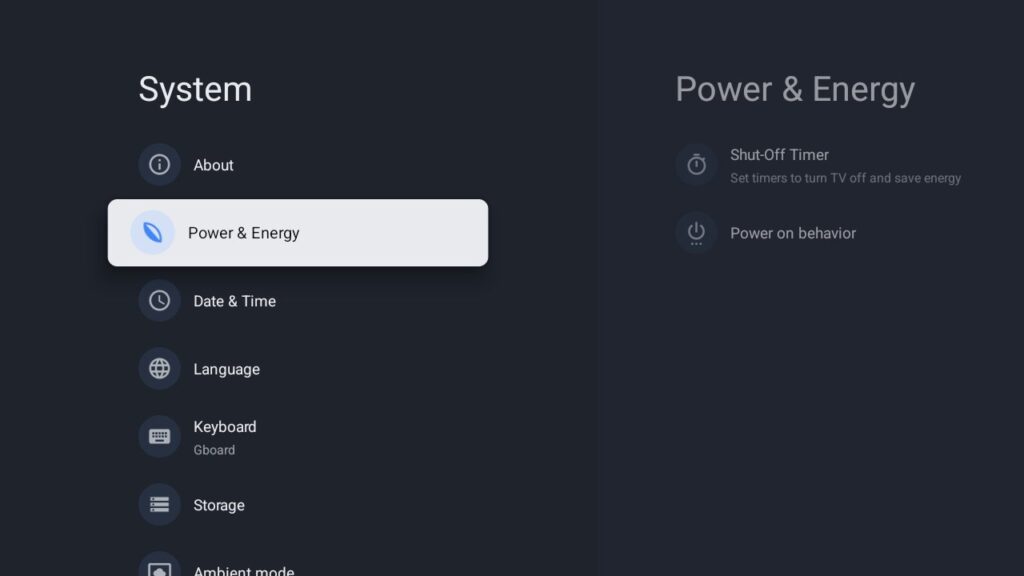 Improved energy efficiency settings have also been introduced in the Android TV 14 beta. Four energy efficiency modes are now available: Low, Moderate, High, and Unrestricted.
The Low mode disables your network connection when the TV is not in use, while Moderate retains only the features that can wake up your TV through Wi-Fi or LAN network.
High mode leaves most network features on, and Unrestricted keeps all network-based features active at all times.
Rahman notes that devices will only see these new modes if the device itself supports the feature. Which devices will support these new energy efficiency modes remains unclear.
With these exciting upgrades in store, the Android TV 14 beta promises to enhance the user experience for both Google TV and Android TV users. Keep an eye out for these features as they roll out to your favorite devices!