AMD has revealed its next-gen Ryzen 7000 desktop processors. The new processors are based on the Socket AM5 desktop platform. What's more, the new Ryzen processors series feature a new "Zen 4" microarchitecture. According to the company, the new architecture offers a single-thread uplift of 15% over the last generation. There are several notable aspects of the new architecture but the most important one is the 1MB L2 cache per core. The Zen 3 architecture featured 512KB of L2 cache. In fact, all the previous versions used to have that amount of L2 cache only. Besides that, the new series also has boost frequencies above 5.5 GHz. It appears as if the +15% increase includes IPC gains, gains from higher clocks, and DDR4 to DDR5 transition gains.

Moreover, AMD has introduced a new instruction set for AI computation acceleration with Zen 4. AMD can now utilize next-generation I/O, such as DDR5 memory and PCI-Express Gen 5 for both the graphics card and the M.2 NVMe slot attached to the CPU socket, thanks to the switch to the LGA1718 Socket AM5.

Also Read: OxygenOS 12 A.03 Out for OnePlus 10R.
Ryzen 7000 is similar to Ryzen 3000 and Ryzen 5000
The Ryzen 7000 "Raphael" desktop processor is similar in some ways to Ryzen 3000 "Matisse" and Ryzen 5000 "Vermeer". For instance, they all are multi-chip modules with up to two "Zen 4" CCDs and one I/O controller die. The CCDs use a 5 nm silicon fabrication method, while the I/O die uses a 6 nm technology. It is a substantial improvement over previous-generation I/O dies that used a 12 nm process. As a result, AMD can now fit up to 16 "Zen 4" cores per socket. Interestingly all of them are "performance" cores, thanks to the CCD's shift to 5 nm.
A delightful surprise awaits you in the cIOD: an iGPU based on the RDNA2 graphics architecture. It is worth mentioning that like Intel Core desktop processors, most Ryzen 7000 processors now include integrated graphics.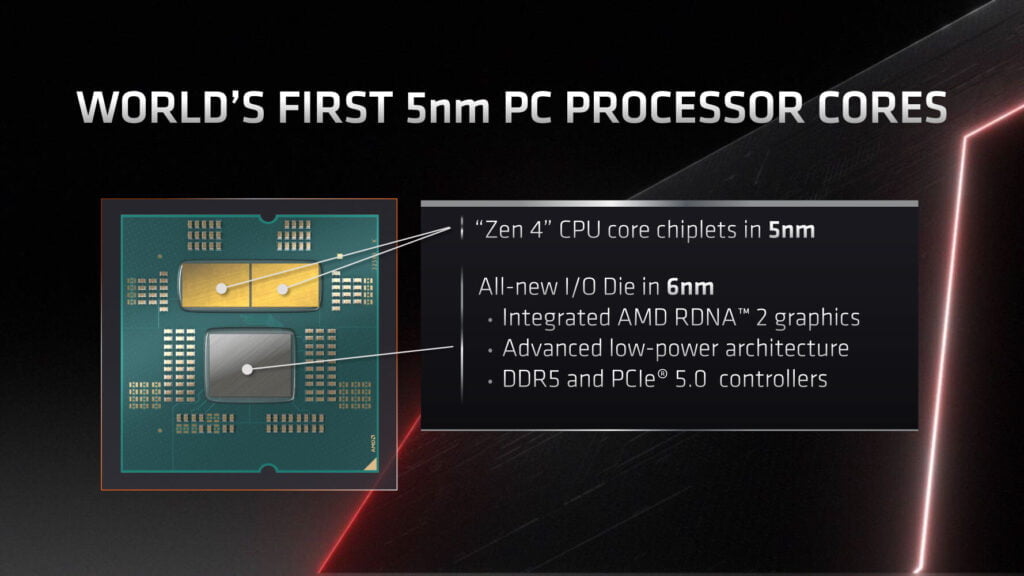 The Socket AM5 platform processor can support up to 24 PCI-Express 5.0 lanes. Out of them, 16 are for PCI-Express graphics slots (PEG). On the other hand, four are for a CPU-attached M.2 NVMe slot. In addition to that, the processor supports dual-channel DDR5 memory, just like "Alder Lake. However, it does not support DDR4 memory. Plus, the AM5 socket also features AM4, so you can use the same Ryzen cooler that you are using right now.
Also Read: Microsoft and Samsung Reportedly Working Together on Xbox Smart TV Streaming App.