AMD first introduced the 3D V-cache stacking technology in Computex 2021. Now, the Ryzen processor has become a reality at CES 2022. AMD has officially revealed the Ryzen 7 5800X3D processor that is based on the new 3DFabric packaging technology produced by TSMC.
What's more, AMD has showcased the prowess of Ryzen 9 5900X with 3D V-cache at Computex last year. However, it is now officially launching the CPU with 8 cores and 16 threads Ryzen 7 5800X3D. As for performance, the processor should offer a base clock of 3.4GHz with a boost clock of 4.5 GHz. It is about 400MHz and 200MHz lower than the base boost clocks of Ryzen 7 5800X. It might be there to accommodate the 3D stack's newly added wattage.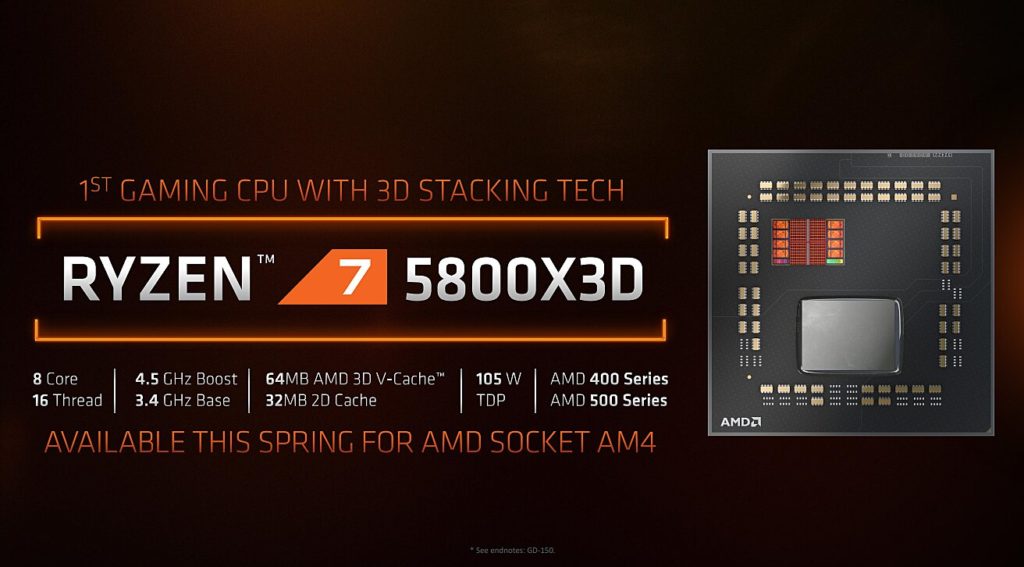 Moreover, the original Ryzen 7 5800X features 32MB L3 cache whereas the new 5800X3D offers an additional 64MB 3D V-cache in addition to that. Therefore, the chipset features a total of 96MB. Additionally, the unit packs a TDP of 105W. Plus, it is compatible with the current 400 series and 500 series motherboards. Hence, we expect the CPU to come with the same overclocking potential as the non-3D version.
Also Read: Microsoft Working on Games Panel For Edge Browser.
AMD Ryzen 7 5800X3D
According to AMD, the additional 64MB 3D V-cache should deliver 15% faster gaming performance when compared to Ryzen 9 5900X at 1080p. However, it will vary from title to title. On top of that, the company claims the chipset should offer similar or better performance than Core i9-12900K Alder Lake-S. However, these are just claims as of now, we will have to benchmarks to test the actual performance.
Furthermore, the company has not revealed any content creation numbers with 5300X3D. Hence, it is safe to assume the company is majorly focusing on gamers. Plus, the forthcoming 5300X3D is the right testbed to see the prowess of the 3D stack.
Zen 4 and Socket AM5 revealed alongside Ryzen 7 5800X3D
Alongside the introduction of the Ryzen 7 5800X3D, AMD also showed off the 5 nm Zen 4 processor for the first time running a demo of Halo Infinite with all cores firing at 5 GHz. Zen 4 will mark the transition to a new Socket AM5, which will now be an LGA1718 part with support for PCIe Gen 5 and DDR5 memory. We also know by now that Zen 4 Raphael will integrate RDNA 2 graphics in desktop parts as well. For perspective, Intel uses an LGA1700 socket for Alder Lake-S processors.
Also Read: Windows 11 Color Bug Causing Headaches for Some HDR Monitors.