Intel made an announcement of the very first DDR5-compatible desktop platform, and with that, it has taken a lead. The memory makers have accepted Intel's new XMP 3.0 overclocking profile standard.
In the meantime, AMD is continuously working towards the release of DDR5-compatible 600-series motherboards. These are coming along with a new AM5 socket for Ryzen7000 "Raphael" CPUs.
This upgrade for the Ryzen LGA-based CPU by AMD's is not just a big upgrade for the AMD desktop platform, now has been announced to be released later this year. But the LGA1718 based motherboards will be the first ones to Feature PCIe Gen5 standard along with DDR5 memory. Both of these features need the support of compatible hardware which is yet to come by. There is a shortage of PCIe Gen5 GPUs/storage while there is an issue in PMICs (power management integrated circuits), resulting in inflated prices.
Also Read: Xiaomi 11T Pro Hyperphone Might Arrive in India This Month.
AMD appears to not to be worried about DDR5
AMD doesn't seem to be worried about the DDR5 issue for now; though the company did release its new Ryzen 6000 Rembrandt APUs available for the laptop using DDR5 and LPDDR5 memory. Though they are to be released by February; so we are still unsure about the effect of memory shortages on them.
Coming to its desktop series, AMD will launch a new technology named RAMP which was initially listed by HWiNFO developers. It is also known that the ComputerBase editors reached out to HWiNFO developers for comment.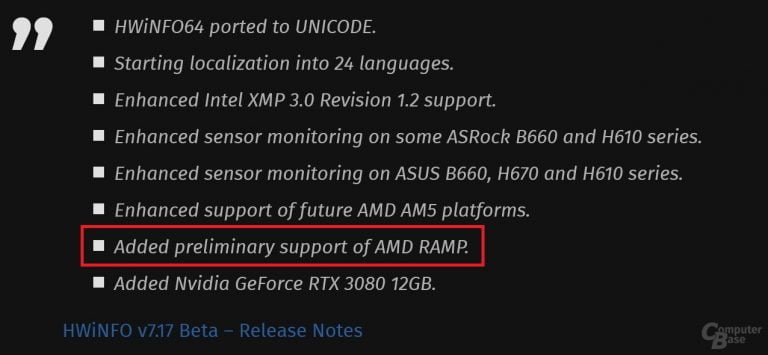 RAMP (Ryzen Accelerated Memory Profile) is pre-defined memory overclocking profile added to each high-end memory module. RAMP is similar to XMP 3.0 profiles, and RAMP will most likely be compatible with XMP but will also allow memory makers to adopt their technology exclusively, just as it happened with G.Skill's Ryzen certified A-XMP memory kits.
Also Read: Xiaomi 11i HyperCharge 5G With 120W Charging Coming to India.