Intel has been the leader in the processor market for many years, and now they are making a big change.
The company is rebranding its popular Core i-Series of processors to "Core Ultra" with the upcoming 14th Generation Meteor Lake CPUs.
This news comes after Intel faces some serious financial setbacks. And reached an 'inflection point' which requires them to make significant changes. It appears that this new CPU family will be a major departure from precedent. So it's definitely something to keep our eyes on!
The rebranding of Intel's Core i-Series to "Core Ultra" was first reported by Videocardz. When a new, 18-core, 18-threaded CPU (the Core Ultra 5 1003H) showed up in a benchmark on the game Ashes of the Singularity.
Bernard Fernandes, a communications representative for Intel, later confirmed this, stating that Intel is undergoing "brand changes" as a part of its preparations for the launch of Meteor Lake.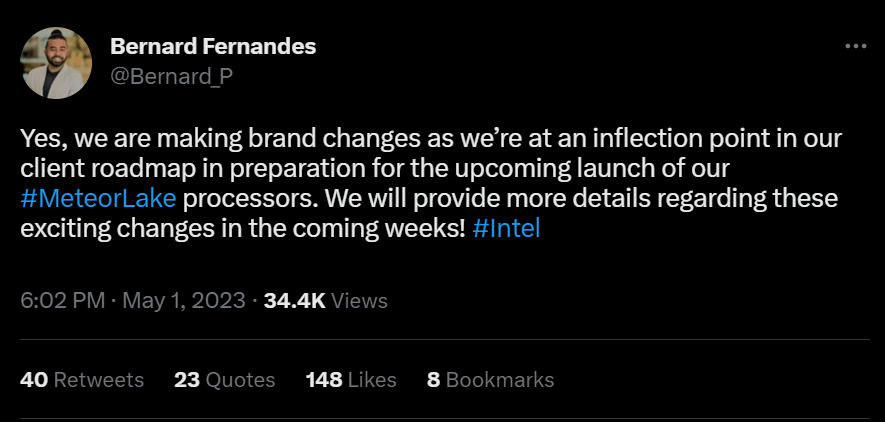 The rebranding of the Core i-Series will certainly be a major departure from precedent. As Intel's Core CPUs have been a dominant force in the processor market for more than a decade. The current naming scheme of Core i5 13900K, tells you it's a 13th-generation Raptor Lake CPU. The Core Ultra 5 1003H  doesn't provide any details about the processor's generation or technical specifications. At this point, we don't know what "Ultra" or 5 suggests. It is also possible that this be a one-off naming for an engineering sample CPU. So it's important to wait for Intel to give us more details.
Also Read: NVIDIA GeForce RTX 4060Ti Leaked: Price, Performance & Specs
Intel has said that they will reveal more information about the Meteor Lake CPUs as they get closer to the launch. Though it is still unclear whether the CPU will be for mobile or desktop use.
The rumors that Meteor Lake had been canceled were incorrect. But the rumors of it being delayed until 2023 appear to have been correct.
It's still unclear what other changes will come with this rebranding. However, it's clear Intel is facing financial setbacks and an inflection point that requires them to make big changes. We will have to wait for Intel to reveal the details of the Meteor Lake CPUs. But it looks like we can look forward to a major shift in Intel's branding and product line-up.