The rumors have finally been put to rest. NVIDIA has officially announced that their much-awaited GeForce RTX 4060 8 GB Graphics Card will be launching on the 29th of June.
Now, this is some news to get excited about!
Originally scheduled for a July release alongside its more powerful sibling, the 4060 Ti 16GB model, NVIDIA decided to shake things up a bit and surprise us with an earlier launch date.
And the best part? It's priced at a modest $299 (Rs. 24,516). Yes, you read that right!
It will likely cost anywhere between 30,000 INR to 35,000 INR, but we will have to wait for the official launch to know its price in India.
We expect this price point to make the RTX 4060 a hot favorite among gamers. And why wouldn't it be? For $30 less than the RTX 3060, you get all the same features and more.
NVIDIA RTX 4060 Expected Performance
NVIDIA has been kind enough to give us a sneak peek into the card's specs and performance, and boy, are they impressive!
The RTX 4060 boasts a performance that's 20% superior to the GeForce RTX 3060 12 GB in traditional rasterization. And if you factor in Ray Tracing (RT) and Deep Learning Super Sampling (DLSS), the gains are even more significant.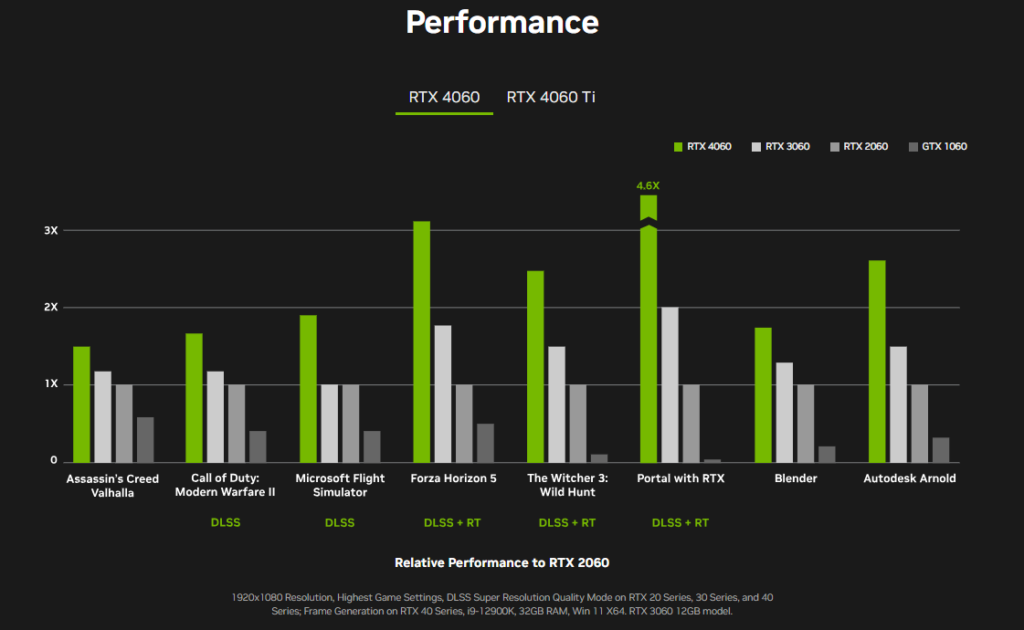 For a mere $299, you're looking at a whopping 70% increase (with DLSS 3) and a 20% increase (without DLSS) over the RTX 3060.
Now, while the RTX 3060 does have a higher VRAM of 12 GB and a wider bus interface, the RTX 4060 comes with all the memory management technologies we discussed in the RTX 4060Ti article.
This means it carries up to 24 MB of L2 cache, which is an incredible 8x uplift over the RTX 3060.
So, despite the RTX 3060 packing more VRAM and a wider bus, the RTX 4060 still manages to outpace it at 1080p. The advantage of the higher L2 cache becomes evident in the 1% Low FPS, where the RTX 4060 pulls further ahead.
We would still suggest our readers to take these performance figures with a pinch of salt.Many companies manipulate performance figures during the product announcement, so we suggest you to wait for reviews before buying anything.
Specifications, Power, and Efficiency
Now, let's talk specifics!
NVIDIA plans for the GeForce RTX 4060 to utilize the AD107-400-A1 GPU, the fully enabled AD107 Ada die, mirroring the same configuration used in the GeForce RTX 4060 Laptop GPU.
The chip should feature 3072 CUDA cores and 8 GB of GDDR6 memory running at 17 Gbps memory speeds across a 128-bit bus interface. This gives the card 272 GB/s bandwidth, effectively rated at 453 GB/s or 26% more than the RTX 3060, thanks to the 24 MB of L2 cache.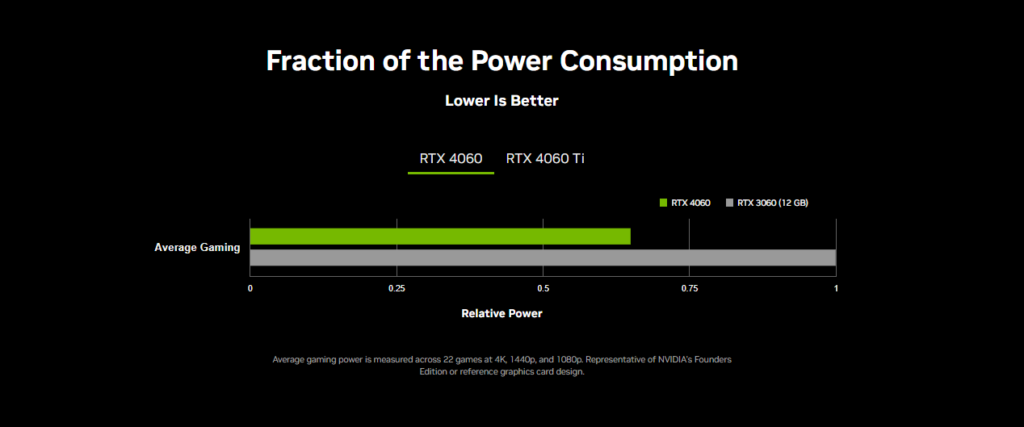 In terms of power consumption, the card is expected to have a 35% lower Total Graphics Power (TGP) than its predecessor, the RTX 3060 12 GB. The card should have a TGP of around 115W, with actual gaming power consumption expected to hover around 110W. We estimate the idle power and video playback power to be 7W and 11W, respectively.
While the RTX 4060 will not have a Founders Edition variant, it will be available in various custom models at launch.
So, gear up, gamers!
The NVIDIA GeForce RTX 4060 is almost here, and it's ready to take your gaming experience to the next level.