Today, we're diving into a hot topic that's been causing quite a stir among SanDisk Extreme SSDs and Extreme Pro portable SSD users. It seems that these storage devices have been wiping data unexpectedly and, in some cases, becoming unreadable. And guess what? This issue has been going on for at least four months! SanDisk promises a firmware fix is on the way. But so far, only the 4TB models are confirmed for an update. Even though 2TB drive owners have reported similar issues.
A quick search online reveals numerous discussions filled with frustrated and disappointed users sharing their experiences with recently purchased Extreme V2 and Extreme Pro V2 portable SSDs. While most affected users seem to have the 4TB model, there have also been complaints from 2TB drive owners.
User Reports: Problems with 4TB and 2TB Models
In a film and video editors subreddit, a Reddit user started a thread about 4TB Extreme Pro drives, which led to other users sharing their experiences with both the non-Pro 4TB drives and the 2TB Pro drives (it's unclear if the 2TB non-Pro Extreme is affected).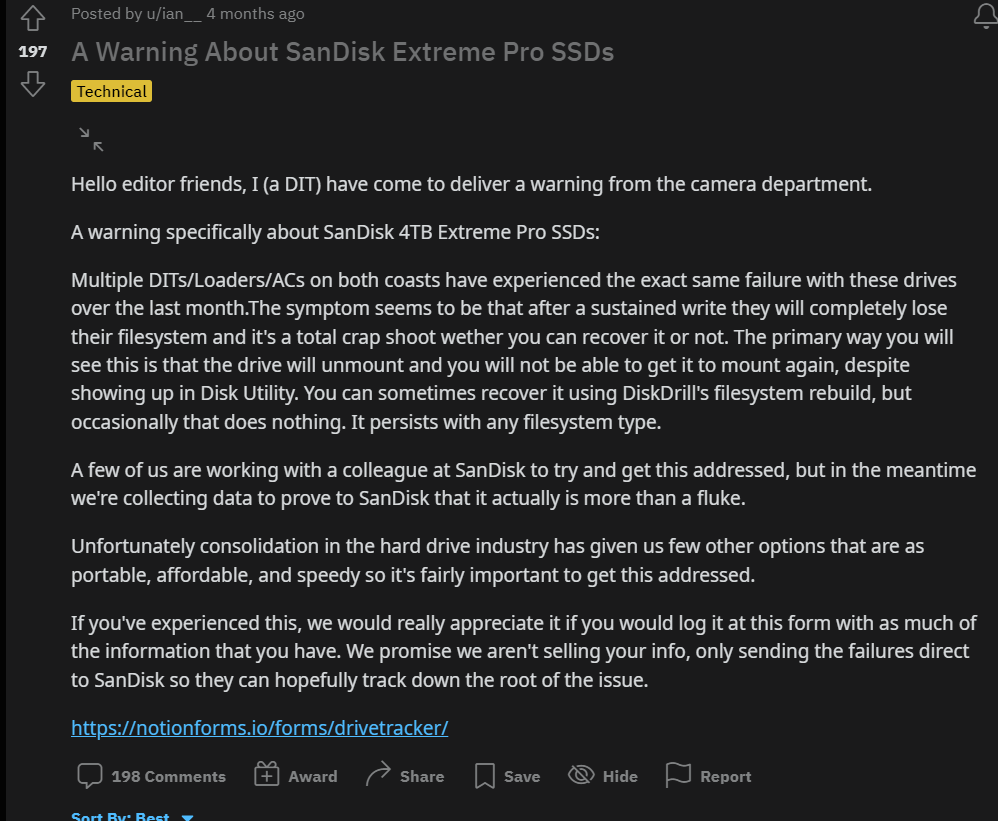 Here's the deal: after filling the drive about halfway, many users encountered a series of read-and-write errors. When they disconnected and reconnected the SSD, it showed up as unformatted, with the entire drive wiped clean, including its file system. Wiping and reformatting didn't help, and this happened with multiple units.
Interestingly, the issue seems limited to a recent batch of drives.
One user claimed a Japanese distributor informed them that the problem is "only for those manufactured after November 2022."

Some long-time users of Extreme and Extreme Pro drives have never experienced this issue until they purchased a drive from a recent batch.
SanDisk's Response: Disappointing Communication
SanDisk's response has been underwhelming, to say the least. The company has mostly directed users to open support tickets with their technical support team, while questions about refunds remain unanswered.
The thing is, wiped drives and broken storage devices can really ruin someone's day. Countless online complaints detail people spending hours attempting to restore data (sometimes unsuccessfully) and experiencing significant impacts on their work.
What's particularly disappointing is that SanDisk's Extreme portable SSDs are quite popular. Their rugged build appeals to users who want to avoid physical damage causing data loss. But it turns out that drops and water splashes aren't the only threats these users need to worry about.
Refunds and Returns: Mixed Experiences for Users
As for returns, SanDisk hasn't made an official statement. However, depending on where the drive was purchased and how long it took users to discover the issue. Some may be eligible for a refund from the retailer. Unfortunately, some users have reported that their retailer would only replace the faulty drive with another unit of the same model, which often resulted in the same problem.
For those who bought their drive from SanDisk's online store, refunds are supported within 30 days. The drives also come with a five-year limited warranty, allowing customers to return the product after obtaining a Return Material Authorization number and following any other listed guidelines.
For more information, visit shop.westerndigital.com/sandisk and select "support."
Stay tuned for updates on this issue, and in the meantime, be cautious with your SanDisk Extreme and Extreme Pro SSDs!
Also Read: 5D Optical storage Can Preserve 500 TB Of Data For Billions Of Years