Qualcomm Snapdragon 8 Gen 1 didn't perform well in the market, people were expecting more from the processor. As a result, the company is trying to make amends with the new Snapdragon 8 Plus Gen 1. As expected, the new processor is equipped with all kinds of upgrades. Let's not waste more time and get into the details about the new chipset.
Snapdragon is offering never seen upgrades on Snapdragon 8 Gen 1 processor thanks to TSMC's 4nm Architecture
The first thing to note is, that Qualcomm has shifted from the suppliers to TSMC. As a result, the company now has more control over the kind of upgrades it wants to offer to its customer with Snapdragon 8 Plus Gen1. It is worth mentioning the new processor features the same 1+3+4 CPU cluster as the Snapdragon 8 Gen 1. However, all the cores now provide better clock speeds. Qualcomm is not known to release a faster speed bin of its existing processors. Nevertheless, things have changed now. Here is the CPU configuration:
One Cortex-X2 core with 3.20GHz clock speed.
Three Cortex-A710 cores with 2.80GHz clock speed.
Four Cortex-A510 cores with 2.00GHz clock speeds.
Moreover, the Adreno 730 might also feature a 10 percent increased clock speeds than the previous SoC. All in all, Qualcomm has achieved something really impressive; the company managed to increase the frequencies just by increasing foundries. According to the firm, the new chipset also offers a 30 percent improvement in both CPU and GPU power efficiency.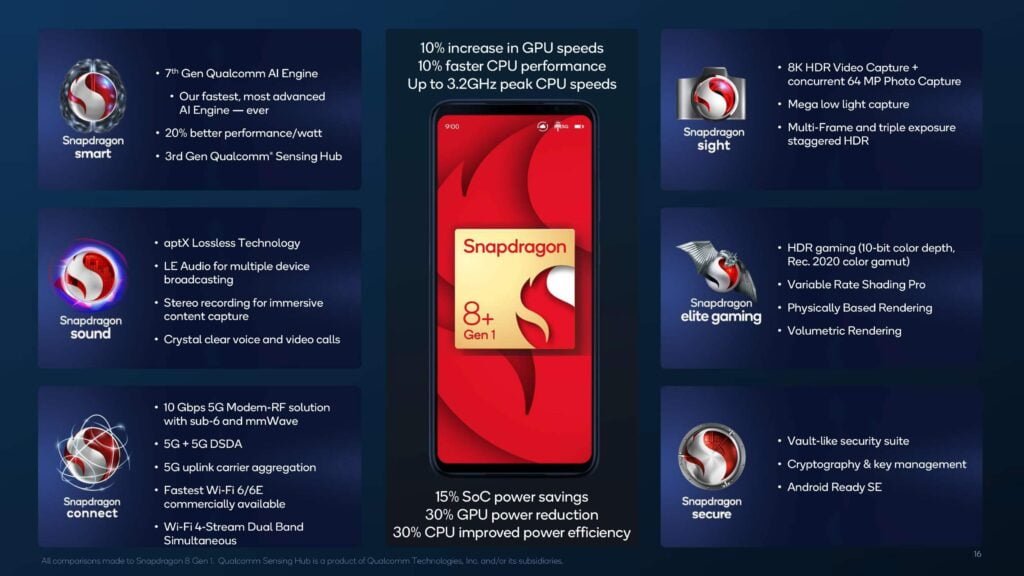 Furthermore, Qualcomm also claims a 15 percent reduction in SoC power usage than Snapdragon 8 Gen 1. This is another major improvement since it will have a direct impact on battery life. Now, every device featuring Snapdragon 8 Plus Gen 1 will offer better battery life.
Also Read: OnePlus Nord 2T Details out Thanks to a New Unboxing Video.
When can we expect the new silicon to debut in the market?
If we are to believe the rumors we will get to see the debut of the new chipset in the third quarter of 2022. We already know that Samsung Galaxy Flip 4 will feature the new chipset since leaked benchmark results mentioned the device was tested with Qualcomm's latest CPU. Besides Samsung's flagship, many devices will feature the new chip. So, we will have to wait to see how the new chipset performs.
We will keep you updated with more details about the new chipset.
Also Read: OxygenOS 12 A.03 Out for OnePlus 10R.