The Google Pixel 6a has been leaked for a while. However, we now have a better idea of how powerful this forthcoming phone will be thanks to a benchmarking site,.
The phone has been detected on Geekbench by MySmartPrice, and its existence not only gives us an early glance at the phone's features but also indicates that the Pixel 6a could be released soon.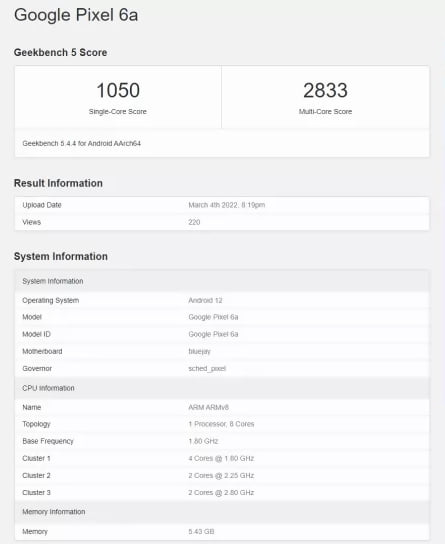 According to the Geekbench 5 listing, the Pixel 6a will be powered by Google's Tensor chipset, which is also included in the Pixel 6 and Pixel 6 Pro. It's also shown to be clocked at the same speeds as the rest of the range and to be paired with the Mali-G78 GPU.
Also Read: OnePlus To Release OnePlus 10 Pro Next Month with OxygenOS 12.1.
The Google Pixel 6a varies in terms of RAM, which is listed as 6GB here, compared to 8GB on the Pixel 6 and 12GB on the Pixel 6 Pro. However, we've heard rumors of an 8GB Pixel 6a model before.
The phone got 1,050 points in the single-core test and 2,833 points in the multi-core test, according to the benchmark listing, which also includes Android 12.
In multi-core testing, we received a score of 2,837 from the Pixel 6 and 2,895 from the Pixel 6 Pro in our reviews, indicating that the Pixel 6a could be similarly capable.

Both the Google Pixel 6a and the Pixel Watch were expected to launch in May, according to earlier sources; however, a recent report says that Google may delay the Pixel 6a reveal until July. Because of the continuing global chipset scarcity, this is purportedly being done.
Also Read: Redmi K50 Series' Details Revealed Thanks to TENAA Listings.