OnePlus, the famous smartphone manufacturer, has announced a lifetime warranty for users affected by the 'green line' display problem. The issue has been reported by several users and seems to be affecting various models of OnePlus phones.
Although the phones remain functional, this line disrupts the overall experience. The problem appears to be more common among OnePlus phones with an AMOLED display.
OnePlus' Response: A Lifetime Warranty
In response to these complaints, OnePlus has decided to offer a lifetime screen warranty for the affected models. This bold move shows the company's commitment to its customers and its willingness to take responsibility for any manufacturing defects.
The company clarified, however, that they won't cover older models such as the OnePlus 8 Pro, OnePlus 8T, OnePlus 9, and OnePlus 9R under this warranty due to the unavailability of spare parts to fix the issue.
But don't worry if you own one of these models.
OnePlus is offering up to a Rs 30,000 discount voucher to upgrade your old device to a new OnePlus device, specifically the OnePlus 10R.
Read More:OnePlus's First Foldable Phone: The OnePlus Open or V Fold?
The Fine Print
According to Android Authority, this lifetime warranty is currently only extended to users in India.
However, the company has not ruled out the possibility of extending this service to other regions.
A spokesperson from OnePlus stated,
"We realize that this issue has caused a great deal of inconvenience to the affected users, and we apologize for it. We encourage users to visit the nearest OnePlus service centre for device diagnosis, and we will provide free screen replacement for all devices affected by the situation."
The Discount Voucher Offer
For owners of select OnePlus 8 and 9 Series devices affected by the screen issue, OnePlus is offering a voucher that provides a substantial percentage of the device value to upgrade to a new OnePlus device.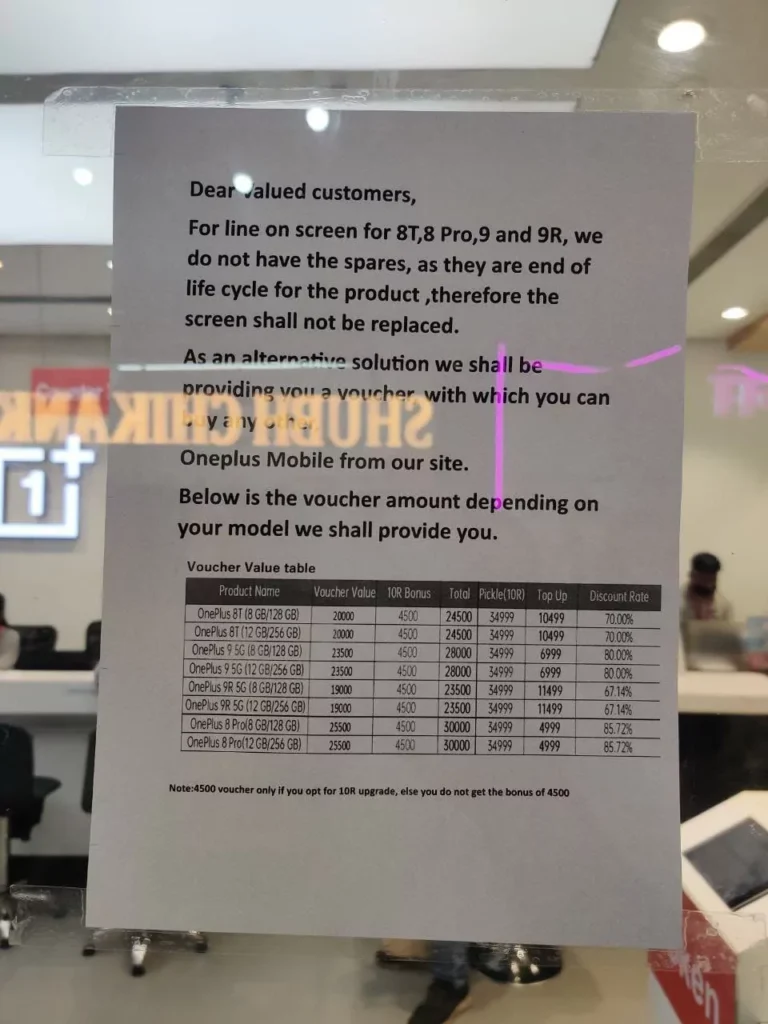 The voucher values vary depending on the model – OnePlus 8 Pro users will receive a Rs 25,500 voucher, while OnePlus 8T users are eligible for a Rs 20,000 voucher.
OnePlus 9 and OnePlus 9T users can avail vouchers worth Rs 23,500 and Rs 19,000, respectively. Plus, if they upgrade to OnePlus 10R, OnePlus will provide an additional Rs 4,500 offer.
Wrapping Up
OnePlus's lifetime warranty and generous discount voucher offer are clear demonstrations of the company's commitment to customer satisfaction. While the green line issue is regrettable, OnePlus's proactive response sets an example for other manufacturers in handling product issues.
With this move, OnePlus has shown that it values its customers and is willing to go the extra mile to ensure their satisfaction.