According to rumors, Samsung will unveil its upcoming flagship lineup in February. We have already seen several leaks about the forthcoming Samsung Galaxy S23 series. Given that we are still some time away from the launch we might get to see more leaks revealing further details about the device.
According to information that has come to light, Samsung's upcoming flagship devices will have a few small design tweaks. On top of that, it will also include Qualcomm's Snapdragon 8 Gen 2 SoC, better cameras, a new 200MP primary sensor on the Ultra model, and even compatibility with satellite connection.
Moreover, a new leak surfaced on the internet recently revealing promotional photos of two of the Galaxy S23 series models. Samsung has been silent on this subject.
Also Read: Lenovo Announces New Ideapad Slim 5 Laptops.
Samsung Galaxy S23 lineup improvement over the past generation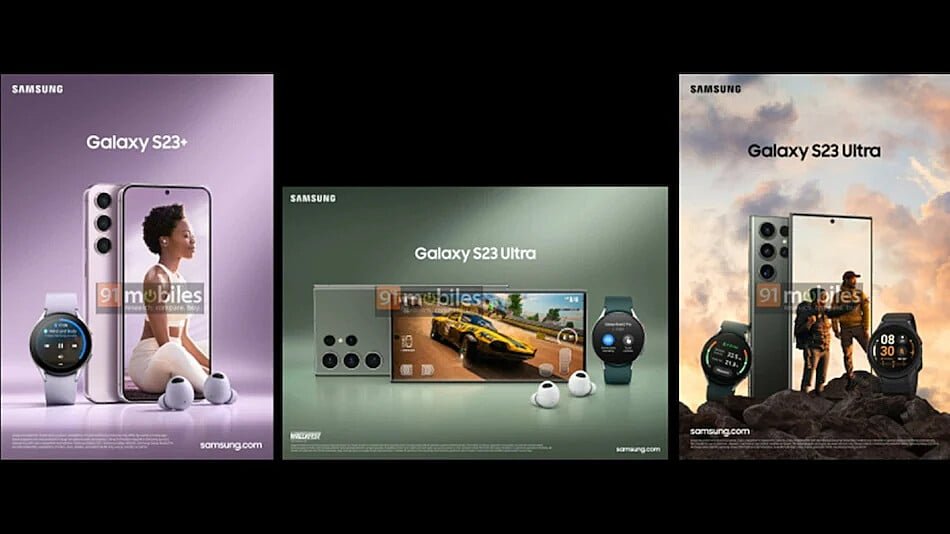 Firstly, the upcoming Samsung Galaxy S23 might feature a 3,900 mAh battery with support for 25W fast charging. It is an improvement over the 3,700 mAh cell in the base model.
On the other hand, Samsung has increased the 4,700 mAh capacity of the Galaxy S23+ by 200 mAh with 45W fast charging. Besides that, the company might also equip the Ultra variant with a 5,000 mAh battery and 45W rapid charging. This is something Samsung has been using in its Ultra handsets since early 2020.
Also Read: LastPass Acknowledged Hackers Got Their Hands on Encrypted User Data.
According to the promotional photos, the Pink Galaxy S23+ looks fantastic with the Lavender Purple Buds2 Pro and the Galaxy Watch5 with a purple sport band. The Olive Green Galaxy S23 Ultra is seen with white earbuds and a dark green strap on the Watch 5. It may have the Green Hybrid Leather strap, but the image quality is too blurry to see any details, so it may as well be a new accessory.
In addition to these signature colors, Samsung will likely offer all three devices in black and white finishes, along with a couple of other options. We don't have all the details at the moment, but we expect the company to share some information in the weeks leading up to the launch.
Source: 91mobiles