Xiaomi MIUI 13 is finally out in India and the total number of active monthly users has crossed 500 million worldwide. It won't be wrong to say that many Indians were waiting for the new skin to arrive for quite a while. However, it seems as if the new skin will leave the Indian audience disappointed; the update is focused on performance and not UI-related changes. This has happened for the second time in a row.
Also Read: Windows 11 Causing Performance Issues in AMD Systems.
Xiaomi MIUI 13 features
The new MIUI mainly focused on four elements to offer a better user experience and reduce power consumption. In one of our previous articles, we have talked about some of the most notable features in detail. For instance, the MIUI brings an Optimized File Storage System that should deliver better read/write speeds.
What's more, Xiaomi has also added a better defragmentation method with MIUI 13; this is better than any existing defragmentation, according to the company.
Also Read: Samsung Galaxy S22 Lineup US Pricing Leaked Ahead of Feb Launch.
The new feature is a new RAM Optimization method that will boost background process efficiency by 40%. It will promote better multitasking by allowing more apps to run at once. In addition to that, the company has also added the Processor Priority Optimization feature. It works on automating CPU/GPU allocation to better priority OS foreground apps.
Besides the feature mentioned above, there is the Smart Balance feature that offers a 10% improved battery life.
Surprisingly, Xiaomi has recently made a deal with Beauty of Science to bring new live wallpapers to the device. It is worth mentioning that these live wallpaper won't be available for every device like the Super Wallpapers of MIUI 12.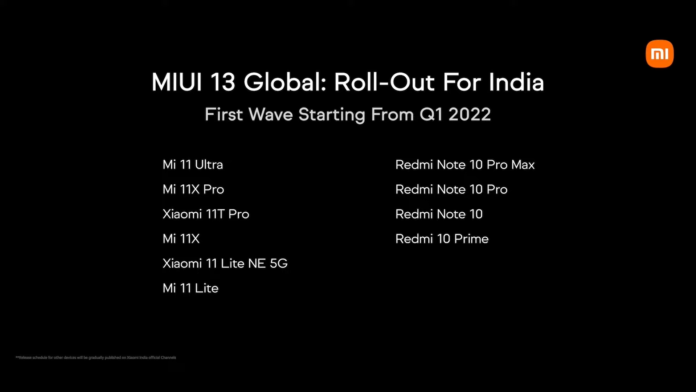 Xiaomi will start rolling out MIUI 13 with flagships and newly released phones. The first batch of the Xiaomi phones to get MIUI 13 will commence in Q1 2022.