I waited to expect Lenovo to improve on this cost-efficient Surface-style tablet with a little more beefy specs from the time Chromebook Duet debuted. Today my patience is well worth it: Chromebook Duet 5 is introduced by the company, a sleek OLED-screened tablet rocking ChromeOS. It is one of the new gadgets that Lenovo today revealed.
Chromebook Duet 5:
In every way, the Duet 5 outperforms the predecessor. The 13-inch OLED panel is the first and most noticeable feature. Lenovo claims that it is the world's first detachable OLED Chromebook. And we have no reason to disagree. It comes with a fold-out keyboard and a magnetically attached kickstand, much like the original design. Unlike the original, a stylus (also magnetic, of course) is also there.
A second-generation Snapdragon 7c CPU, Qualcomm's more expansive architecture for ARM-powered laptops and tablets, sits beneath that beautiful screen. Lenovo claims that a single charge will last 15 hours. The RAM is 8GB, and the storage is a whopping 256GB, but both have an "up to" qualification, so anticipate many versions in either grey or blue. A USB-C charging port, headphone jack, and quad speakers are located around the sides. There are front and rear cameras, but don't get too excited: the front and rear cameras are just 5MP and 8MP, respectively.
The Chromebook Duet 5 is, like the original, less expensive than you may anticipate. The basic model will cost $429.99 when it releases in October.
Lenovo Tab P12 Pro:
The Lenovo Tab P12 Pro, which was previously revealed in the Google Play Console, is Lenovo's next attempt at a high-end Android tablet. It's fascinating as a competitor to Samsung, who appears to be the only other manufacturer interested in this area. You get a device that looks a lot like the Chromebook Duet 5, but it's definitely aimed at the iPad Pro market. Its 12.6-inch AMOLED screen, which has a 16:10 aspect ratio and a resolution of 2560 x 1600 with a 120Hz refresh rate, is a promising start. The tablet is powered by an older but still powerful Snapdragon 870 CPU with 8GB of RAM and Wi-Fi 6 for fast downloading.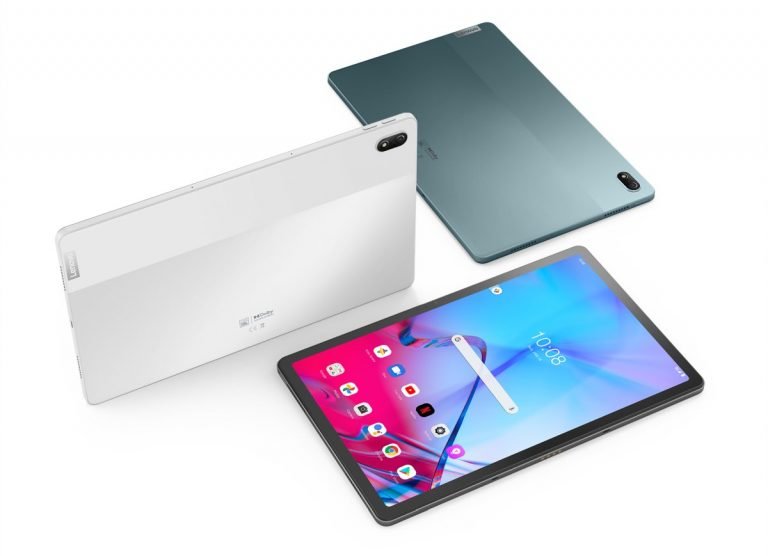 The P12 Pro, like the P11 Pro from earlier this year, has a fingerprint sensor on the power button. The company has improved both the keyboard and the pen. The former has a longer 1.3mm key travel, while the latter has a customizable function button. However, the company will not include them by default. You must purchase the tablet separately or as part of a bundle that includes the keyboard, kickstand, and pen. A 5G version will be available.
The Tab P12 Pro has some new software designed to work with Lenovo's Windows laptops and desktops. Users can use the tablet as a supplementary wireless touch and pen-enabled display, thanks to Project Unity. (Note the wireless capability, which outperforms the Yoga Pad Pro's HDMI input.) Additionally, Unity will allow Android apps to coexist with Windows programs on a Windows computer. Unity will get additional functions in the future, according to Lenovo.
That much hardware and software aren't cheap. The tablet-only bundle will cost $609.99 when it comes in October.
Tab P11 5G:
If you're looking for a less expensive tablet that can also carry your data connection, the Tab P11 5G is a good option. It's a tweaked version of the Tab P11 from earlier this year with an enhanced 5G connection, as the name suggests. It has an 11-inch 2K display, an unspecified Snapdragon CPU (the Wi-Fi variant had a 662), and up to 8GB of RAM and 256GB of storage. Optional keyboard and stylus add-ons are available, however, the tablet and accessories are not available in the United States. Starting in October, it will be available throughout Europe, the Middle East, and Africa for 499 euros.
Also read:
1. Lenovo Tab M7 3rd Gen
2. Lenovo K13 Note