Are you looking for a no B.S. iQunix keyboard review? Stuck finding the best one? Don't worry?
In this ultimate review article, we're going to share with you all the information you want about the Iqunix keyboard and whether should you buy them or not.
Just keep reading our in-depth Iqunix keyboard review article.
How Good are iQunix Keyboards?
The keys on an iQunix keyboard are like candy for the eyes. Aside from the fact that they're attractive to the eye, there's no way to describe them other than that. It's hard to find a pre-built keyboard with the same level of visual appeal as an iQunix.
As a result, iQunix keyboards have evolved a distinctive design that distinguishes them from the vast majority of generic-looking keyboards on the market today. Moreover, the more complicated structure they've chosen helps them achieve their desired luxury appearance.
Despite this, iQunix keyboards are more than just eye-catching. The L80, for example, is one of their more recent models, and it is built from the ground up to provide excellent performance. They have a lower degree of user-customizability. Users don't have to open their keyboards to enjoy a pleasant typing sensation and sound profile.
The iQunix keyboards provide all of the crucial functions, including wireless capabilities. iQunix keyboards have shown their worth as a competitor for an endgame pre-built keyboard with their performance and look.
iQunix Keyboard Review: Lineup of Iqunix Keyboards
Let's have a look at their various keyboards and their features.
The iQunix L80/A80
One of iQunix's most well-known keyboards is the L80. As a result of its superb out-of-the-box experience, the L80 Cosmic Traveler has gained attention from fans. The L80 is very comfortable and enjoyable to listen to owing to the well-tuned stabilizers and the appropriate use of dampening materials in the enclosure.
The L80 and A80 series are available in a wide range of options. Following a set pattern, such as that of the Cosmic Traveler. Other versions have a broader palette of colors to choose from. However, these models are defined by their size and arrangement.
The iQunix OG80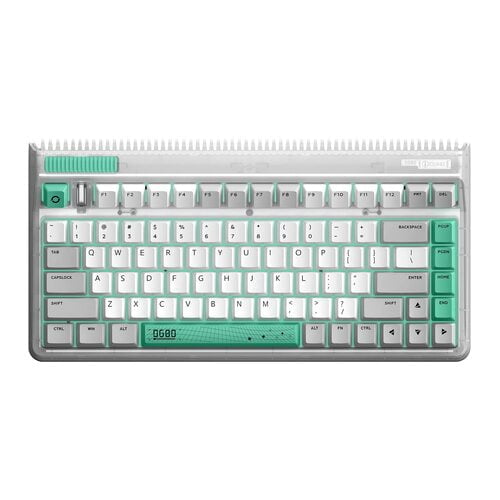 The iQunix OG80 and A80 and L80 are quite similar. In the newer model, it includes similar dimensions and layouts, as well as tri-mode, wired or wireless capability, the same case design, and high-quality PBT keycaps. The A80 and L80 keyboards have similar layouts, but the L80 has a distinctive look.
When you think about vintage keyboard designs, such as the IBM Model M, you'll likely think of this one. They've used dark gray with splatters of lime green to make the keyboard stand out.
In addition, they've improved the Polycarbonate casing and the built-in storage for the 2.4 GHz wireless receiver as well. As a result, the polycarbonate case is a worthwhile upgrade since it provides better acoustics and is a better material overall than conventional ABS plastic.
A variety of switch options, including TTC switches, are available for the OG80. The custom keyboard community just love these. Even though it is a small update to the L80 and A80, the OG80 is nevertheless an appealing keyboard for those who like its design.
The iQunix ZX75
This keyboard is iQunix's response to the GMMK Pro and the Keychron Q1 keyboards. It has a 75% expanded layout, which sets it apart from other Iqunix keyboards like the A80 and L80.
The F-keys of the ZX75 are isolated from the rest of the alphas, much as on the A80 and L80. Aside from that, the ZX75 looks more like a 65% keyboard since the arrow keys and home row keys are isolated from one other. Many gamers prefer this, since the keys aren't too close together.
The ZX75's rotary encoder/knob is another remarkable feature. You can adjust the volume by turning it up or down while pushing it plays and pauses. Finally, the ZX75's keyboard has removable feet that allow it to raise to a more comfortable typing height.
Except for these characteristics, the iQunix ZX75 keyboard is quite identical to the company's other models. As a result, it comes with the same high-quality components and keycaps.
The iQunix F96
The F96 from iQunix is a fan favorite. Mechanical switches of your choosing may be ordered separately for the keyboard, which is available in either a pre-built or custom kit barebones form.
Aside from the obsolete Bluetooth version, there seems to be no sacrifice in this keyboard's production. Even while only a small percentage of individuals use wireless keyboards, it is a huge benefit for those who bring their keyboards to work.
Because there is nothing between all 96 keys, you could find the keyboard layout to be too tight. On a layout like this, this is a common problem. Despite the keyboard's metal casing, it is nonetheless prone to wear and tear.
The pre-built version of this keyboard is not hot-swappable, therefore buyers should be aware of this before purchasing. They come with pre-installed switches, and you can't replace them once you buy them.
The iQunix M80 Purry Cat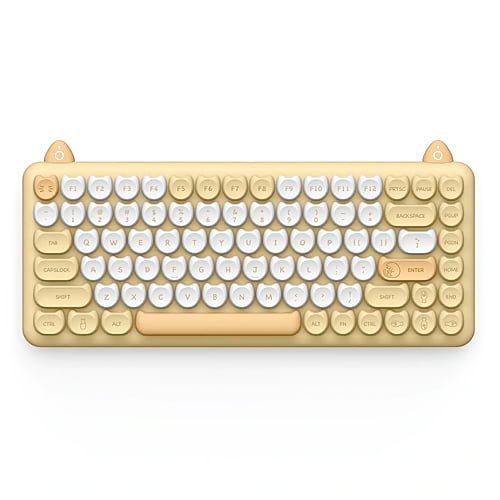 Fun is evident in the iQunix M80 Purry Cat. Instead of a professional, clean design, they've gone with a bolder cat-themed vibe. They accomplish so without compromising any of the basic features that have made Iqunix keyboards what they are today.
Each M80 purry cat comes with color-coordinated keycaps. In addition, the keycaps are spherical instead of the typical square or rectangular form and profile that most keycaps have. Additionally, the metal top of the device aids in the device's sturdy construction.
The sole drawback of the M80 is that it does not have hot-swap capability. It's a bummer that purchasers of this keyboard will be stuck with Kailh Blue clicky switches. As a whole, the Purry Cat M80 is an excellent keyboard for individuals who want something a little different or who just want to express themselves via their keyboards.
Which iQunix Keyboard Should You Buy?
They provide keyboards with Numpads for professionals, as well as keyboards with a more compact design for individuals that like it. We strongly advise deciding on a model depending on your specific requirements.
But if you're searching for the best-performing Iqunix keyboard, regardless of size or features, we strongly suggest the iQunix L80 Space Traveler. You can tell it apart from other keyboards in the same price range because of its unique design.
It also sounds and feels fantastic straight out of the box, plus it's reasonable pricing makes it a great choice for both mechanical keyboard newbies and seasoned pros.
Where are iQunix Keyboards Made?
Because of their eye-popping design and unrestricted typing, the iQunix keyboards have become game-changers. Brand iQunix is a real innovator in the mechanical keyboard sector, as seen by the increasing number of iQunix keyboards on the market. iQunix was created in 2014 by Levan Li in Shenzhen, a city in China.
iQunix Keyboard Review (FAQs)
Are iQunix keycaps good?
iQunix keycaps are stunning and the build quality is superb. They also have the greatest customer service you'll ever encounter. The iQunix product line is fantastic, and this keycap set is no exception.
Is iQunix a hotswap?
Yes, most of iQunix keyboard models have hot-swap except some models like iQunix M80 Purry Cat model, The Iqunix F96 model etc.