Microsoft is continuously working towards introducing new features to Windows 11. One of the highly anticipated features is the universal controls for devices with RGB lighting. External peripherals with RGB lighting require third-party software to configure their settings. However, Microsoft is working on the "Windows Lighting" platform. It will allow users to enjoy the same controls without downloading any additional software. It is included in the new Windows 11 Preview Build 25295.
Nevertheless, the success of this new platform depends on the peripheral makers' decision to support it. We can already see the early implementation of this feature in the latest Windows 11 preview builds. Users can access this feature under a new "lighting" category in the Settings app. The current implementation offers essential support for changing the color, brightness, and lighting speed.
Moreover, Microsoft is considering adding more functionalities to the platform, which is not surprising. The platform might include features like setting peripherals to a specific color when notifications come in, changing the color of peripherals based on whether the microphone is muted, audio visualization, and Teams integration. However, the future of these additional features is still not clear. Microsoft says that not all features appearing in preview builds are guaranteed to ship.
Furthermore, Microsoft is looking to win over gamers with Windows 11, and adding universal RGB controls to Windows as native functionality will go a long way. The feature is currently hidden behind a feature flag. It might arrive with Windows 11's Moment 3 update.
Also Read: 8 Best 1080p Gaming Monitors in India with Detailed Buying Guide.
Here is how you can enable RGB Controls in Windows 11 Preview Build 25295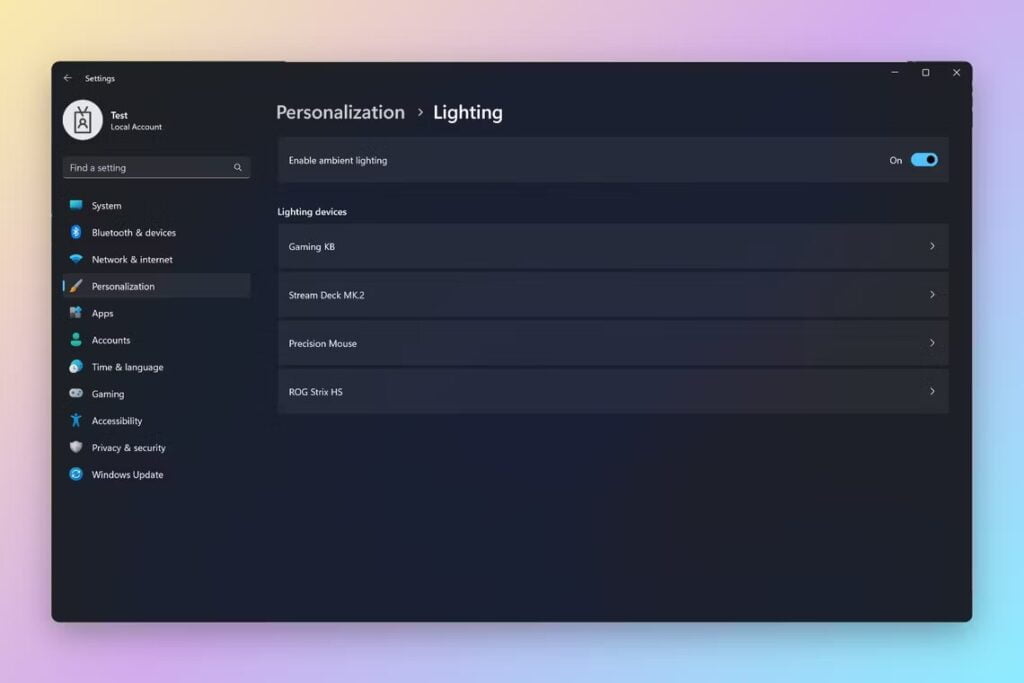 For those running the latest Windows 11 Dev Channel build, the hidden RGB controls feature can be enabled using a third-party feature flags editor known as Vivetool. Here is how you can enable it:
Search CMD in the search bar.
Go to the folder where Vivetool is saved using commands like cd d:\vivetool.
Type "vivetool /enable /id:41355275" and hit "enter."
Type "vivetool /enable /id:35262205" and hit "enter."
Finally, restart your PC.
By following these steps, you should be able to enable the RGB controls to feature in the Windows 11 Preview Build 25295.
Also Read: Air Conditioner Buying Guide 2023: Everything You Need to Know.