Regular updates are crucial to keep your devices running smoothly and securely. However, an unexpected bug in Windows 10 and Windows 11 seems to be causing a significant amount of frustration among users.
The 'Update and Shutdown' command, which is expected to make things easier, is reportedly causing issues.
The problem is relatively straightforward. When users try to update their Windows laptop or PC using the 'Update and Shutdown' function, they expect the system to download the update, install it, and then shut down.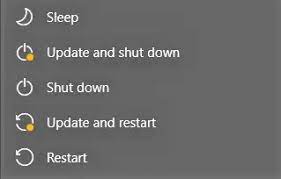 But, as many users have reported on platforms like Reddit and Microsoft Feedback Hub, this is not what's happening.
After selecting 'Update and Shutdown,' the update installs, but instead of shutting down, the computer restarts and returns to the login screen.
The user then has to manually select shutdown again. This issue doesn't seem to be widespread, but there have been enough cases to cause frustration, especially for those who prefer to leave their PCs alone at night to update and shut down automatically.
Windows Update: Causes and Potential Solutions
There are a couple of theories about what might be causing this glitch.
One potential issue could be the Fast Startup feature, designed to boot up your device more quickly. This feature stores specific information into a file and retrieves it upon startup, theoretically speeding up the process. This feature could be causing the glitch by prompting a restart automatically during the update process.
Another possible explanation lies within the update process itself. Users are recommended to install Windows Updates frequently for security reasons. However, those who allow weeks or months to pass between updates may face a backlog of installations. Larger updates often require few restarts to complete the installation, which could potentially override the 'Update and Shutdown' command.
Awaiting Microsoft's Response
Despite numerous posts on the Feedback Hub, Reddit, and Windows Latest, Microsoft has not yet addressed the issue.
Affected users are hopeful for a patch in a future update or, at the very least, a temporary renaming of the command to avoid confusion.
As we wait for a resolution from Microsoft, it's clear that this glitch is more than just a minor inconvenience—it's a source of significant frustration for Windows users.