Following the release of the Wise Eon Pro and Wise Glaze smartwatches, Indian wearables company Ambrane has introduced a new addition to its smartwatch lineup: the Ambrane Wise Eon Max smartwatch. Serving as the upgraded version of last year's Wise Eon Pro, this new smartwatch brings an array of features to the table, with its expansive, high-refresh-rate screen being a standout. In the Ambrane smartwatch review, we'll delve into the various aspects of this device to provide a comprehensive look at what it offers.
Design and Build Quality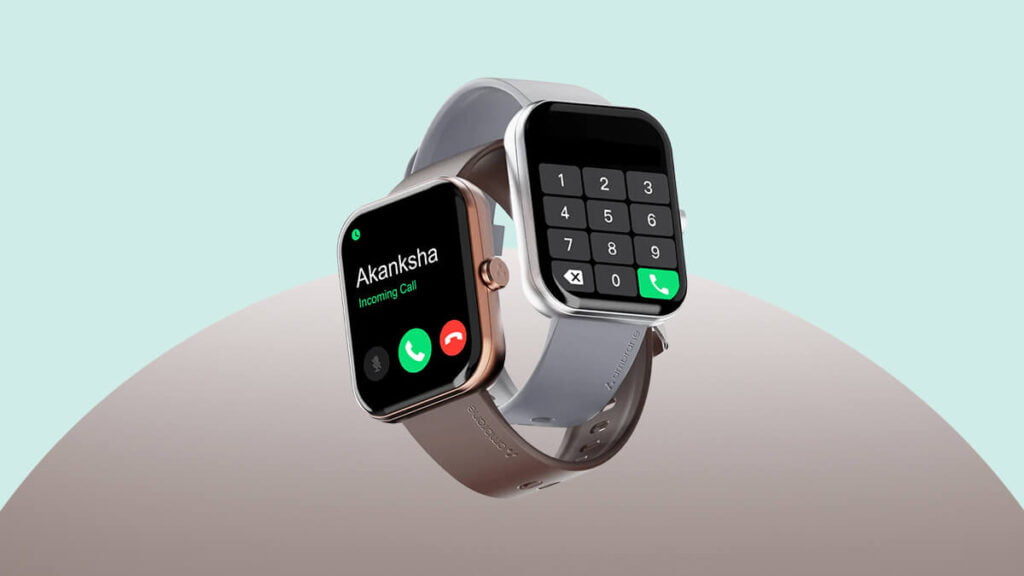 The Ambrane Wise Eon Max sports a rectangular design, complemented by a single physical button on its right flank. The watch manages to maintain a clean appearance thanks to its glossy but fingerprint-resistant finish, coupled with smoothly rounded edges. As far as durability goes, the device comes with an IP68 rating, indicating resistance to dust and water. However, we wouldn't recommend taking it for a swim; it's fine for a walk in the rain but not suited for underwater adventures.
Weighing in at approximately 160 grams, straps included, the smartwatch is fairly light. This is largely due to its polycarbonate casing. The pre-attached silicone straps ensure day-long comfort without any skin irritation and feature a conventional locking mechanism. The Ambrane logo is subtly displayed only on the strap. Additionally, the strap's standard width means it's easily swappable with third-party options of the same size.
For those interested in Bluetooth calling, you'll find the speaker situated on the left side of the watch. The right side houses a crown, but its functionality is somewhat limited. It can be used to wake the device or put it to sleep, act as a back button in some contexts, and serve as a pause or lap button during certain workout modes. Unfortunately, the crown does not support rotational input, which feels like a missed feature opportunity.
Display and Specifications
Equipped with a 2.01-inch display that Ambrane refers to as a "Lucid Display," the Wise Eon Max offers a screen resolution of 240 x 283 pixels. While "Lucid Display" is essentially Ambrane's branding for their LCD screens, the display does live up to its name by being bright and clear. With a peak brightness that Ambrane claims is 550 nits, visibility remains excellent even under harsh sunlight, and our experience suggests that this claim might be quite accurate.
The display is notably expansive, framed by bezels that are slim on the top and sides but slightly thicker at the bottom—a common feature in budget smartwatches. Kudos to Ambrane, though, for the bezel presentation being consistent between the actual watch and its packaging, a detail that often varies among other smartwatch brands.
Although Ambrane hasn't specified whether the display is fortified with scratch-resistant glass or an oleophobic coating, we found no signs of wear or scratches after three weeks of use.
When it comes to color reproduction, the display is adequate but not spectacular. While it's certainly bright, the colors appear somewhat muted and less vibrant than one might expect. However, the display's sharpness is a cut above what's commonly seen at this price point, delivering clear and detailed visuals.
One area where the display falls short is its purported 60Hz refresh rate. Despite the specifications, the user experience doesn't feel as smooth as expected. Scrolling through apps or switching between watch faces comes across as slightly jittery. Additionally, the watch lacks an always-on-display feature, though the flick-to-wake function performs reliably most of the time.
Performance and Fitness Tracking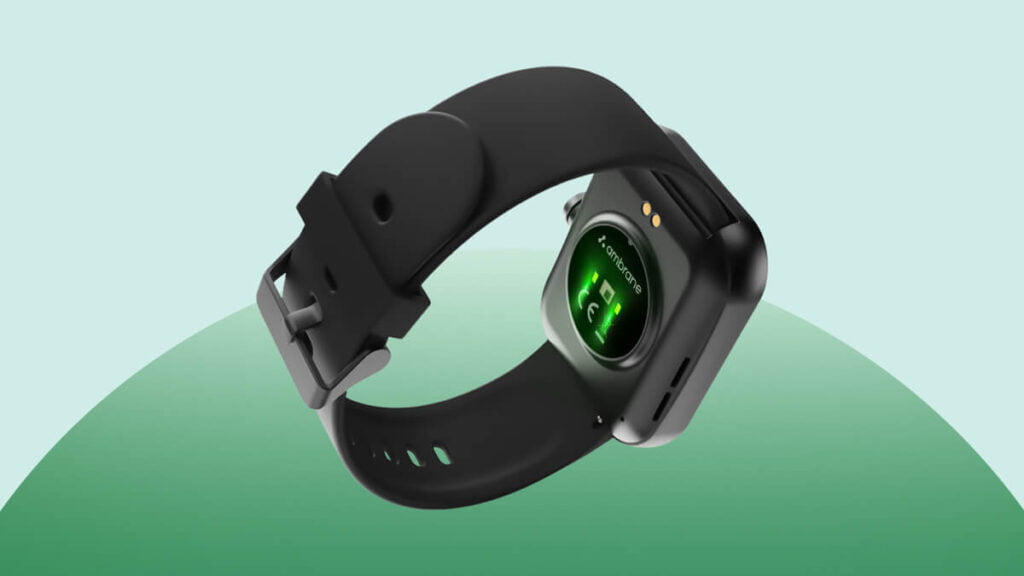 Ambrane promotes the Wise Eon Max as being capable of tracking more than 100 different sports. Upon closer inspection, however, many of these sports are essentially variations of walking, running, and cycling. That said, the watch does include support for a few additional activities like badminton and football. But how reliable are the tracking features?
In terms of accuracy, the Wise Eon Max offers a mixed experience. Like many smartwatches in its price range, it performs well in some areas and falls short in others. For instance, the heart rate monitor and oximeter functionalities provided readings that deviated by just a single point when compared to a trusted, long-used oximeter. On the flip side, the sleep tracking feature was notably off. During our tests, the watch reported less than 2 hours of sleep on two occasions, despite a full 7-hour sleep cycle.
The device also offers a blood pressure monitor, which, while not pinpoint accurate, gives a general idea of your blood pressure range. When it comes to exercise tracking, results vary. The watch has a tendency to significantly underreport distances covered and inconsistently counts reps and steps, either overestimating or underestimating them by a noticeable amount.
For those interested in menstrual tracking, the Wise Eon Max offers this feature, although its level of accuracy remains uncertain.
Connectivity
Equipped with Bluetooth 5.0, the Wise Eon Max offers seamless calling functionalities. Users can make calls directly from the watch, thanks to its integrated microphone and speaker. With an in-built dialer, the watch facilitates placing calls without accessing the paired smartphone. In terms of call quality, it impressively delivers loud and crisp audio, with no complaints of call drops or unnecessary delays. For anyone seeking a budget smartwatch under Rs 3000 that supports call features, the Ambrane smartwatch is a compelling choice.
Battery Life
Ambrane touts a 280 mAh battery for the Wise Eon Max, claiming that it will last up to 10 days on a single charge. Our testing found this claim to be fairly accurate. Even under heavy usage, including making numerous calls via the smartwatch, we only had to recharge the device every 5 to 6 days. However, it's worth mentioning that this performance was achieved with the brightness level set to its lowest setting, which is still quite bright. Top of Form
Price and Availability
The Ambrane Wise Eon Max smartwatch is currently available at a price of just Rs 2,799. You can purchase it from Ambrane's official website or through Flipkart. Adding to its appeal, the smartwatch comes with a one-year warranty. Consumers have a variety of color options to choose from, including Grey, Black, Silver, Burgundy, Brown, and Blue.
Final Thoughts:
Overall, the Ambrane Wise Eon Max offers a satisfactory experience for those on the hunt for an affordable smartwatch with basic functionalities like step counting, heart rate monitoring, and notifications. The term "smartwatch" is used loosely here—as is often the case with devices in this price range—that are essentially enhanced fitness trackers.
The Wise Eon Max delivers competent performance and tracking, despite some noticeable shortcomings. Yet, you can mostly overlook these considering the budget-friendly price point. One of its standout features is its impressive battery life, accompanied by a generous display size and reliable Bluetooth calling capabilities. For those prioritizing these features without wanting to break the bank, the Ambrane smart watch Wise Eon Max makes a persuasive argument in its favor.
FAQs
Is Ambrane a good product?
Ambrane is an Indian brand known for offering a range of affordable electronic gadgets, including power banks, smartwatches, and audio devices. While they may not compete directly with high-end products in terms of features or build quality, Ambrane smart watches generally offer good value for money, providing basic functionalities at budget-friendly prices. Customer reviews and feedback often highlight the brand's decent performance, making it a popular choice among those looking for cost-effective tech solutions.
Read more about: