If you've been using Windows PCs and laptops for a long time, we're sure you've heard about Winaero Tweaker before. Many know it exists but don't know what is Winaero Tweaker and its uses or what it does for your system. Those who do know, however, use it in a variety of ways, with the knowledge that it's by and far one of the most powerful customization tools for any Windows desktop user.
If you're curious about Winaero Tweaker and want to find out just what exactly the utility can do, then you're in luck! Today, we'll be breaking down what exactly the Winaero Tweaker is, what it does, and how best to use it to enhance your desktop experience. By the end of this article by TeamGeeky, you'll be somewhat familiar with the software, with a cursory knowledge of how best to use it.
What is Winaero Tweaker?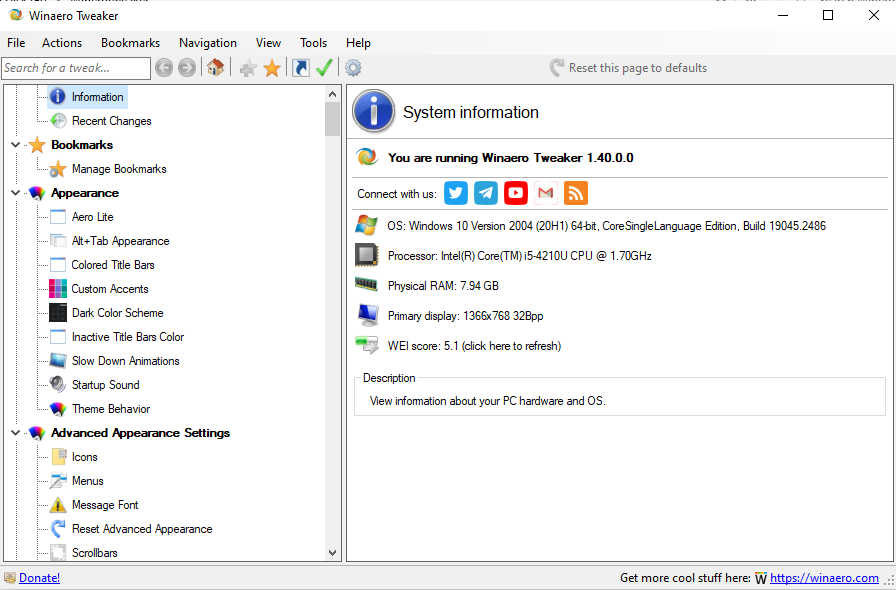 If you've ever dug into the Windows Settings menu, you'll know that Windows gives you very few options to customize the look and feel of your desktop. This is because Microsoft likes having a stronger grasp over your system and guiding your overall experience according to what they have in mind. Despite this, the options to do deeper customizations are still baked into the system, they're just not accessible.
Enter Winaero Tweaker, a free piece of software that unlocks all of these customization options. With this, you can easily tweak just about any aspect of your desktop to fit your needs. Do you want to have thicker borders around your Windows? Want to change the way your taskbar functions? Perhaps you'd like to change the boot options for your desktop? All are possible with Winaero Tweaker.
For seasoned Windows users, Winaero Tweaker is a must-have utility. Changing things like borders, layouts, and File Explorer settings to your liking greatly enhances the Windows desktop experience. Where Windows and Microsoft want to limit your usage, Winaero opens the doors to doing what you want. So, how do you get started with Winaero Tweaker?
How To Install Winaero Tweaker?
Now, before you get started, you'll first need to actually install Winaero Tweaker to enhance your desktop experience through its uses. It's a free application, so there's no need to pay anything to use it. We've made a handy step-by-step guide to installing Winaero Tweaker below, so just follow the guide and you'll be ready to use the tool in no time.
Download Winaero Tweaker from its respective website.
Head to the download page and click Download Winaero Tweaker.
Once the zip file finishes downloading, extract its contents into a new folder.
Double Click on the Winaero Tweaker setup exe file.
Click on next for any prompts that come up.
Select the Install option when prompted.
Wait until the installation is finished.
If you've followed all these steps accordingly, you should be able to launch Winaero Tweaker like a normal application. It's a pretty simple installation process, so there shouldn't be much trouble as long as you're familiar with how installing things on Windows goes. With that, let's move into actually using it effectively.
How To Use Winaero Tweaker?
While Winaero Tweaker has many different functions, they're all relatively straightforward. All options within the utility are clearly labeled, showing what they do and how you're changing them. It's not at all difficult to figure out what you're doing within a few minutes of testing the application out. Despite this, some steps have been taken to make the overall experience much smoother.
In the top left of the program, there's a search bar that allows users to look for specific tweaks. Considering the sheer number of tweaks available, this is incredibly useful. You can also play around with different settings as you see fit, as nothing's saved until you choose to save it. From here, it's just a matter of figuring out what you'd like to do. The sky's the limit in this regard!
With that, we've reached the end of the article. With any luck and some effort, you'll be tweaking your Windows desktop experience in no time at all. We hope this guide about Winaero Tweaker and its uses helped you familiarize yourself with the powerful program that is Winaero Tweaker. It's one of the best applications on Windows, and once you're used to using it, you can't go back.