Apple's latest version of iOS is here, and with it comes a slew of brand-new features, as well as tweaks to preexisting ones. From the reintroduction of the Apple Books page-turning animation to new emoji characters, all these new features bring a little something new to the equation. So, let's take a closer look at what's new in iOS 16.4.
Safari Web Push Notifications on iPhone and iPad
One of the new features in iOS 16.4 and iPadOS 16.4 is the ability for websites added to the Home Screen on an iPhone or iPad as a web app to send Web Push notifications, just like on Mac. This feature allows users to receive notifications even when they are not actively browsing the website, similar to how app notifications work.
It's a good change that can make things more convenient when using sites without dedicated web apps. While it's not going to be the most widely adopted feature, we appreciate that Apple finally has it online.
Add to Home Screen for Third-Party Browsers
Another new feature is the ability for third-party browsers like Chrome to let users add websites and web apps to the Home Screen from the Share menu. It serves as an extension of the last feature, and it's a feature for those who frequently visit certain websites and want quick access to them without having to open your browser first.
Beta Opt-In Changes
With iOS 16.4 and iPadOS 16.4, those enrolled in Apple's developer program can turn on developer betas directly from the Software Update section in the Settings app. With this, users can now completely cut out the need to install a Developer Center profile just for developer betas. There is also an option for public beta testers who want to install updates with even less hassle.
Apple Books Page Turning Animation
In iOS 16, Apple removed the Apple Books' long-standing traditional page turn animation, to the uproar and disdain of most Apple users. The animation has been around since the earliest iterations of the app, adding to the app's personality. As such, Apple has elected to bring back the feature with iOS 16.4, returning things to their former glory.
Now, users can head to the Themes and Settings section of the Books app and choose from three options for page turning: Curl, Slide, and None. It's good to see Apple listening to fan feedback for once!
HomeKit Architecture Upgrade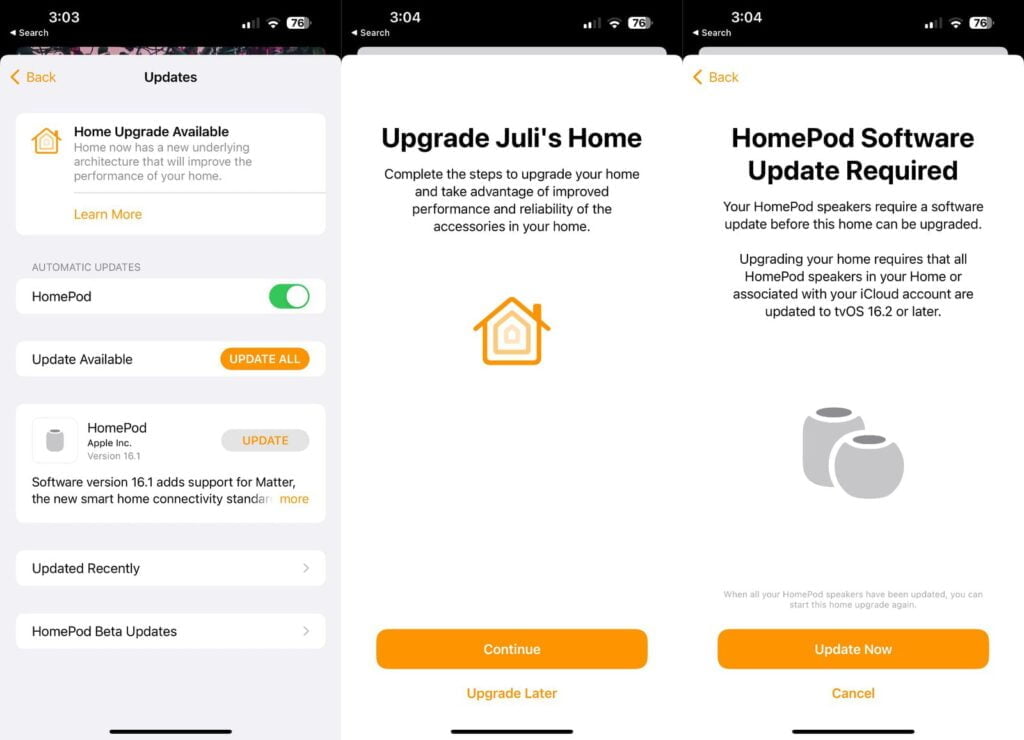 iOS 16.4, iPadOS 16.4, and macOS Ventura 13.3 reintroduce the HomeKit architecture update that was pulled from iOS 16.2 due to a wide range of HomeKit bugs that it added. In the Software Update section of the Home app, iPhone and iPad users who have not yet upgraded to the new architecture are seeing a "Home Upgrade Available" option after updating to iOS 16.4.
New Emoji Characters
On the more fun side of changes, iOS 16.4 brings in a slew of brand-new emoji characters for users to play around with! These added emojis include a shaking head, pink heart, blue heart, gray heart, donkey, moose, blackbird, goose, wing, jellyfish, hyacinth, pea pod, ginger, fan, comb, flute, maracas, and several left and right facing hand options, bringing the total up by 21.
Podcasts
Apple has made several updates to the Podcasts app with the latest version of iOS 16.4.1, adding to its basic controls and feature set. Now, you can directly access channels from the library section, with Up Next allowing you to resume episodes or start-up saved episodes. You also get the option to remove episodes that you may want to skip. Overall a solid slew of quality-of-life changes!
Channels access is now available in the Library section, and Up Next now lets you resume episodes, start saved episodes, and remove episodes you want to skip.
Apple Music App Profile
The Apple Music app didn't get many changes outside of one big quality-of-life change. Whereas before it took several steps to access your profile, now things have been much simpler. There's now a prominent button that gives you direct access to your profile. Tapping on this new button cuts out all the extra steps needed to get to your profile and makes things much more convenient.
Wallet App
The Wallet app sees a whole bunch of tweaks and changes that should improve the user experience. There's now an order tracking widget for the Home Screen, which can be used to track purchases made with Apple Pay that are available in the Wallet app. Apple now allows users to share order information through a dedicated Share button available in the Wallet app.
Call Voice Isolation
iOS 16.4 brings in Voice Isolation feature during calls. This feature has been requested by many. It essentially cuts out background noise during phone calls. It allows the speaker's voice to come through loud and clear, ignoring any possible interference from whatever is going on in the background. While this was available with Apple's VoIP services, it's now available for normal cellular calls.
iCloud Shared Photo Library
Apple's iCloud Shared Photo Library also got some minor tweaks to make it smarter. Now, the application can detect duplicate photos from different people and merge them. This nifty feature makes managing shared photo libraries a breeze by removing clutter caused by duplicate images. To activate this, go to the utility section and turn on the "Duplicates" option.
Always On Display
Always On Display has been an option on most iPhone models for a while now. What's new however is that there's finally a toggle for it, underneath the toggles for wallpaper and notifications. It's a lot more accessible and convenient to users this way, and we prefer it over how it was before. While it's a relatively small change, it's a much-appreciated one.
iOS 16.4.1 Update
Since we began writing this article, Apple has issued a new update for iOS 16.4. It brings patches for security issues regarding kernel privileges, as well as a few bug fixes. The first fix solves an issue where Siri would not respond to requests, halting productivity when using the voice assistant. The next fix is the pushing hands emoji not displaying skin tone options when selected.
Outside of this, iOS 16.4.1 is a relatively small update, so there's not much else to talk about. We're happy to see Apple roll out speedy updates to fix possible security issues and bugs this quickly. It bodes well for the future of iOS, especially with the new update taking plenty of user feedback into account.
Conclusion
In conclusion, iOS 16.4 is a significant update to Apple's mobile operating system, introducing several new features and improvements. The ability to receive web push notifications on the Home Screen, as well as the option to add websites to the Home Screen from third-party browsers, enhances the user experience and makes it easier to stay up-to-date with important information.
It's an overall noteworthy update that brings a range of improvements to the user experience, as well as introduces new features and functionality. As always, it is recommended that users update their devices to the latest version of the operating system in order to take advantage of these benefits and ensure optimal performance and security.
FAQs
1. When was iOS 16.4 released?
IOS 16.4 was released on March 27th of 2023, alongside iPad OS 16.4. As of the time of writing, it is the latest major iOS update.
2. What does iOS 16.4 bring?
iOS 16.4 brings with it a slew of improvements that meaningfully enhance the user experience. These include animation changes to Apple Books, better Homekit Architecture integration, web notifications, new emojis, bug fixes, and other small tweaks to system apps.
Also Read:iPhone 15 Series: What We Know So Far