Welcome, fitness fans and tech-savvy! If you are reading this, there's a good chance you are on a quest to find the perfect partner to accompany you on your running journeys. Brace yourselves, because Garmin, a name that resonates with stellar performance and cutting-edge innovation, has once again upped the ante in the realm of fitness wearables. Enter the Garmin Forerunner 265 – a masterpiece that promises to be more than just an evolution; it's a revolution.
Whether you are a casual jogger, a marathon veteran, or somewhere in between, the Forerunner 265 pledges to become an indispensable part of your fitness journey. In this in-depth review, we will delve into the nitty-gritty of what sets this latest offering apart, from its impeccable design and array of features to how it fares amidst the bustling competition. So, lace up your shoes, and let's get started!
Garmin Forerunner 265 specs:
Display: 1.3 inches, 416 x 416 pixels AMOLED, Corning Gorilla Glass 3
Water resistance: 5 ATM
Case/bezel: Fibre-reinforced polymer
GPS battery life: 20 hours
Connectivity: Wi-Fi, Bluetooth, ANT+
GPS: GPS, GLONASS, GALILEO, SATIQ Technology
Weight: 47g
Release date: April 30, 2023
Price: ₹50,490
Excellent health tracking

Bright, vivid, and responsive display

Lacks voice assistant and some smartwatch features
Garmin Forerunner 265 Design & Display
At first glance, the Forerunner 265 maintains a striking resemblance to its predecessor, the Forerunner 255. Boasting a classic round face, it comes with five buttons to effortlessly navigate the device. Three of these are present on the left, with the remaining two on the right. However, upon closer inspection, one discerns a subtle but noteworthy tweak – the right-sided start/stop button is now emblazoned with the word 'RUN' and enjoys a slight size increment, ensuring no hiccups when you need to halt the watch amidst a run.
Display
Now, here's where things take an exhilarating turn. Power up the screen, and you are greeted with an awe-inspiring bright AMOLED display that is reminiscent of the one found on the Garmin Epix 2 and is also a common feature in the spanking new Garmin Forerunner 965. With the Forerunner 265 flaunting an enviable resolution of 416 x 416 pixels and its sibling, the 265S, standing at 360 x 360 pixels, it is evident that Garmin has made leaps and bounds compared to the Forerunner 255's 260 x 260-pixel resolution and the 255S's 218 x 218 pixels.
Dimension-wise, the Forerunner 265 is available in two variants: a 1.3-inch display for the Forerunner 265, and a slightly more compact 1.1-inch display for the 265S, mirroring the offerings of the Forerunner 255.
One of the Forerunner series' hallmarks, customizability, is not left behind. The Forerunner 265 lets you personalize the entire data display. What's more, with Garmin's recent offerings, you have the luxury of fine-tuning everything right from the Garmin Connect app or directly on the watch.
Lastly, let's touch upon a nuance that might slip the casual eye – Garmin decided to give the font and GPS connection screen a facelift. The change is quite conspicuous once you begin to interact with the Forerunner 265, and it leaves you pondering whether it adds to the charm or detracts from it. Time will tell!
So there you have it, a refreshing and comprehensive look at the design and aesthetics of the Garmin Forerunner 265. Stay tuned for further insights!
Battery Life
One might anticipate that the incorporation of the stunning bright AMOLED display would be a severe drain on the Forerunner 265's battery. While it's true that the battery does take a hit compared to the Forerunner 255, the 265 holds its own rather impressively, particularly when stacked up against other AMOLED-fitted smartwatches.
In an interesting twist, the two variants of the Forerunner 265 come with contrasting battery performances. The model with the smaller screen, the Forerunner 265S, proves to be the stamina champion, which is somewhat expected given its more modest display.
Here's a bonus: you can store your motivational workout tunes on both models. But a word of caution – jamming out while exercising will eat into the battery reserves.
For some numbers, the Forerunner 265 boasts a battery endurance of an impressive 13 days in the smartwatch setting, a commendable 20 hours with only the GPS functionality in GNSS mode, and a reduced 7 hours when GPS and music both keep you company. Note that other GPS settings (like All-Systems GNSS + Multi-Band and SatIQ (AutoSelect) GNSS) will further deplete the battery at varying rates.
In practice, for the average user engaging in light fitness activities, you won't find yourself tethered to a charger all that often. In my hands-on experience, wearing the watch round the clock, monitoring sleep patterns, and keeping tabs on workouts, I found myself reaching for the charger just once a fortnight. That's quite the feat for a watch sporting a bright 2000 nits AMOLED display!
Also Read:Dizo Watch R Talk: Revolutionizing Budget Smartwatches
Garmin Forerunner 265 Features
The touch-responsive screen is a standout addition in the 265, marking only the second instance of touchscreen integration within the Forerunner lineup, with the Forerunner 955 paving the way. It adds a layer of convenience as you can effortlessly scroll and select options with a simple touch. But fret not if you are in the midst of an intense workout, drenched, or gloved up, the classic buttons are still at your service.
Another commendable inclusion is the Training Readiness Score, which made its debut on the Forerunner 955. It's great to see this feature trickle down to the more compact offerings. An advanced iteration of the Body Battery score, the Training Readiness Score considers various factors, such as your recent workout intensity, sleep quality, and heart rate. And the time between workout sessions to gauge how primed your body is for performance.
This feature is a goldmine for training insights. For instance, during my marathon training, I used it to discern how my body recovered from rigorous runs, aiding me in fine-tuning my preparation for the race day. Another facet of this feature is the Morning Report – a nudge on your wrist in the form of a push notification, which informs you of your Sleep score, Training Readiness score, and weather updates and even suggests a running workout based on your training history.
Music playback
Let's talk about music playback. The Forerunner 265 and 265S integrate music storage as a standard feature. Say goodbye to a separate 'Music' player as was the case with the 255 series. These new models come with a generous 8GB of storage, ensuring your playlists keep you energized during long runs. Though, for dedicated Spotify or other streaming service users, this feature might not hold as much allure, as they may primarily use the watch for controlling playback.
Apart from these introductions, the Forerunner 265 retains the beloved features of its predecessor. From VO2 max to weather insights, the rich running metrics of the 255, and Garmin's unparalleled GPS technology – it's all there. Essentially, the Forerunner 265 is the 255 reimagined – more vibrant, polished, and visually appealing, yet fundamentally a 255 at its core.
Sports Profiles
Though the Garmin Forerunner 265 is principally a runner's dream, it doesn't shy away from embracing a myriad of sports profiles – be it cycling, swimming, hitting the slopes with skis or snowboards, strength training, yoga, or even engaging in breathing exercises.
The customization options available for each sport profile are truly vast. Both on the watch and the app, you can create tailored data screens for each profile with an abundance of layouts and metrics – seemingly limitless. Moreover, you can set alerts for specific thresholds, be it heart rate, pace, distance, or power output, ensuring you're kept informed during your activities. Additionally, tweak the GPS settings, toggle auto laps and auto pause, and set up heart rate broadcasting – the options seem endless.
However, it's worth noting that the Forerunner 265 holds back a bit when it comes to mapping features. While you can add and navigate routes, full map support is not present, leaving you with mere route outlines sans topographic details or surroundings. Spontaneously conjuring up routes or in-depth route alterations is not in the cards. It might be a dealbreaker for trailblazing adventurers.
Accuracy: The Forerunner 265 Shines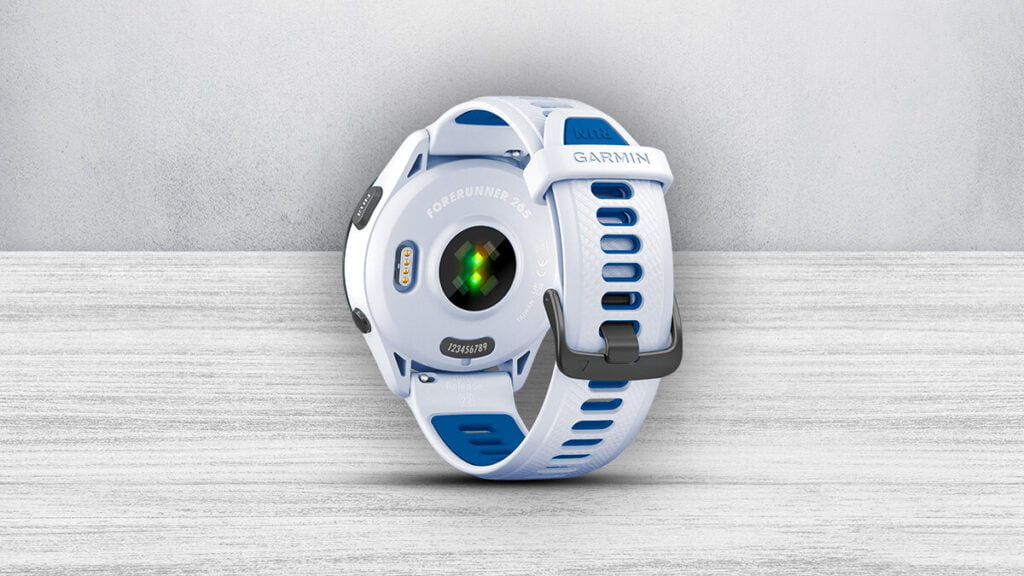 Accuracy is key in sports tracking, and Forerunner 265 excels in this department.
Putting the heart rate tracking under scrutiny by pitting it against a Polar H10 chest strap, the Forerunner 265 held its ground impressively, mirroring the accuracy. It's a heavyweight contender when thrown in the ring with other sports watches, including those from Apple, Polar, Coros, or even Garmin's own offerings. The 265 emerges as one of the champions of heart rate accuracy.
Not to be outdone, GPS tracking is stellar. With dual-band support engaged, GPS tracking is pinpoint accurate. In a side-by-side comparison with a plethora of sports watches, the Forerunner 265 either matches them stride for stride or leaves them in its wake.
In summary, the Garmin Forerunner 265 is not just a watch but a versatile companion for the sports enthusiast. With an abundance of sports profiles, customization options, and unparalleled accuracy, it's a force to be reckoned with. However, if mapping and route creation are high on your list, you might want to explore other options.
Conclusion
The Forerunner 265 demonstrates that the amalgamation of OLED displays and sports watches is nothing short of splendid. However, it's more pragmatic to consider this as a souped-up edition of its eminent predecessor, the Forerunner 255 Music. It boasts a touch-sensitive display along with tactile buttons, offers offline music storage, and prides itself on first-rate sports tracking – notably, the invaluable training readiness feature. It is packed with almost everything a runner could ask for, with the exception of comprehensive maps, which remain the forte of Garmin's flagship models.
The incorporation of the dazzling bright screen does take a toll on battery longevity, bringing it down to approximately a week's worth of juice. However, in the grand scheme of things, it still outperforms the Apple Watch by a factor of four in this domain. The Forerunner 265 can deal with basic smartwatch functionalities, such as receiving notifications from your Smartphone, but the absence of a voice assistant and certain smart features is noteworthy.
A pleasant surprise of the bright and sharp display is that it makes the display on Forerunner 265 substantially more legible and user-friendly, which is definitely alluring.
While the training readiness addition is a showstopper, it is vital to recognize that the 265 doesn't outstrip the Forerunner 255 by a significant margin in terms of run tracking. What it essentially brings to the table is a more aesthetically pleasing and luminous alternative. OLED displays are indisputably carving out a future in the realm of sports watches, though at present, they demand a higher investment compared to their LCD counterparts.
Should You Buy Garmin Forerunner 265?
You should buy if
If you are a sports person that cares about tracking data
You want accurate GPS tracking and heart rate monitoring
You want a smartwatch with a bright, vivid display that is easily readable in bright sunlight
You shouldn't buy if
You are a casual smartwatch user who doesn't run/walk regularly for exercise
You are not willing to spend a substantial amount on a smartwatch
If you want a voice assistant built into your smartwatch and every other possible smart feature
FAQs
Is Forerunner 265 worth it?
Yes, the Forerunner 265 is definitely worth considering for sports enthusiasts and runners. With its vibrant OLED screen, offline music storage, and exemplary sports tracking, including the invaluable training readiness feature, it's a formidable companion for your fitness journey. Additionally, the battery life is impressive in you compare it with other smartwatches, and the combination of a touchscreen with physical buttons adds versatility and ease of use.
Does Forerunner 265 have music?
Yes, the Garmin Forerunner 265 includes music capabilities, allowing you to store music offline. It is especially convenient for runners and athletes who prefer to leave their phones behind during workouts and still want to enjoy their favorite tunes.
Is the Garmin Forerunner 265 waterproof?
Yes, the Garmin Forerunner 265 is waterproof and comes with a 5ATM rating. It means it can withstand pressures equivalent to a depth of 50 meters, making it suitable for swimming, showering, and engaging in other water-based activities.