The world of lighting has evolved rapidly in recent years. Outgrowing the old simple incandescent bulb into a universe of dynamic, interactive, and vibrant LED solutions. Among the plethora of LED options available today, there's one that has stood out for its blend of style, innovation, and functionality – the Govee LED Strip Light M1.
In this review, we're not just discussing any ordinary LED strip. The Govee M1 is a game-changer, a revolution in ambient lighting that allows you to paint your environment with vivid hues and set a mood that fits every moment. Whether it's a soft white for a relaxing read, a vibrant multicolored display for a house party, or syncing lights to your favorite movie or video game, this light strip promises versatility and control right at your fingertips.
So, is it worth the hype? Will it transform your space into an enchanting light spectacle or an immersive home theater experience? Let's delve into the nitty-gritty details. We'll find out everything there is to know about the Govee LED Strip Light M1. Stay tuned as we unwrap this product and shine a light on its features, performance, and real-world utility. Let's light up the room!
Super bright and densely packed LEDs offer stunning lighting effects

Google Assistant and Alexa Compatible

Lots of customization options through the Govee app
What is Govee LED Strip Light M1?
The Govee LED Strip Light M1 is a versatile LED light strip designed for Smart homes. The Govee LED Strip Light M1 comes packed with a host of impressive specifications. These specifications significantly boost its performance and versatility.
This Smart LED light strip offers Wi-Fi and Bluetooth connectivity options, catering to diverse user preferences. It is powered by a 24VDC 3A input derived from a 100-240VAC 50/60Hz power adapter. The strip boasts a high density of LED beads, packing a solid 60 LEDs per meter. This greater density translates to brighter, more striking illumination compared to strips with sparser beads.
With 50 customizable segments, users can create unique lighting designs to suit their individual tastes or mood. The light strip also features 17 moving effects and over 200 preset scene effects. It offers a wide range of vibrant displays for various occasions and settings.
The strip is available in lengths of 6.5, 10, and 16.4 feet. With the dimmable range reaching up to 100%, users can conveniently adjust the brightness levels to their liking.
An exciting feature of the Govee M1 is its RGBIC technology. RGBIC (Red, Green, Blue, Independent Control) technology facilitates multiple colors to display at once on a single strip. This results in a dynamic flow of colors dancing across the strip. And offers a far more engaging visual experience than conventional, solid-colored lighting.
To enhance its Smart home compatibility, the Govee M1 supports both Alexa and Google Assistant. It allows for easy voice commands, making the control of the lights even more straightforward and intuitive.
For peace of mind, Govee offers a one-year limited warranty from the date of purchase. This ensurs that users receive a high-quality, reliable product.
Are Govee LED strips worth it?
Absolutely, Govee LED strip lights are generally considered worth the investment. They offer a broad array of customizable and dynamic lighting options. This is ideal for enhancing the aesthetic of any indoor or outdoor space. Here are some reasons why Govee LED strip lights are deemed valuable:
Smart Control: With its integration into the Govee app and compatibility with voice assistants like Alexa and Google Assistant, the M1 offers intuitive control of your lighting setup. The app gives you access to a lot of customization options for unique lighting scenes tailored to your mood or event.
Colorful and Dynamic Lighting: With its 15 dynamic lighting modes and a spectrum of color options, the M1 creates a vibrant and captivating visual experience. Choose from preset scenes or design your own custom color schemes for a truly personalized touch.
Flexible Length and Cuttable Design: The M1 comes as a 16.4 feet long LED strip light. This can be cut to fit a variety of surfaces. This makes it an extremely flexible lighting solution, perfect for various spaces and surfaces.
Durability and Waterproof: The M1 strip light is built to last and carries an IP67 waterproof rating. That means it's well-equipped to withstand exposure to water and dust. This makes it versatile for both indoor and outdoor use.
Affordability: Considering the features and quality, Govee LED strips are priced reasonably. It offers good value for money, especially when compared to other brands in the market.
Easy Installation: Installation is a breeze with the M1's adhesive backing. It, coupled with the cuttable design, allows you to tailor the length to your specific needs, ensuring it fits perfectly into your space.
If you're looking for a versatile, durable, and affordable solution to upgrade your lighting and overall ambiance, Govee LED strip lights are a worthwhile consideration.
Installation of Govee LED Strip Light M1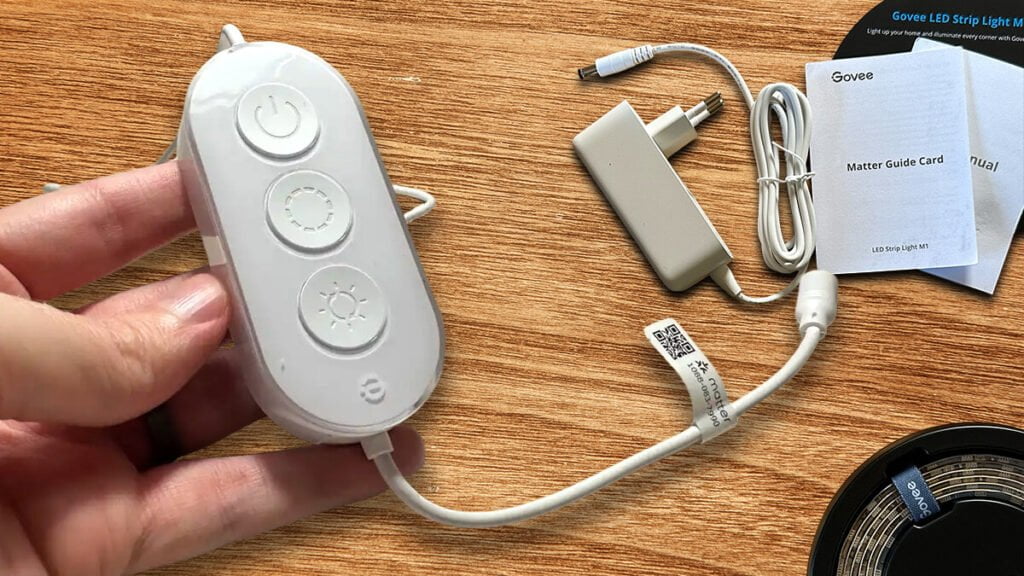 The Govee LED Strip Light M1 comes complete with everything you need to make installation a breeze. The package includes the strip light itself, a detailed user manual, a control box, a power adapter, and additional adhesive clips. There's also an extra adhesive strip, handy if you want to mount the adapter onto a wall.
The quick start guide enclosed provides a straightforward rundown of the installation process. First, link the adapter to the control box and plug it into a socket, then switch on the strip light to ensure everything is working correctly. Following this, disconnect it for safe and secure installation.
Before you get to stick the strip to a surface, make sure the surface is thoroughly cleaned and free of any dust particles.
Plan out where you want the strip to go, trimming any excess as needed. Finally, peel off the adhesive backing from the strip and apply firm pressure to secure it onto the surface.
Govee app
The Govee Home app, easily downloadable via a QR code provided on the box, unlocks a myriad of colors and patterns for your Govee LED Strip Light M1.
Once you pair your Smart device with the LED strip light via Bluetooth, you'll be greeted with a plethora of customization options. With more than 200 preset scenes, you can choose from hundreds of colors. You can even assign different hues to individual segments of the strip for that extra flair.
The Govee app allows you to adjust the brightness of the lights up to a stunning 100%. The versatility doesn't stop there – if you opt for white lights, you can easily adjust their temperature from warm to cool. You can also set timers for a hassle-free lighting experience.
The app offers an array of preset "Scenes" ranging from brilliant sunsets and rainbows to meteor showers and rustling leaves. Any special occasion? The "Festivals" settings got you covered with themed color displays for Halloween, New Year's, and Valentine's Day, among others.
The Govee app allows you to choose colors and patterns based on your emotions, like "dreamland" or "enthusiastic," or activities like reading or gaming.
One of the standout features is the Music DreamView, which synchronizes music with lighting effects for a truly immersive sensory experience. Paired with your favorite tunes, this can turn your living room into a dance floor in an instant.
The Harmony Lab feature also impressed me, offering a unique experience where lighting syncs with ambient sounds. Choose from a variety of sounds and witness a light show tailored to these soothing soundscapes. But beware – some of these could be so relaxing that you may doze off mid-read!
Alexa and Google Assistant
Adding to its impressive feature set, the LED strip light integrates seamlessly with Alexa and Google Assistant for hands-free control. Whether it's turning the device on/off, adjusting brightness, selecting a color, setting the Music mode, or choosing a Scene – simply command your voice assistant and let it do the work.
Whether you're hosting a party or preparing dinner, controlling your lights with voice commands is much more convenient than having to interrupt your activities to adjust settings via the app. The Govee LED Strip Light M1 truly elevates the Smart lighting experience.
Final Thoughts and Verdict
The Govee LED Strip Light M1, stretching to 16.4 feet, presents a highly adaptable lighting solution. It's designed to be cut to fit any surface and showcases 15 diverse dynamic lighting modes. It includes captivating effects such as rainbow, breathing, and flashing. Further personalization can be achieved by crafting your own color schemes using the color wheel or picking from a variety of preset themes.
Through the Govee app, managing the M1 LED strip light becomes effortless. Utilizing your smartphone or tablet, you can schedule timings, manipulate the brightness and color, or choose from a myriad of preset scenes. The M1 also integrates with Amazon Alexa and Google Assistant for voice-activated control, adding a level of convenience to your Smart home setup.
Installation is a breeze with the M1, thanks to the adhesive backing that sticks securely to any surface. It boasts a robust, waterproof design, enabling it to withstand both indoor and outdoor environments.
Overall, the Govee LED Strip Light M1 offers an affordable, adaptable, and highly customizable lighting solution. It effortlessly adds a burst of color and creates an inviting atmosphere in any setting, making it an excellent addition to any Smart home ecosystem.
FAQs
What is Govee LED Strip Light M1?
Govee LED strip lights are known for their ability to provide vibrant, customizable lighting for various settings. It provides dynamic and colorful lighting effects that can be customized to your preference through a mobile app or voice-controlled assistant. Its primary purpose is to enrich your home or office decor, enliven parties with a pop of color, or set a desired mood with its adjustable lighting effects. Whether for decorative or practical purposes, the Govee LED Strip Light M1 brings personalized illumination into your spaces.
Is Govee or Philips better?
Choosing between Govee and Philips largely depends on your specific needs and preferences. Philips Hue is renowned for its premium quality, extensive Smart home integrations, and comprehensive ecosystem of products, making it a popular choice for those who seek a robust, interconnected Smart home system.
On the other hand, Govee provides a more budget-friendly solution with impressive features such as numerous preset scenes and high-density LED count, and it's particularly popular for its color-rich and dynamic lighting effects. Both offer reliable Smart control and compatibility with voice assistants, so your final decision may come down to budget considerations, the need for a broad ecosystem, and personal preference for lighting effects.
Is Govee a Chinese brand?
Yes, Govee is a Chinese brand. The company was founded in 2017 and is headquartered in Shenzhen, China. They have quickly gained popularity worldwide for their innovative and affordable Smart home products, particularly their LED strip lights and home monitoring devices. Despite its origin, the brand serves a global market, with a strong presence in many countries, including the United States.
Also, read about:
Nothing Phone 2: Here's What New GLYPH Can Do
Nothing Phone (1) to Include an Ultrasonic FP Sensor, Ultra-wide Camera That Can Also Act as a Macro Camera