Looking for the best Home Theater under 15000? Then you are in the right place. It takes a lot of time to choose a perfect home theatre. But guess what? We have done that work for you.
Nothing surpasses viewing movies, sports, or television shows on a top-notch home theaters system with booming surround sound. Especially, it is crucial now when we all spend more time at home.
These powerful home theaters quickly become a must-have component of any home entertainment system. If you are a cinephile, nothing will make you happier than having one of the finest home theatre systems installed in your home interior.
It's understandable why people get puzzled when attempting to buy a home theatre. The trouble is that there are a number of different options. A home theater system might represent different meanings to different people.
To achieve decent quality audio for home theaters, there are two effective options. What are they?
Buying an AV receiver and separate speakers.
To purchase a soundbar or speakers with a built-in amplifier.
In this article, we will be talking about the second option.
This article is all about the 10 best home theaters under 15000 in India in 2023. If you expect a hassle-free home theater setup in your home, you must follow our following review.
Whether you are new to home theater or an audiophile, our top picks for the best home theater systems will surely help you make the right decision. So, let's dive into the topic!
Read More:10 Best Bluetooth Speakers under 2000 in India
---
What is a Home Theater System?
Even though watching Netflix with friends and family is a great way to spend time together, a home theater system is necessary if you want to have a cinematic audio experience. However, what exactly is a home theater?
"In simpler words, a home theater system simplifies the process of upgrading the audio in your home. It lets you turn off the awful TV speakers and enjoy a better, more pleasing sound."
What's more, a home theater system allows you to get more absorbed in the experience of watching a movie than you would be if you were watching it on a regular television speaker.
Reputable companies in the industry have created the best home theater speakers that give their customers an unforgettable audio experience.
If you want to learn more about the home theater system, click here.
---
Our Top Picks
| | | |
| --- | --- | --- |
| 1. Zebronics Zeb-Juke Bar 9400 Pro Dolby 525W | | |
| 2. ZEBRONICS ZEB-JUKE BAR 7400 PRO | | |
| 3. Logitech Z623 THX 400 Watt 2.1 Theatre | | |
| 4. boAt Aavante Bar 1500 120W | | |
| 5. LG SJ3 300 Watt 2.1 Channel Soundbar | | |
| 6. Philips 120W Audio MMS2220B 2.1 Speaker | | |
| 7. Obage DT-2605 100 Watt Home Theatre | | |
| 8. OBAGE DT-51 100 Watt Tower Speaker | | |
| 9. LG SL4 300W 2.1 Versatile Home Theatre | | |
| 10. Panasonic Sc-Ht480Gw-K 100W | | |
---
10 Best Home Theaters under 15000 in India 2023- Review
To locate the best home theatre under 15000 in India, we've done extensive research. For anyone looking for a truly cinematic experience in the comfort of their own home, the following are the best home theater setups currently on the market:
1. Zebronics Zeb-Juke Bar 9400 Pro Dolby 525W Home Theater under 15000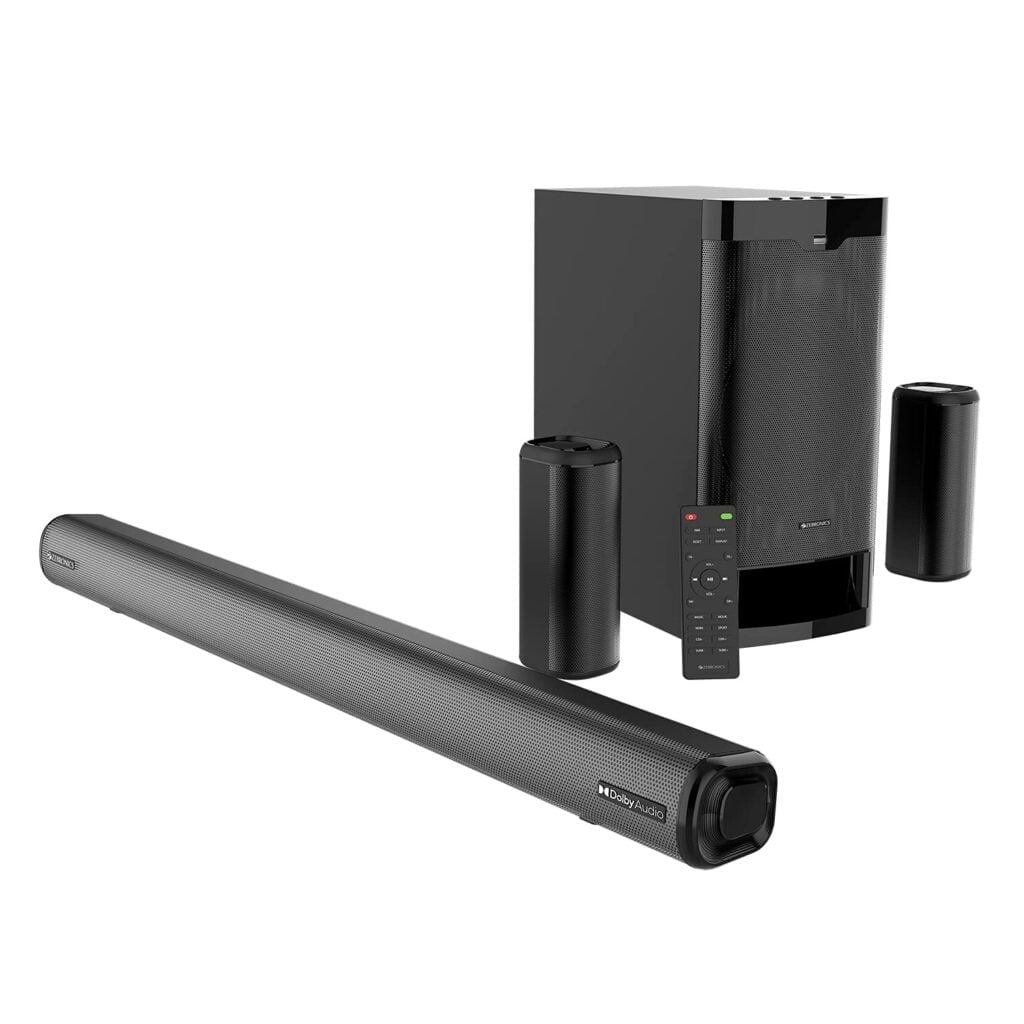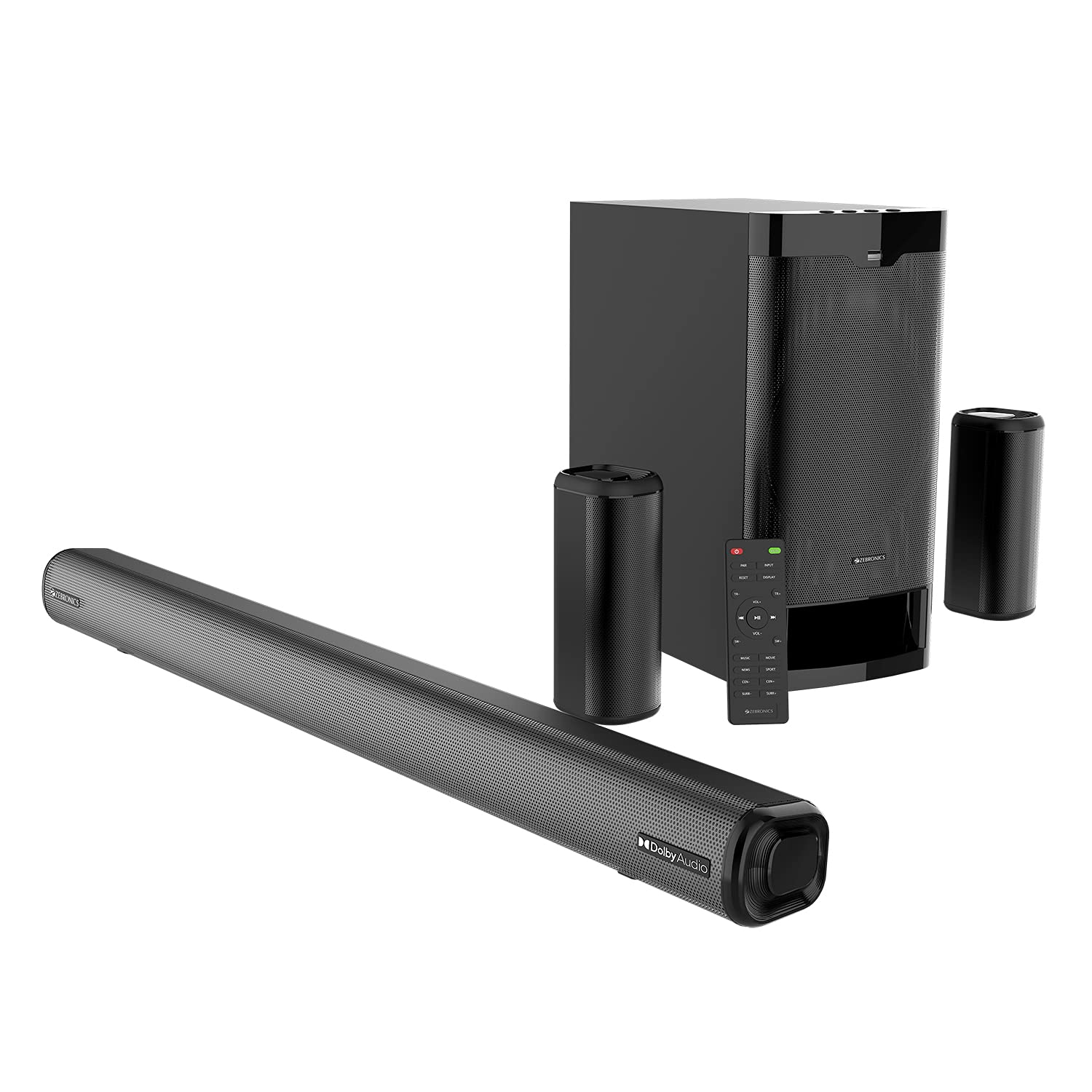 Are you searching for the best home theater under 15000 in 2023 in India? Why not try our best overall pick- Zebronics Zeb-Juke Bar 9400 Pro? Why do we rate this model as the best overall? Let's discuss:
You can transform your living room into a home theater using the Zebronics Zeb-Juke Bar's Dolby hi-fidelity surround sound system.
What's the actual benefit of this system? Well, Dolby 5.1 soundbar with a 15.5′ subwoofer and rear speakers deliver deep bass and excellent surround effects.
Furthermore, the soundbar has been certified by Dolby to ensure that you receive the highest possible sound quality when viewing movies, television shows, or listening to music.
Moreover, the overall built quality is incredible. To keep the subwoofer where you want it, you'll need an extension cord to extend the subwoofer's component cable.
Zebronics 9400's Connectivity:
To pick your chosen connecting method with simplicity, this wireless model includes many connectivity choices such as USB, AUX, HDMI (ARC), and Optical input.
The soundbar also features an LED display, volume controls, media controls, a remote control, and a provision for mounting on a wall.
---
2. ZEBRONICS ZEB-JUKE BAR 7400 PRO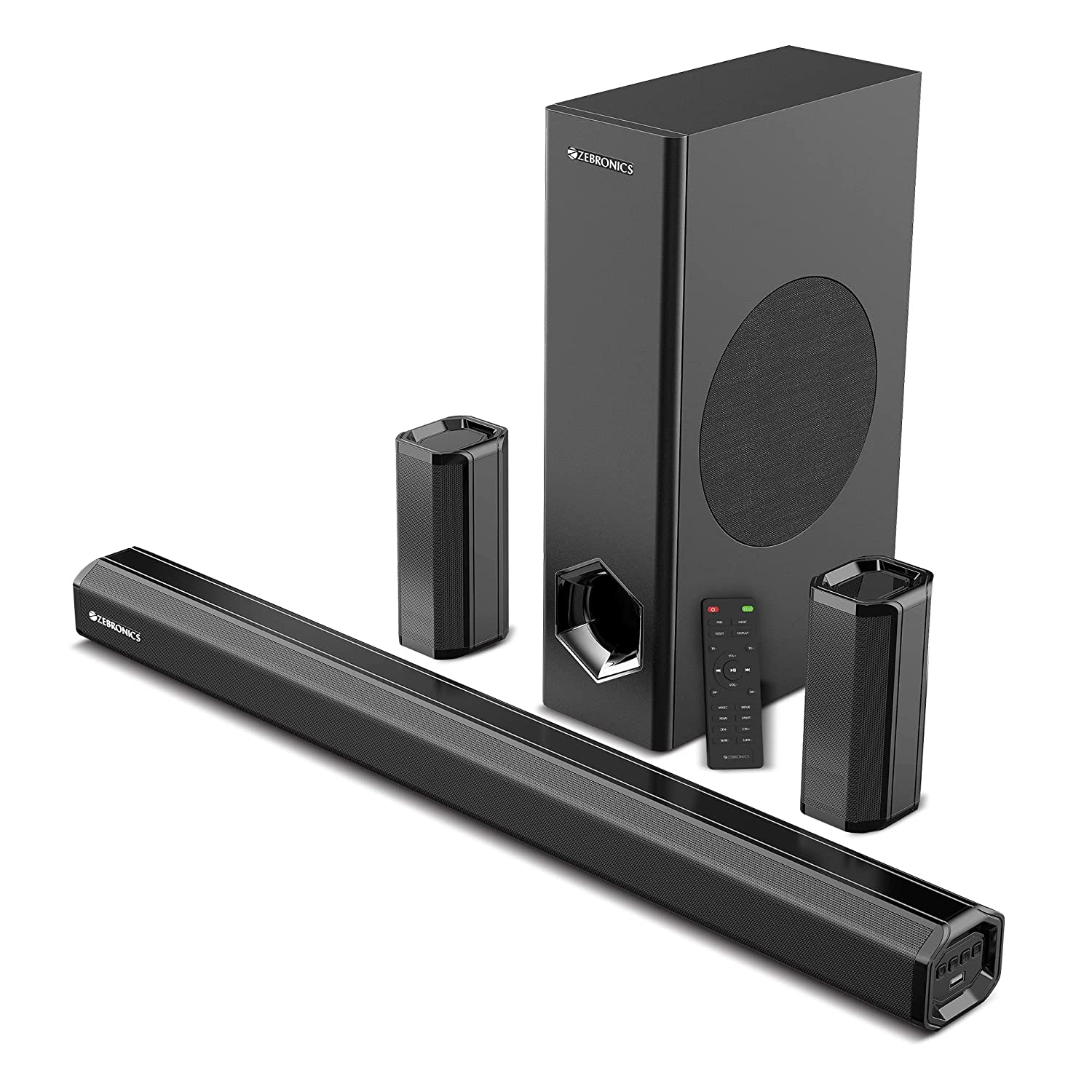 The sound quality of this low-cost sound system can impress potential purchasers.
It's an excellent choice for people who like loud music because it has a high-quality subwoofer to deliver powerful bass.
One of India's popular 5.1 systems, the speaker, is made using cutting-edge technology. Users may enjoy distortion-free listening for a lengthy period.
End users like the speaker's highly configurable interface that provides ease of use.
No doubt about the overall quality as it comes from ZEBRONICS. This dynamic model provides high-fidelity sound for your favorite movies, dramas, action, and music.
Additionally, surround sound is provided via a soundbar with three drivers and dual rear speakers. And the additional subwoofers provide the maximum bass experience.
Connectivity Options:
The soundbar includes a variety of inputs and outputs, including wireless BT, USB, AUX, OPTICAL IN, and HDMI (ARC). You will get a remote control with the soundbar and satellite.
---
3. Logitech Z623 THX 200 Watt home theater under 15000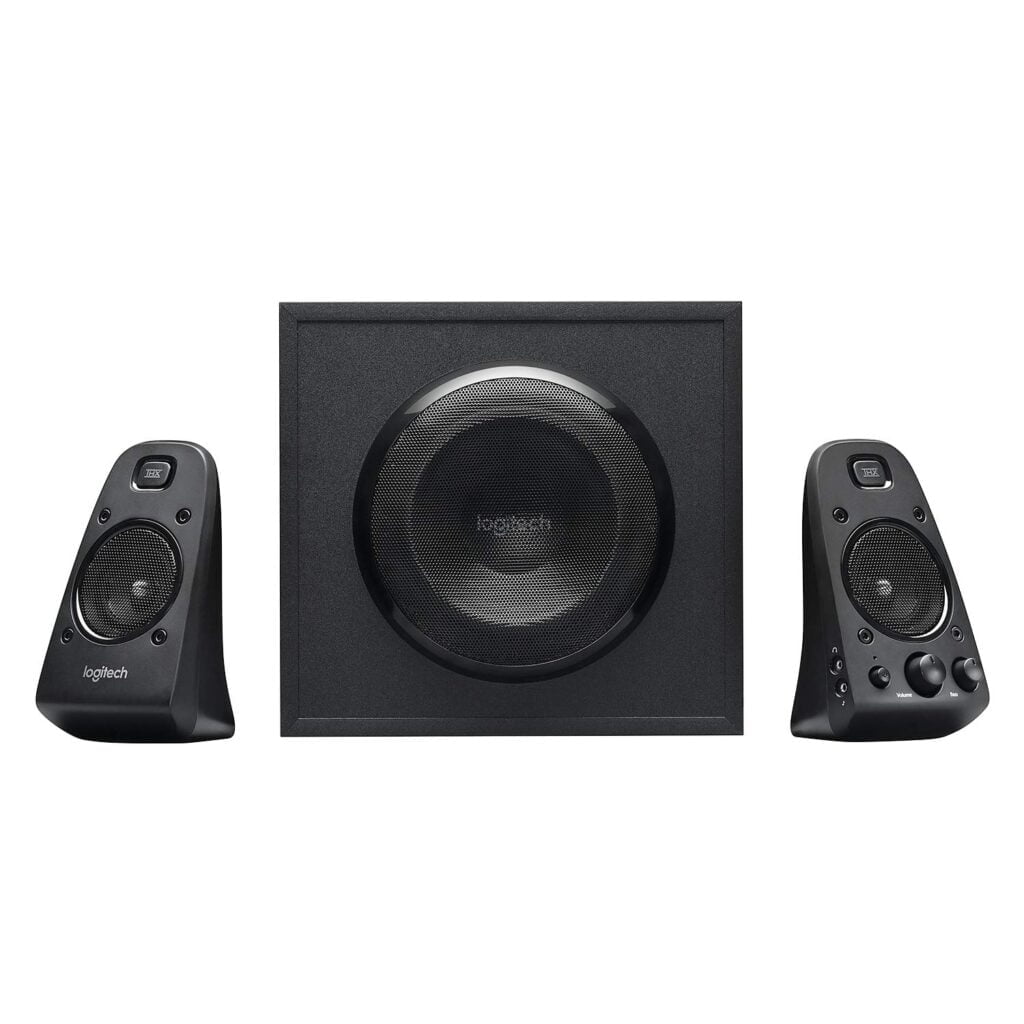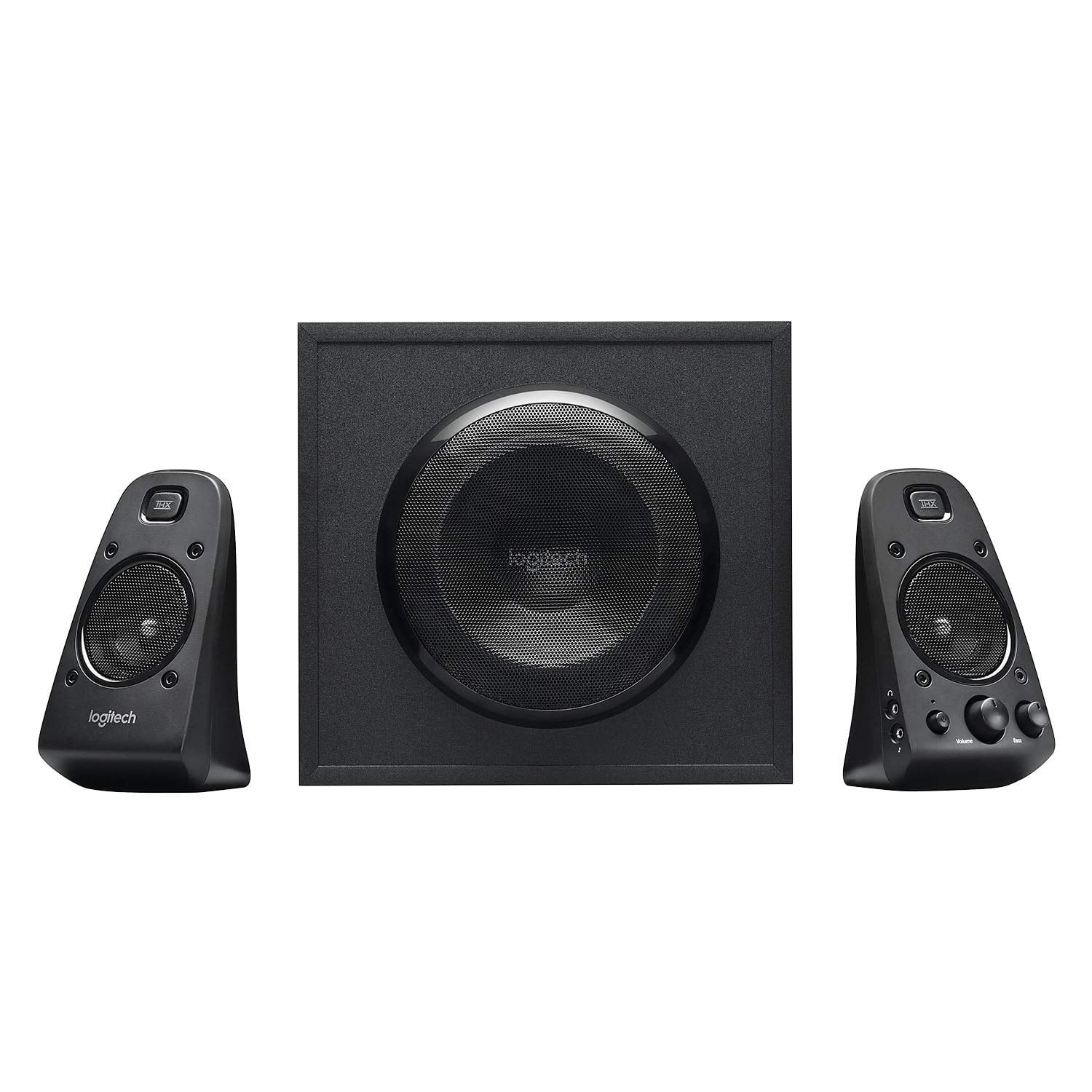 Logitech is a leader in music systems because of its continued innovation and adaptability to current trends.
Logitech doesn't overlook anything, whether the full-featured home theater systems or the little yet strong earphones.
That's why we choose our 3rd pick for the best home theater system 2023 from this renowned brand.
For some reason, the Logitech Z623 THX 200 Watt is our second favorite. Do you curious to learn more about this model? Okay, let's proceed!
First of all, you will get a dynamic design from Logitech. There's a black finish which adds extra beauty to the overall design. Additionally, it will offer the best experience possible right out of the box.
THX-certified speakers provide superior 2.1 sound qualities, whether you're listening to music, watching a movie, or playing a game.
With this home theater system, you can alter the volume level and the bass intensity at any moment, thanks to built-in sound controls.
It's safe to say that owning a Logitech home theater system will provide you with a wonderful home entertainment experience.
If you're looking to buy a home theater for under 15000, this easy setup home theatre system is an excellent option.
Connectivity Options:
Listen to your devices' audio in a way you've never heard before. With an integrated headphone port, two 3.5mm inputs, and an RCA input, Logitech Z623's speakers provide seamless multi-device integration.
---
4. boAt Aavante Bar 1500 Home Theatre Soundbar 120W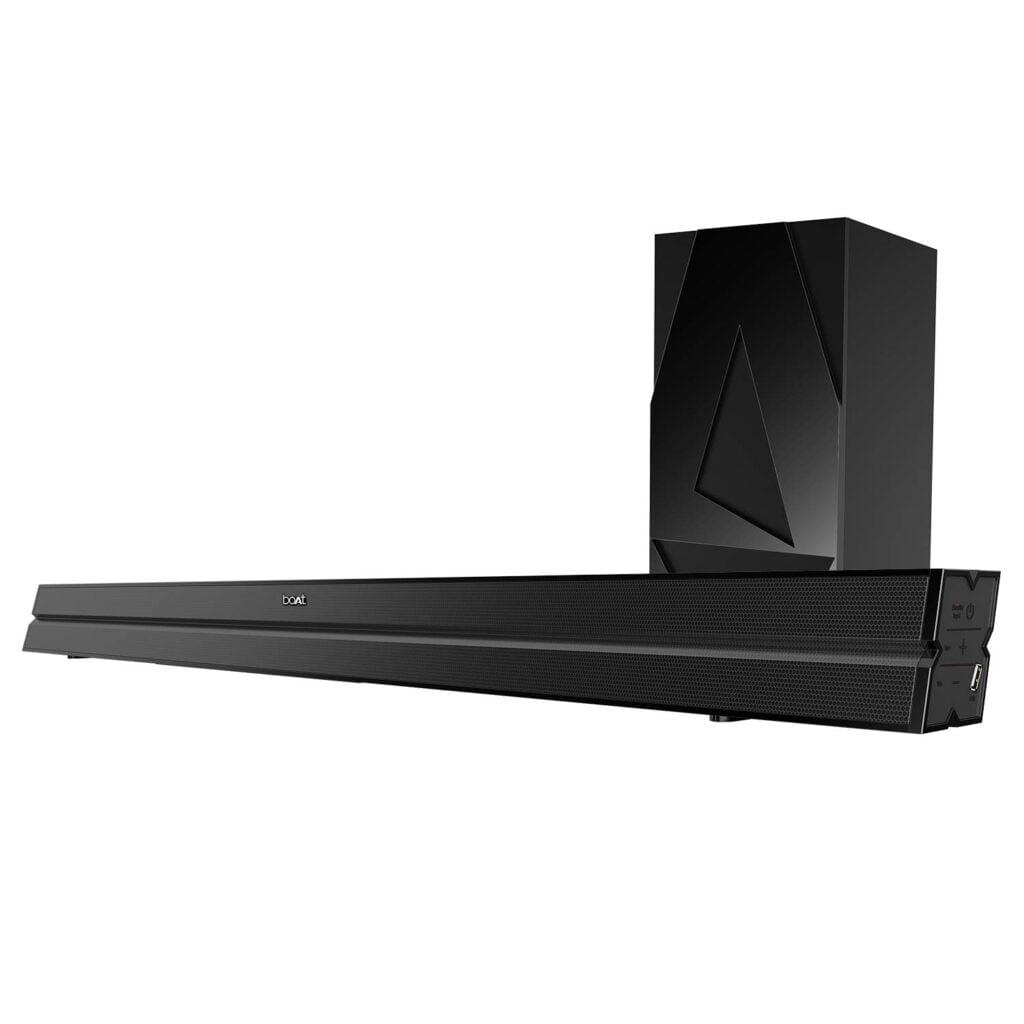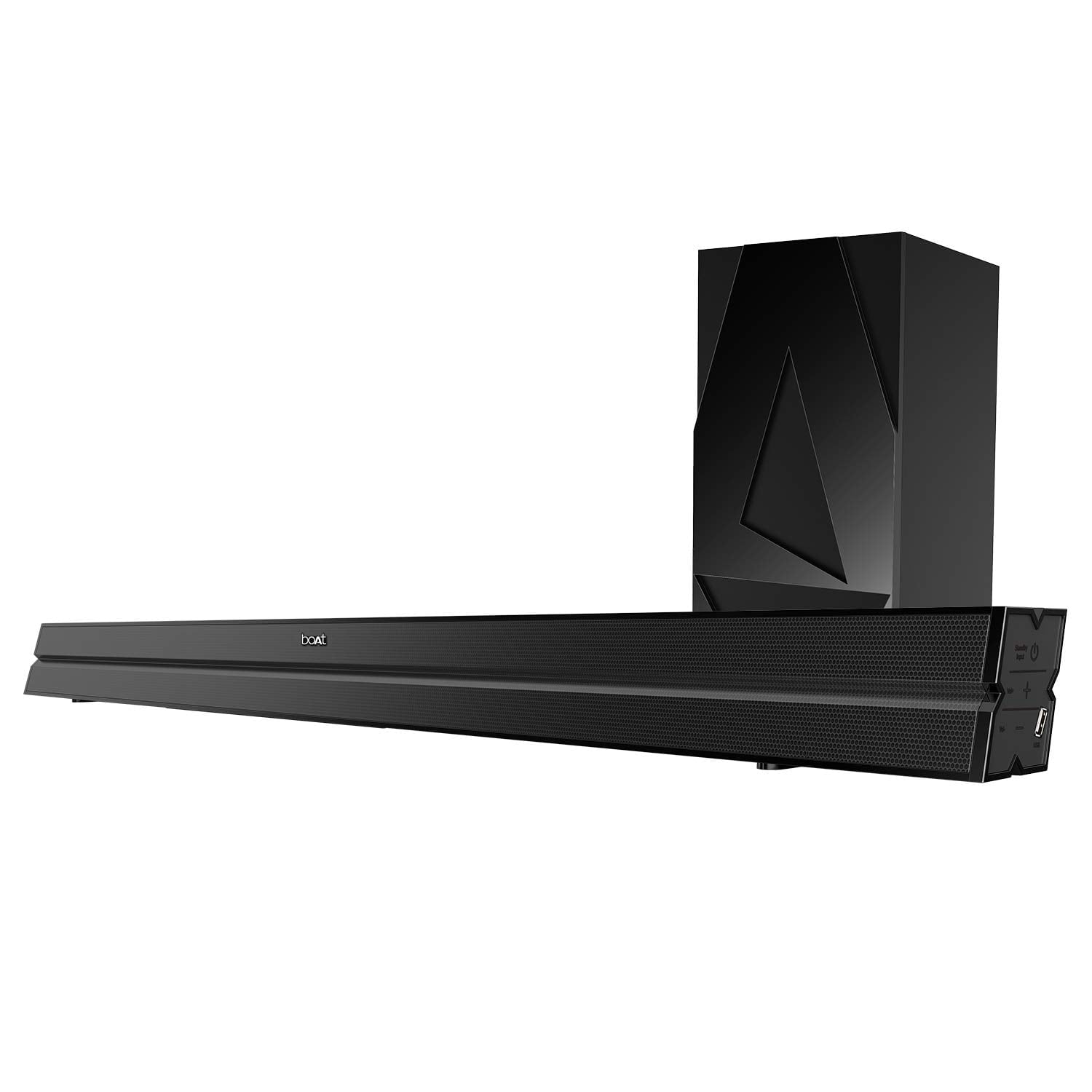 The boAt AAVANTE Bar 1500 and its parent company, boAt, are household names. It's a fantastic soundbar. When paired with the Boat Aavante subwoofer, the soundbar produces crystal-clear audio.
Dynamic and capable of producing more than 120 watts of resonant sound, this bar is ideal for live performances.
Customer feedback indicates that the boAt AAVANTE has simple connectivity and customization possibilities. With 2.1 channels of audio output by boAt, you will get an authentic cinematic sound experience that will surely impress you.
Elegant style and high-quality materials combine to create this piece. The boAt Aavante Bar features a modern aesthetic and a high-quality finish to match your existing home decor.
Connectivity:
boAt Aavante Bar has a variety of connection methods, allowing for a wide range of configurations. It is possible to create 3D stereo surround sound from two-channel sources using USB, Optical, AUX, HDMI ARC, and Remote Control (RC).
---
5. LG SJ3 300 Watt 2.1 Channel Soundbar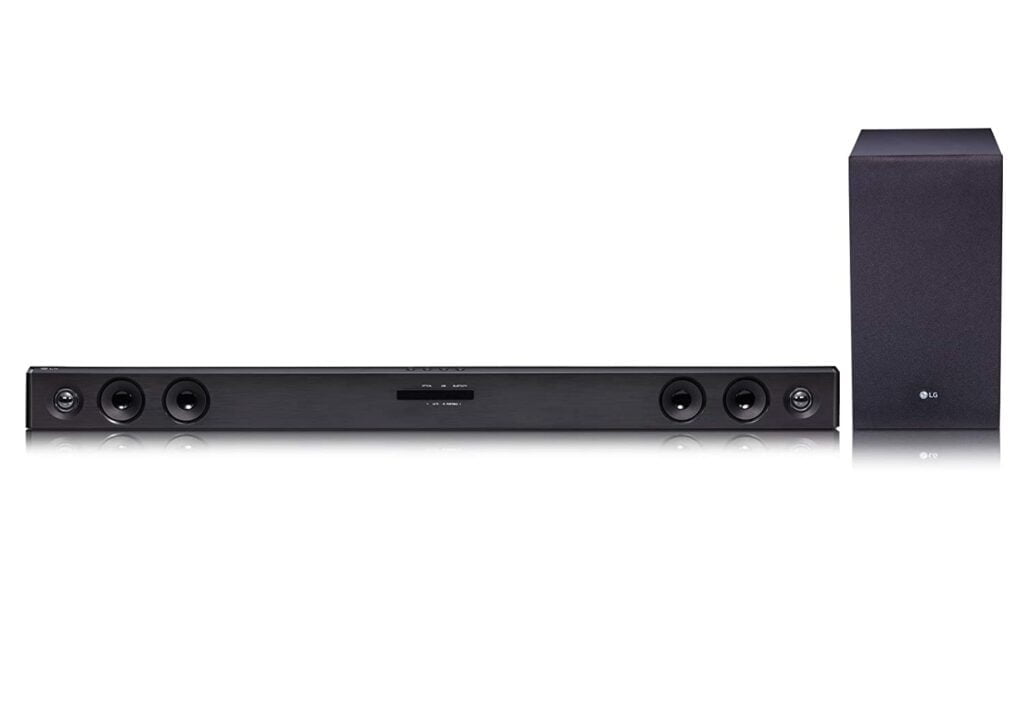 Audiophiles who know what sound is and how it should sound are the only ones who should use this LG SJ3 speaker.
Bass-deficient soundbars have excessive loudness and a lack of audible bass. You will get ASC-based control from this particular model.
In real-time, adaptive sound control (ASC) evaluates the content. ASC identifies that you listen to the dialog; it automatically changes the volume to provide crystal clear speech. When it detects action, it boosts the Sub to provide additional impact on the scene.
With the LG SJ3 soundbar with wireless Sub, you can crank up the volume to get the premium-level experience. Make your TV experience even more enjoyable with this handy piece of gear.
It can be used for everything from belting out a song from your favorite musical to cranking up the soundtrack to your favorite show.
With 300 watts, the audio system delivers full-bodied sound to enhance your viewing experience. What's more, there's a lot more. The 2.1 channels of high-resolution music with deep bass are there to enjoy.
LG SJ3's Connectivity:
You can also stream music from suitable mobile devices via a Bluetooth connection.
---
6. Philips 120W Audio MMS2220B 2.1 Speaker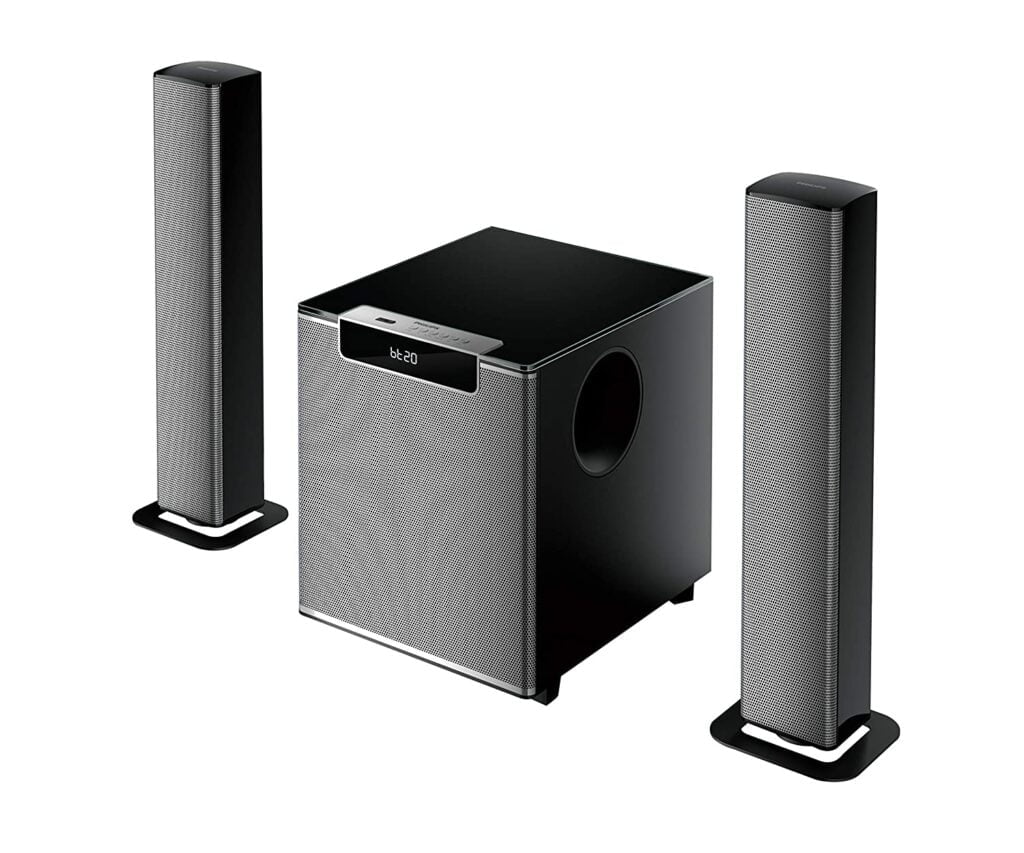 It is an excellent option if you are a fan of bass and want to experience spectacular sound at home. You will get the best budget home theater system by purchasing this model.
Philips' products have dominated the Indian market because they were positioned in accordance with the Indian consumer's attitude.
Furthermore, the manufacturer has also fitted an FM tuner so that you may listen to the radio in addition to these other sources.
One subwoofer and two satellite speakers/soundbars are included in this multimedia setup. And you must place it carefully around the room to get stereo surround sound.
Its 120W Bluetooth convertible multimedia soundbar provides high-quality sound and robust bass. This allows you to get the most realistic film experience possible.
The Satellite speakers are meant to be used as either soundbar or tower speaker, depending on your desire.
Aside from giving your setup a high-end aesthetic, its sleek design and glass top finish also go well with any home decor style.
Connectivity:
Bluetooth and AUX can be used as a connector to this stylish home theatre model.
---
7. Obage DT-2605 100 Watt home theater under 15000
This is a must-have for their "Quality Audio" for those who value clarity and melody.
Imagine hearing every rhythm, perfect lows, excellent mids, and highs while listening to music late at night in complete stillness. Imagining the wave of lower bass at that moment is a great analogy. Every music lover's dream and DT-2605 makes it a reality.
The lower bass is amplified to give more punch to the sound. It's possible to listen to music all day and not feel any weariness. You won't be able to get enough of the deep sound staging and finely detailed sound.
The DT-2605 isn't known for its blaring volume. In DT-2605's opinion, you should not close your ears! It asks you to close your eyes and pay attention to every syllable of the song.
This speaker system's mellow and soothing tone and its emphasis on voice clarity and softness make it ideal for listening to music for extended periods.
Connectivity System:
It uses Bluetooth as a connectivity medium. During Bluetooth functioning, there will be no background noise. In a nutshell, clean connectivity with no delays.
---
8. OBAGE DT-51 100 Watt- 2.1- Tower Speaker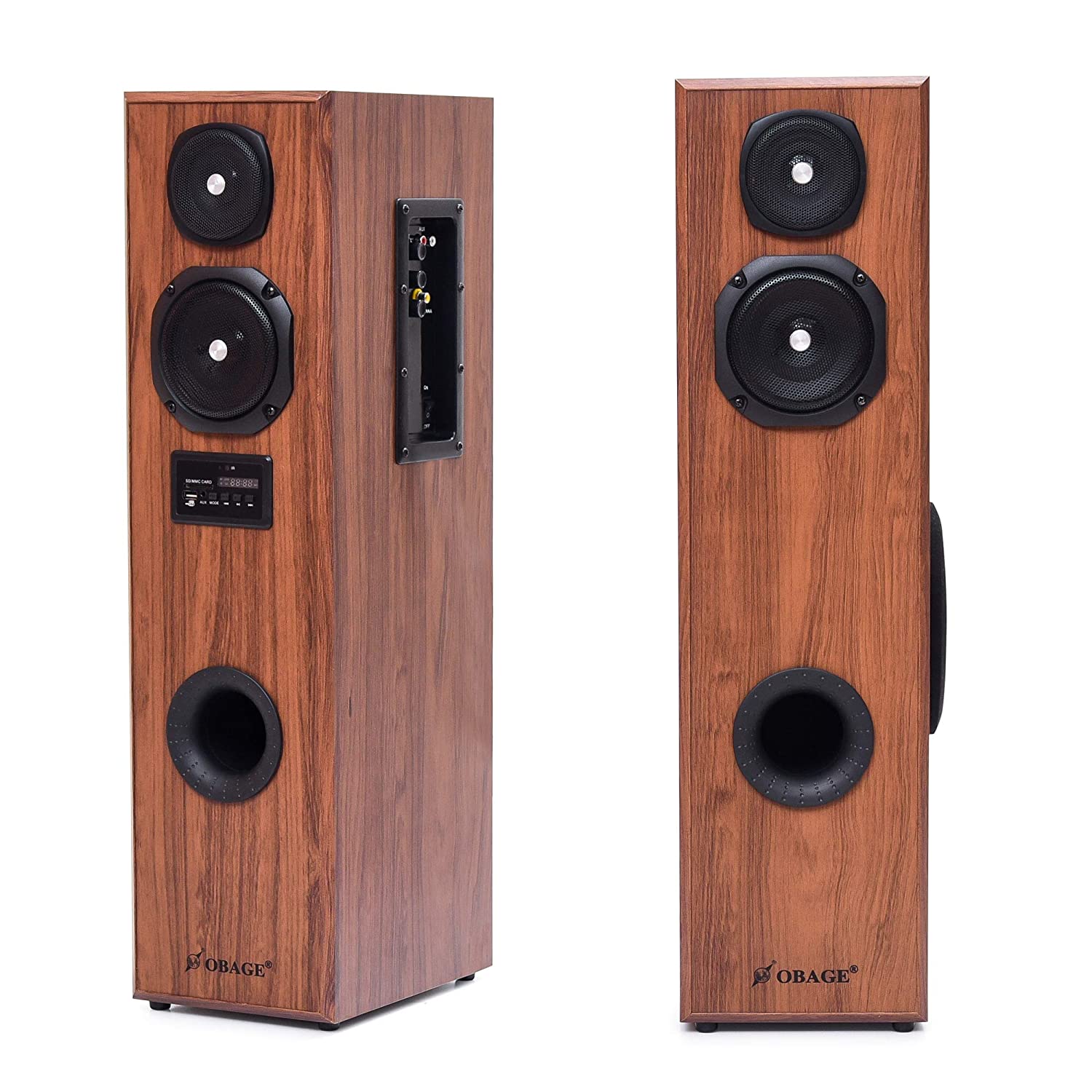 The Obage DT-51 is a tower speaker system manufactured in India.
It makes the vocals and instruments crystal clear with its FLAT sound signature. You have the option to get your groove on at a high level or make it accessible to a low volume.
This model has a balanced sound that is ideal for music enthusiasts looking for a pure listening experience.
Further. to capture even the tiniest nuances in the music, equal weight is given to the three fundamental frequencies: bass, mids, and treble. Even at low levels, the frequency response remains constant.
Connectivity Option:
For connectivity, it makes use of optical input, Bluetooth 5.0, FM, Aux, and USB support.
---
9. LG SL4 300W Sound Bar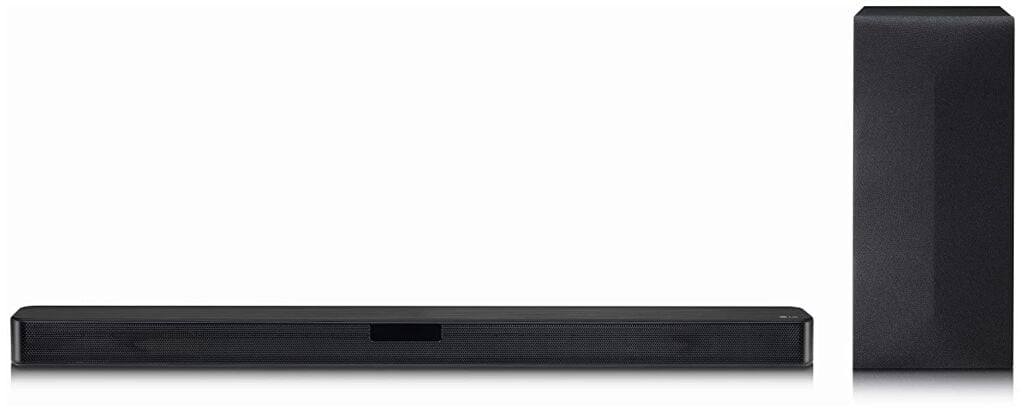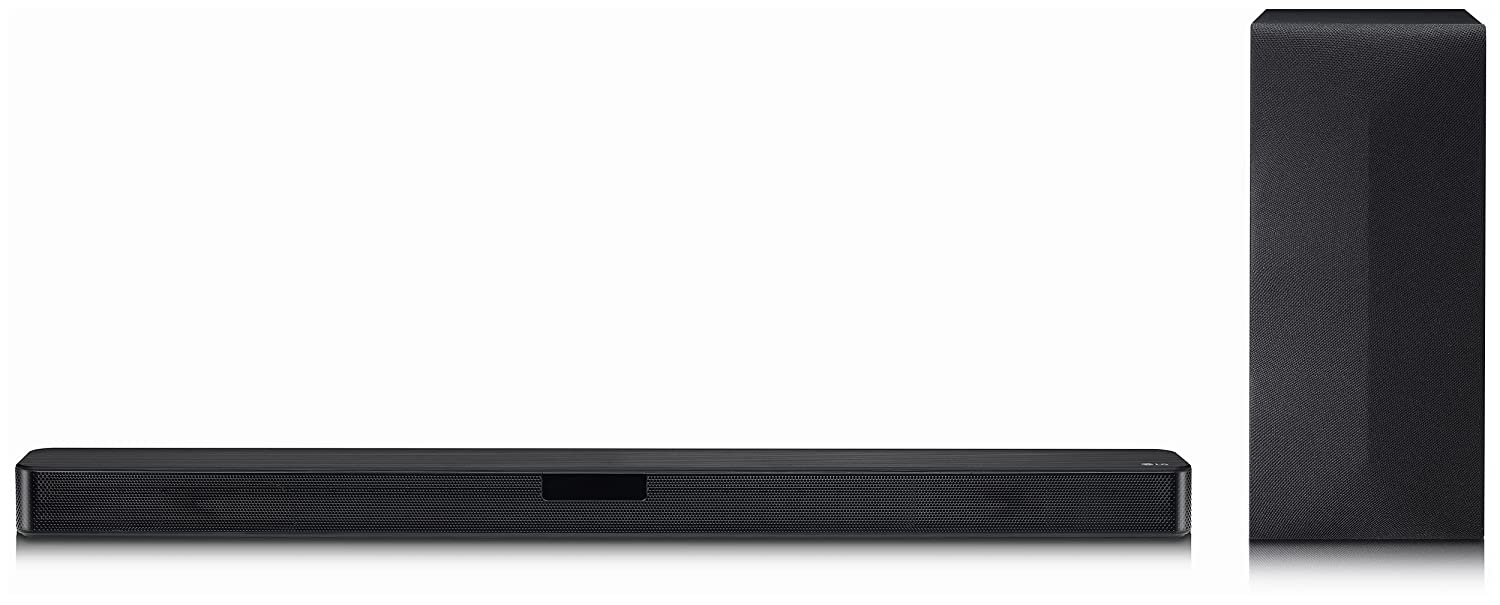 Our next preference provides good value for money. Better than Boat and infinity, in my opinion. The overall output power of 300W RMS is pretty loud.
The Adaptive Sound Control automatically recognizes what is being played and adapts the sound mode. Hence, it can provide the best possible audio experience for the user.
This soundbar is equipped with a Dolby digital audio system. Make sure your television's sound output is set to SPDIF mode and that Dolby digital output is selected before you begin to enjoy the music and theater sound system.
Connectivity Options:
LG SL4 provides optical and Bluetooth connectivity.
---
10. Panasonic Sc-Ht480Gw-K 100W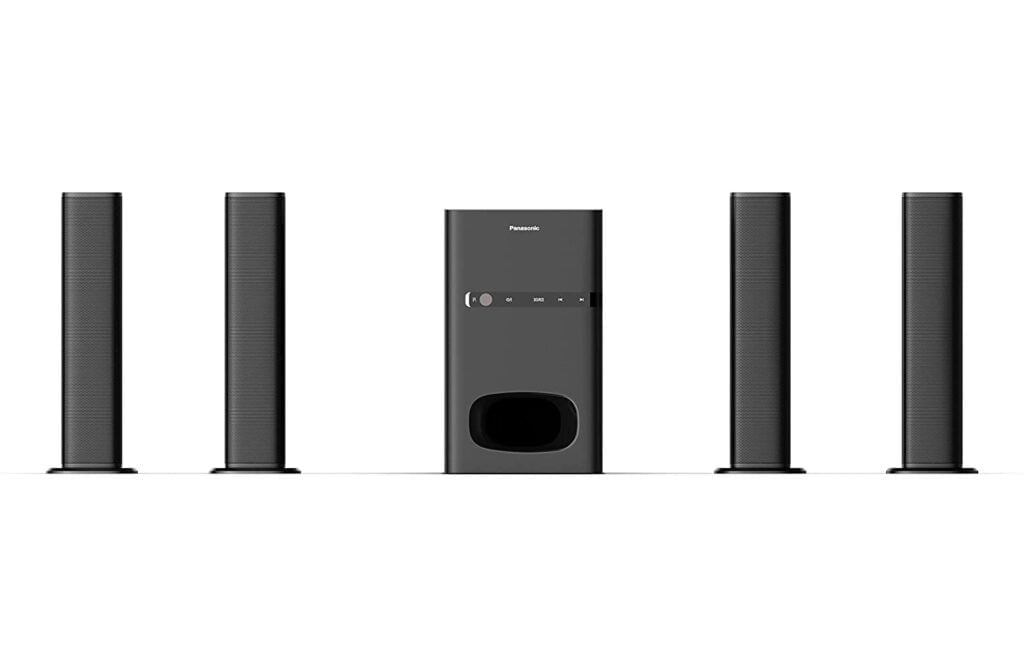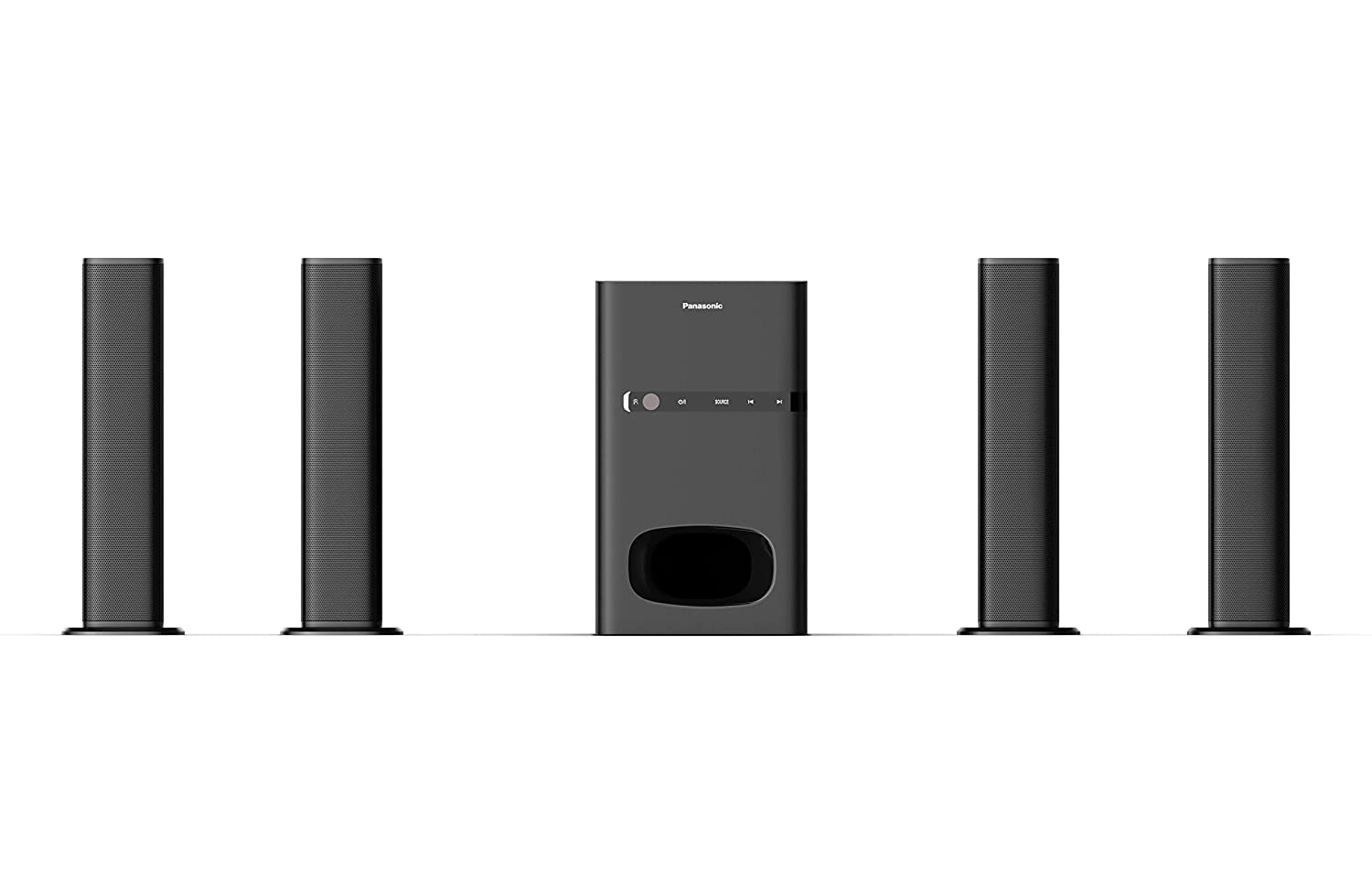 This is an excellent choice if you're looking for a loud sound with lots of bass. A few of the system's additional functions are as follows:
It comes with an auxiliary cable and remote control, which is unusual for a device in this price range. The soundbar's versatility allows it to be mounted horizontally or on the floor, making it an ideal multimedia tower speaker system.
Moreover, a TV, DVD Player, Laptop, Personal Computer, Smartphone/Tablet, etc., may all be used with this system.
Connectivity Options:
The speaker system has multiple connecting choices, including Bluetooth wireless streaming, USB, audio-in, and an RCA cable.
---
Buying guide of Best Home Theater under 15000 in India
A home theater is a set of components that together produce the cinematic sound effect. However, choosing the right product needs proper knowledge about the product and a clear understanding of your requirements. Let's know them in very simple terms.
1. Speaker Type and Room Size:
In order to get high audio performance, the speakers play a vital role and produce the final output. Some home theatre systems include bookshelf speakers, while others include floor-standing speakers. Both are different things.
You can choose them according to your convenience. 5.1 channel or 7.1 channel speakers are usually included in home theatre systems. A subwoofer reproduces low frequencies, and satellite speakers for the front, middle, and rear channel speakers are also located here.
Difference Between 5.1 and 7.1 Surround Sound:
First let me explain, what does it mean by a 5.1 speaker? Here the first digit always mentions the number of speakers and the second digit after the point indicates the number of subwoofers. A set of five speakers and one subwoofer make a 5.1 system.
Whereas seven speakers and one subwoofer make a 7.1 system. A 7.1 surround sound system expands on the 5.1 system by adding two more surround sound speakers to give your sound more depth.
It may be a fantastic listening experience in the appropriate environment. A 7.1 system might sound jumbled if it's set up in the wrong room or incorrectly. You can go for a 7.1 system if your room size is more than 350 square feet.
Room Size:
The larger the room more powerful the home theatre you need to have an immersive aural experience. Additionally, there are several sorts of layouts available when choosing a home theatre, including 2.1 channel, 4.1 channel, 5.1 channel, and 7.1 channel, depending on the size of your space. However, because the 5.1 Speakers Layout is so popular these days, you might want to consider it as well.
Also, your room should contain some soft furniture like a sofa, curtains or carpet. Those pieces of furniture help a lot to reduce the echo effect.
2. Subwoofer:
A subwoofer is a speaker that reproduces the ultra-low frequencies heard in movies and music. Which subwoofer is best for you depends on the size of the space and its sound blending quality, power, and whether it is carpeted or not. If you have enough space go for a larger or double subwoofer. If you are a bass lover, always pay attention to the subwoofer, as the sub-woofer unit is responsible for the bass. On the other hand, if you don't like bass or have a very small room, a smaller subwoofer will be a wise choice.
3. A/V Receivers – You should look for:
A/V receiver is at the core of any home theatre system, you'll want to be sure the set you purchase includes one of decent quality. It controls the surround sound for your speakers and is where you connect all of your television's visual and audio sources. Today's A/V receivers are jam-packed with exciting functions. If you just want to increase the volume of the audio, a normal speaker will be enough to do it. But to have a theatre-like experience you should buy a good quality A/V receiver. To choose a good AV receiver check all the points mentioned below.
a. Power:
The amplifier's overall power output is commonly expressed in watts(RMS). It's critical to make sure your receiver can provide adequate power to the connected speakers. Look for an A/V receiver that supplies at least 100 watts of power to each channel for optimal performance.
b. Connectivity Options
HDMI: The number of connection ports and choices offered on an A/V receiver is critical. While older A/V receivers may have HDMI 1.3 ports, newer versions may have HDMI 2.0 connectors which are preferable. Audio Return Channel (ARC), 3D video, and Ethernet via HDMI are all supported by the new specification.
At least three HDMI input ports should be available on an AV/ receiver, to let you connect multiple devices. If you don't need multi-connection you can go for lesser HDMI inputs.
AUX Connection: AUX connection is one of the simplest types of connection where you don't need to do anything, just plug in your phone with the home theatre via an aux cable and play your media.
USB Connection: A USB connection also provides a simple connectivity option. You just need to plug in your USB device like a pen drive with a home theatre and you can enjoy the sound without any external device like a TV.
Processing of Surround Sound: Dolby Digital and DTS (Digital Theatre Systems) soundtracks from HDTV broadcasts, Netflix, DVDs, Blu-ray discs, and other sources can run on almost all modern A/V receivers.
Not only that, but the latest home theatre receivers now support Dolby DTS-HD and Dolby True HD, enabling you to enjoy a true and immersive surround sound experience directly at home. Some home theatre receivers feature a number of equalization presets to help you get the best experience out of the music.
Ethernet: Ethernet connectivity in the A/V receiver provides a number of advantages, including quick firmware updates and music streaming over the internet. You may also browse material on your home network and stream music from your smartphone, tablet, or other devices using DLNA(Digital Living Network Alliance).
c. Source Components
The following is a list of the source components you'll require:
DVD player: If you're buying a standalone DVD player, be sure it has progressive scan and upscaling capabilities so you can receive the good image on your HDTV.
Blu-ray Disc player: A Blu-ray Disc player allows you to watch content in real high-definition. Plus, it is also possible to play standard DVDs and audio CDs.
Ultra HD Blu-ray Disc player: If you have a 4K Ultra HD TV, an Ultra HD Blu-ray Disc player is an additional source component to consider. These players deliver true-4K quality for viewing on an Ultra HD TV while playing Ultra HD Blu-ray discs. Ultra HD Blu-ray Disc players support standard Blu-ray and DVD discs, as well as 4K upscaling.
CD player: Since all DVD, Blu-ray, and Ultra HD Blu-ray players can play CDs, a separate CD player may not be necessary.
Antenna/cable/satellite: You must choose between an antenna, cable, or satellite to access your major TV programs. Consider bundling your cable or satellite service with a DVR.
Internet streaming device: A media streamer like the Roku may be used to view movies online if you have a high-speed internet connection. A growing number of Blu-ray Disc players and smart TVs can connect to the internet and stream content from Netflix, VUDU, Amazon Prime, and Hulu.
VCR/DVD recorders: You may link your VCR to your home theatre system; if you have one (especially if it is a HiFi Stereo unit). A DVD recorder or a DVD recorder/VCR combo can be included. These gadgets are becoming increasingly scarce, so acquire one while you can.
---
Final Verdict on Best Home Theater under 15000
So this is all about our 10 best home theatre under 15000 in India review. It's hard to pick just one thing when there are so many excellent options!
All of the items above have been carefully chosen to ensure that only the best products make a list. Our specialists ensure unbiased evaluations.
Finally, we propose the Zebronics Zeb-Juke Bar 9400 as the best home theater system in 2023, followed by the ZEBRONICS 7400 PRO.