The Omen has been the highlight of HP's gaming laptop line for a long time. The HP Omen 16 is a unique and intriguing laptop that comes in both Intel and Nvidia variants. Our review unit came with AMD Ryzen 7 5800H CPU and AMD RX 6600 M GPU. Because of its robust all-AMD internals and excellent screen, it's a cheap and capable laptop for mainstream gaming and work. However, its GPU is outperformed by Nvidia's RTX 3070 MAX Q which comes with a higher-priced variant, while other components provide superior build quality and usability. It crams high-performance hardware into a size that's comfortable to carry in open. So, a complete HP Omen 16 review is given below to know its every aspect.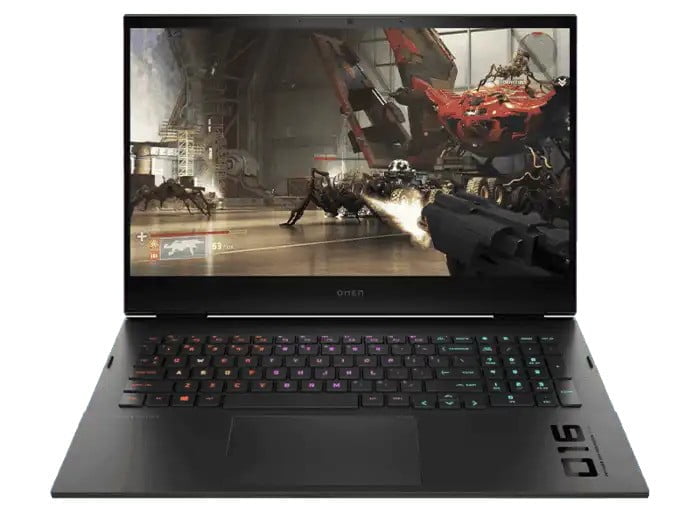 According to HP's website, the Omen and Victus appear to compete in the same market and are available in similar configurations. It may be perplexing to someone unfamiliar with HP's product range why there are numerous models for what appear to be identical laptop characteristics. Let's see whether we can tell them apart, and how this iteration of the tried-and-true Omen compares.
Design Features:
Build Quality:
The HP Omen 16 is mostly made of plastic, with brushed metal around the edges. It has a matte black surface throughout, which is attractive but unfortunately attracts fingerprints and dust. It will be virtually hard to keep it looking new, even if you wipe it down frequently. The HP Omen appears to be a gorgeous gadget. Extravagance is limited to a tiny, iridescent emblem on the lid and a delicate, geometric design on the speakers. It's just as clean and understated as the Lenovo, and it's a step up from the colorful Dell and the budget-friendly Victus. The build quality is also extremely good. The Omen feels substantial and well put together, even if it isn't as tough as all-metal laptops.
Dimension:
The laptop's measurements are 14.53″ wide by 9.65″ deep and 0.89″ in height. The standard setup weighs 2.3 kilograms, with enhanced components adding a few grams. The sleek lines and chiseled edges appeal to me a lot. It almost looks like a corporate laptop. HP has given it a pleasing appearance that isn't too harsh to the touch.
Keyboard:
The keyboard and trackpad are satisfactory in my opinion. Nothing special is there to mention, but you will get the job done. The keys have a good amount of travel on this laptop because it isn't aiming to be incredibly tiny, albeit the actuation is a little mushy in my opinion. I'd want a little more click at the bottom.
Trackpad:
On a laptop of this size, the trackpad is about as big as it can get. The mouse click and pointer precision were excellent, while multi-finger gesture detection was decent. It had no trouble scrolling up and down with two fingers, but it struggled with three-finger tab switching. To my touch, the trackpad's covering seemed a bit wrong. It appeared almost too smooth while moving at times, to the point where my finger would occasionally slip over without completely registering. My finger would get trapped sometimes and then bump or skip over. I'd give it an 8 out of 10 rating overall.
Keyboard Layout:
The layout is regular, and there is enough room so no unusual key combinations are visible. The HP Omen has provided an HP Gaming Hub, the Windows calculator, and taking screenshot keys, which are accessible through hotkeys in the top right corner. To be fussy, adding dedicated media keys in the gap above the arrows on the right side would have been a nice touch.
While the keyboard has four-zone RGB LED illumination, the colors appear to be faded out.
Connectivity:
Moving out to the outskirts, the port variety and connectivity are excellent. On the left, you'll find the 200W charger's input power jack, a hinged RJ45 socket, a USB 3.0 Type-A port, a small Display-Port, HDMI, USB 3.0 Type C, a headset connection, and an SD card slot. Considering the 200W rating, the power brick and connection are very large. On the right edge, there are two additional USB 3.0 Type-A ports for a total of three. A cooling vent allows warm air to escape. There's not much I can say about this. HP has done a fantastic job.
Thermals and Thermal Management:
HP did their homework on the thermal design, as seen by the bottom mesh grill. Because of the high rubber feet and recessed honeycomb, the cooling fans will always have access to fresh air and will not be mistakenly covered.
Every environment and setup are unique; however, the following are the findings of our thermal testing. When on battery, the GPU reached 49 degrees Celsius, and when plugged in, it reached 66 degrees Celsius. On batteries, the CPU reached 56 degrees Celsius, and when plugged in, it reached 79 degrees Celsius.
The maximum temps I witnessed on batteries were 56C and 61C, respectively, and 77C and 89C while plugged in, when both GPU and CPU were pegged at 100 percent for a long period. The fan was quiet. The air rushing through the fins, not the actual fans whirling, makes the most of the noise when they ramp up. The laptop now emits a quiet "whooshing" sound instead of a high-pitched screech. I never noticed the laptop bottom or typing surface getting excessively hot, even after long periods of intense usage. The airflow sweeps away from the user, ensuring that you never feel the heat, as it should.
The Omen uses some very strong throttling to keep cool when on battery power and conserve run time. The GPU performance jumped by about 3.3x and the CPU frequency nearly doubled upon switching from battery to main power.
WebCam and Audio Quality:
The built-in webcam has a slightly above-average quality. It's a little fuzzy in low-light circumstances, as expected, but it'll be enough for video calls. HP has selected a white "camera on" status LED over the more secure built-in physical privacy barrier. The Omen has two microphones, one on either side of the camera, for stereo recording.
Audio is played by dual speakers located beneath the keyboard's boundaries. They come from the laptop and ricochet about before reaching the listener. This gives them a huge soundstage, but at the expense of clarity. The bass is almost non-existent due to a lack of room inside for large speakers. The mid-range is crisp and clear at lower volumes, but it becomes muddy as volume is increased.
Display:
Our review unit came with a 1920×1080 resolution and 144Hz refresh rate screen. Games are clearer and more immersive, thanks to the 144Hz display refresh rate.
The screen brightness was 323 nits, but the overall brightness was average. It's bright enough for most indoor purposes in normal lighting, but the Omen will struggle near bright windows or outdoors.
It's nothing to write home about when compared to other laptops on the market that easily achieve 400 or 500 nits. The Omen spec sheet does state 300 nits, so HP isn't attempting to conceal anything and it does, at the very least, exceed that.
Let us now discuss color accuracy. For a gaming laptop, the pre-cal ratings weren't awful. The average deltaE results for grayscale were 3.3 and 4.27 for colors. Values below 1.0 are considered "color accurate" and are virtually undetectable to the naked eye; results between 1-3 may be seen if you look closely; values 4-10 are obvious at a glance, and anything beyond 10 shows that your screen has a severe fault.
System Performance:
Our review machine, i.e., HP OMEN 16-c0140AX, has an AMD Ryzen™ 7 5800H processor, AMD Radeon™ RX 6600M Graphics (8 GB GDDR6 dedicated), 16 GB DDR4-3200 MHz RAM (2 x 8 GB), 1 TB PCIe® NVMe™ TLC M.2 SSD, and a 1080p 144Hz IPS display. This CPU performs wonderfully and is a big improvement over previous versions. The RX 6600M comes with 8GB of VRAM and provides excellent performance at full HD resolution.
Although the AMD Radeon RX 6600M is a good graphics card, Nvidia's RTX 3060 is faster and more efficient. Multitasking and content production are made easy with the Ryzen 7 5800H. The HP machine operates at a low temperature and produces minimal noise. The AMD Radeon RX 6600M graphics engine has the same RDNA 2 architecture as AMD's mid-range desktop cards, and it performs admirably at the laptop's 1920×1080 resolution.
In isolation, there's plenty of muscle to play any major game at full-HD resolution. However, the AMD GPU pales in comparison to Nvidia's RTX 3060. Outperforming the Omen, HP's Victus used a low-end RTX 3060 to produce 1080p frame rates of 78fps in Horizon and 62fps in Borderlands. In Rainbow Six Siege, the Victus was significantly quicker.
The Ryzen 7 5800H offers a base and boost clock speed of 3.2GHz and 4.4GHz, respectively. The SSD's read and write speeds were 2859 and 2686MB/s, respectively, while the 16GB dual-channel RAM runs at 3,200MHz and finally 1TB NVMe SSD.
Software:
When it comes to bloatware, HP is known for having some of the worst among major suppliers when it comes to booting into Windows. It's no different in The Omen. Preinstalled software includes 15 HP-branded programs, as well as complimentary McAfee and VPN trials. The amount of garbage HP loads into their computers is hilarious.
Battery:
The HP, like other gaming laptops, doesn't last very long when gaming — in my testing, it died after 94 minutes. That's competitive, and if you want a nice gaming experience, you should keep the system plugged in.
However, the HP performed better in a work test. It lasted 6 hours and 44 minutes, which is twice as long as the Lenovo, comparable to the HP Victus, and a few hours behind the Dell. The Omen lasted 9 hours and 27 minutes while watching a video on loop.
Configurations:
There are several variants available when ordering the HP Omen. Omen 16 (Intel) and Omen 16 (AMD) are the two platforms. The CPU option for the 16(intel) is the i7-11800H, i7-12700H while the GPU options are the RTX 3050, RTX 3060, RTX 3050Ti, and RTX 3070. On the CPU side, the 16(AMD) may be configured with a Ryzen 5 5600H, Ryzen 7 5800H, or Ryzen 9 5900HX, and a GPU of GTX 1650, RTX 3050 Ti, RTX 3070, and RX 6600M.
HP OMEN Gaming Laptop 16-b0351TX:
CPU: 11th Generation Intel® Core™ i7 processor
GPU: NVIDIA® GeForce RTX™ 3050 (4 GB GDDR6 dedicated)
RAM: 16 GB DDR4-3200 MHz RAM (2 x 8 GB)
Display: FHD (1920 x 1080), 144 Hz
Price: ₹119,999
HP OMEN Gaming Laptop 16-b0360TX:
CPU: 11th Generation Intel® Core™ i7 processor
GPU: NVIDIA® GeForce RTX™ 3060 (6 GB GDDR6 dedicated)
RAM: 16 GB DDR4-3200 MHz RAM (2 x 8 GB)
Display: FHD (1920 x 1080), 144 Hz
Price: ₹139,999
HP OMEN Gaming Laptop 16-b0352TX:
CPU: 11th Generation Intel® Core™ i7 processor
GPU: NVIDIA® GeForce RTX™ 3050 Ti (4 GB GDDR6 dedicated)
RAM: 16 GB DDR4-3200 MHz RAM (2 x 8 GB)
Display: FHD (1920 x 1080), 144 Hz
Price: ₹124,999
HP OMEN Laptop 16-c0136AX:
CPU: AMD Ryzen™ 5 processor
GPU: NVIDIA® GeForce® GTX 1650 (4 GB GDDR6 dedicated)
RAM: 8 GB DDR4-3200 SDRAM (1 x 8 GB)
Display: FHD (1920 x 1080), 144 Hz
Price: ₹78,699
HP OMEN Laptop 16-c0138AX:
CPU: AMD Ryzen™ 7 processor
GPU: NVIDIA® GeForce RTX™ 3050 Ti (4 GB GDDR6 dedicated)
RAM: 16 GB DDR4-3200 MHz RAM (2 x 8 GB)
Display: FHD (1920 x 1080), 144 Hz
Price: ₹109,999
HP OMEN Laptop 16-c0140AX:
CPU: AMD Ryzen™ 7 processor
GPU: AMD Radeon™ RX 6600M (8 GB GDDR6 dedicated)
RAM: 16 GB DDR4-3200 MHz RAM (2 x 8 GB)
Display: FHD (1920 x 1080), 144 Hz
Price: ₹129,999
HP OMEN Laptop 16-c0141AX:
CPU: AMD Ryzen™ 9 processor
GPU: AMD Radeon™ RX 6600M (8 GB GDDR6 dedicated)
RAM: 16 GB DDR4-3200 MHz RAM (2 x 8 GB)
Display: QHD (2560 x 1440), 165 Hz
Price: ₹144,999
HP OMEN Gaming Laptop 16-b0370TX:
CPU: 11th Generation Intel® Core™ i7 processor
GPU: NVIDIA® GeForce RTX™ 3070 Max-Q (8 GB GDDR6 dedicated)
RAM: 16 GB DDR4-3200 MHz RAM (2 x 8 GB)
Display: QHD (2560 x 1440), 165 Hz
Price: ₹174,999
Also Read:
1. HP lightest consumer laptop Pavilion Aero 13 will be available on July.
2. The Latest HP Envy 14 Can Run Up To 16.5 Hours On A single Charge.
3. ASUS New ROG Strix Scar and TUF A15 Laptops Launched in India.
---
FAQs:
How long do HP OMEN laptops last?
It's a very difficult question to answer, as the life span depends on so many factors like the brand, how you are using it, physical damage, which software you are running there, how much time you are using it, maintenance, battery charging habit, managing heat with proper cooling, etc. a never-ending list. You should expect your gaming laptop to last anywhere from 3-6 years.
Is the HP omen worth buying?
The laptop's design and build are both functional and stylish, and its performance is exceptional on all levels. The display is lively and fluid. It's difficult not to endorse the Omen 16 AMD version as an excellent alternative for people searching for a powerful gaming laptop at its starting price of Rs 1,09,999.
Is the HP Omen 16.1 good for gaming?
It's a matte-finish 16.1-inch IPS LCD with a 144Hz refresh rate and a resolution of 1920 x 1080 pixels. These latter two aspects are ok for gaming. You may get a step-up in clarity from other variants of OMEN 16 Laptop having a 165Hz QHD display.