Google has yet to officially mention the next-generation Pixel 7a Smartphone, though the rumor mill has been actively giving us new leaks on the device. Given the glowing reviews the Pixel a-series phones have received with pretty much every version, it's no surprise that Google plans to release a Pixel 7a. The big question is, what will it look like, and what will its specs be?
Today, we hope to address all the rumors and compile them into one easy-to-read spot. Combining what we know with common patterns in Google's releases, we expect it to continue the formula of altering the flagship Pixel 7, making it more affordable while maintaining its high level of performance.
Google Pixel 7a: Design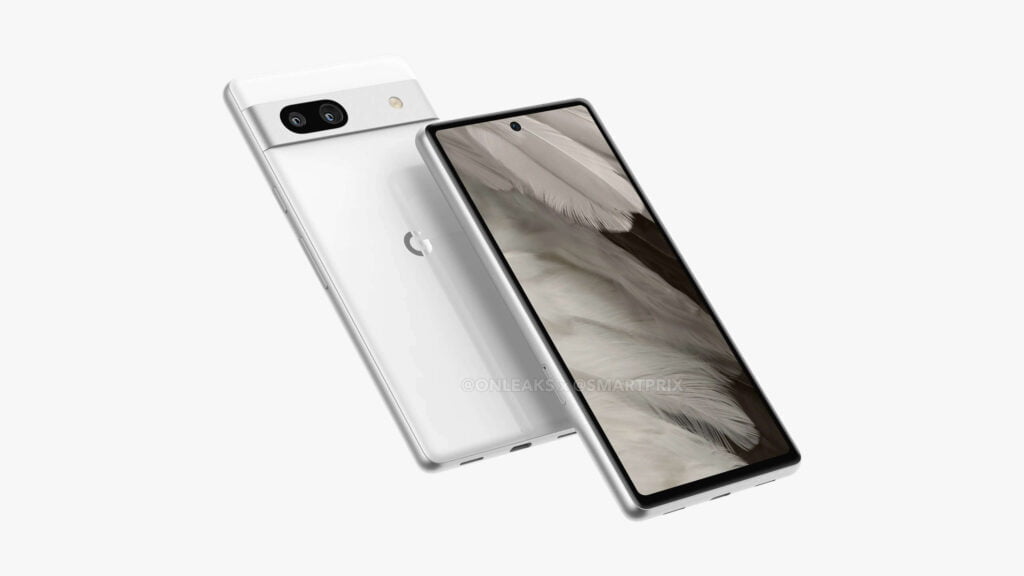 Early Pixel 7a renders depict a device almost indistinguishable from the Pixel 7. The Pixel 7a appears to have the same glossy back, two cameras, an OLED display, and a matte silver frame. According to reports, it measures almost exactly the same as the Pixel 6a, only 1.1mm wider, 1mm thicker, and 2mm taller. The device render is plain white, but we can expect more colors at launch.
The materials are still a mystery, though we anticipate Google will once again choose plastic over glass as the main chassis material. While the flagship Google Pixel 7 has glass all around its camera frame, the Pixel 7a may feature an aluminum band instead. Finally, the bezels around the display are slightly larger than on other Pixel flagship series devices, but they're still quite aesthetically pleasing.
Google Pixel 7a Specification
Chipset
The Pixel 7a will likely use the Tensor G2 that debuted with the company's most recent flagships. This would follow the trend set by the Pixel 6a and Pixel 6, which both share the same first-generation Google Tensor processor. The Tensor G2 is a powerful and speedy processor in the Google Pixel 7, so we can expect the mid-range Pixel 7a to operate at a similar level.
It's huge if this happens, putting the Pixel 7a on a similar performance level to last-generation flagship devices. If the Smartphone achieves this while also hitting a pricing sweet spot, we'll definitely see a brand-new performance champion in the mid-range market.
Camera
According to 9to5Google, the Pixel 7a may receive some significant camera improvements from its previous iteration. A brand new Sony IMX712 12MP lens will be used for ultrawide, and a Sony IMX787 64MP (OIS) main camera. The main camera on the Pixel 6a was an outdated IMX363, so we should see a significant improvement here.
There have been rumors that the new Pixel 7a will feature a triple camera setup, but we find that unlikely. As the flagship Pixel 7 only has two rear cameras, we anticipate the Pixel 7a will feature the same. Pixel a-series phones often closely follow the formula of the main Pixel phones each year, so we're not expecting anything completely new from the Pixel 7a.
Also Read: How to Clear the Cache and History on iPhone?
Display
The Pixel 7a will likely include an OLED display with a 6.1-inch size and a 2400 x 1080 resolution. The displays for the Pixel a-series have been stuck at a 60Hz refresh rate, which is now slow for 2022. Ideally, we'd like to see a greater refresh rate. We're expecting Google will improve the Pixel 7a in this regard, especially considering how many low-cost phones aim for refresh rates of 90Hz these days.
If Google implements this, it'll be a first for the Pixel a-series of devices. Higher refresh rates greatly improve the user experience, so we hope this happens and becomes the standard for new devices in the series.
Wireless Charging
One extra feature that has been consistently making popping up about the Google Pixel 7a is wireless charging. To be more precise, 5W wireless charging, which seems to be a bit of a double-edged sword. While it would be excellent to have wireless charging on a mid-range Pixel device finally, 5W wireless charging is painfully slow. Regardless, it's still a nice extra, and we hope it makes an appearance.
Google Pixel 7a Colours
A tipster named passionategeekz suggests pixel 7a will come in five colours. These colours are marketed as crispy kale, dinuguan black, mayo cream, tide orange, and vibrant ube.
However, a recent leak suggests google pixel 7a will only come in three colours namely white, grey, and blue. The company is calling them snow, charcoal and sea..
Google Pixel 7a Pricing
Google kept the pricing of the Pixel 7 and Pixel 7 Pro the same as their predecessors. It's reasonable to believe that the Pixel 7a will follow this trend, keeping the same ₹43,000 price tag. But with all of these rumors of upgraded internals and newer features, there's also a high chance we'll see a price hike.
Google Pixel 7a Release Date
So, this is all great, but what about a launch date? When will the Pixel 7a actually release? Well, considering it hasn't launched yet, we're again stuck with conjecture and educated guesses. We can safely assume that the device will launch sometime in the first half of 2023, though when exactly is a little harder to gauge.
Google announced the Pixel 6a in July 2022, while the Google Pixel 5a launched in August 2021. Following this trend, we could see the Google Pixel 7a move its launch date closer to the start of the year, possibly between May and June. With that said, we'll likely be seeing more leaks as we get closer to the release date, so this will probably get clearer as time goes on.
Also Read: How To Retrieve and Delete Archived Emails in Gmail?