The name BENQ Zowie is no stranger to the eSports arena, with its monitors being a common sight at almost all eSports competitions. The brand has carved a niche for itself as a preferred choice among competitive gamers. The latest in their offering, the BENQ Zowie XL2566K, takes things up a notch with its 360Hz refresh rate.
The XL2566K combines the power of a 360Hz refresh rate with BENQ's signature DyAc+ blur reduction technology and a super-responsive TN panel. The result? A monitor that is set to become a hot favorite among those looking to gain a competitive edge.
One thing to note is that the XL2566K opts for a TN panel, which means viewing angle and deep blacks take a backseat. If you're looking for a monitor for general use, you may want to consider other options, such as IPS, VA, or even OLED panels. But if your primary focus is competitive gaming, the XL2566K is a strong contender.
Key Features of BENQ Zowie XL2566K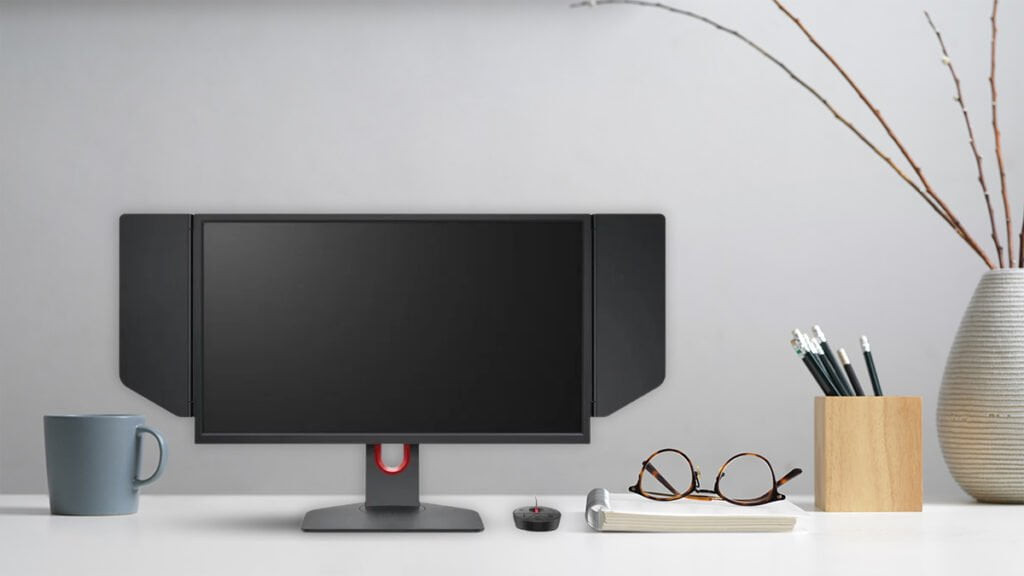 The BenQ Zowie XL2566K is a well-equipped beast, packing a punch with its robust specifications that cater to the meticulous needs of esports players. The heart of the monitor is a 24.5-inch screen, offering a resolution of 1920 x 1080 pixels, which seems to strike a perfect balance between performance and picture clarity. The screen's peak brightness of 320 nits ensures vivid and vibrant visuals, even in brightly lit rooms.
A key feature that sets the Benq Zowie XL2566K apart is its blistering 360Hz refresh rate. In the world of esports, where every millisecond counts, this exceptional refresh rate can be the difference between victory and defeat. It provides a degree of fluidity that can not only improve gaming performance. But also add to the immersive experience of high-speed gaming sequences.
Also Read:Gigabyte M28U Review: 4K, 144Hz FreeSync Gaming Monitor
The monitor boasts a response time of 0.5ms, ensuring that fast-moving objects are rendered without ghosting or blur. It ensures crisp and clear images even during the most intense gaming moments. The viewing angles are 170° horizontal and 160° vertical, which is average, like any other TN panel.
Speaking of TN (Twisted Nematic) panels, the XL2566K employs this panel technology, which is known for its fast response times and high refresh rates, making it a preferred choice for competitive gaming. However, TN panels generally do not provide the same color reproduction, contrast ratio, and uniformity as their IPS or VA counterparts.
However, color accuracy and white balance are excellent on BenQ ZOWIE XL2566K, displaying all colors faithfully. So if you are someone who prefers accurate colors, you shouldn't face any issues with this monitor.
BenQ XL2566K Features DyAc+
The XL2566K also features BenQ's proprietary DyAc+ (Dynamic Accuracy Plus) blur reduction technology. It's a significant upgrade that reduces motion blur in fast-paced games, offering a cleaner and more precise visual experience. This technology does not compromise the overall brightness of the screen, ensuring you don't have to trade a clear image for a bright one.
However, one must consider that the monitor's adherence to TN technology slightly diminishes the color reproduction, contrast ratio, and viewing angle, particularly when compared to monitors using Fast-IPS panels. Still, the purpose of the Zowie XL2566K is clear – it's built for speed and precision, catering to the specific needs of competitive gaming where response time and refresh rate often take precedence over color representation.
A Closer Look at the Design and Aesthetics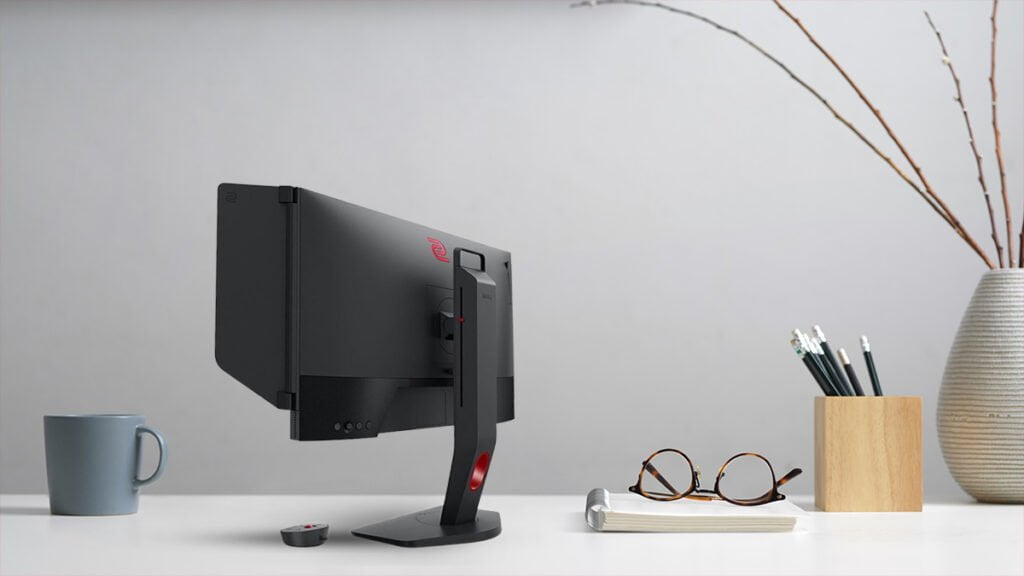 The design of the XL2566K leans towards functionality rather than aesthetic appeal. It might not be the centerpiece of your gaming station, but its lightweight and compact structure makes it perfect for tournament-goers. Weighing around 9.7kgs and with a space-efficient stand, this monitor promises excellent portability.
Although it lacks the flashy design elements common in gaming monitors, the XL2566K is not entirely devoid of style. The back of the monitor features a subtle, curved panel adorned with red accents, adding a bit of character to an otherwise minimalistic design.
The Zowie XL2566K comes with an adjustable stand offering tilt, swivel, pivot, and height adjustments. You can also mount it on a VESA if you prefer a multi-monitor setup or want to use a monitor arm.
One of the standout features is the S Switch puck. This wired peripheral allows you to switch between profiles and operate OSD menus with a scroll wheel, offering ease and convenience.
As for connectivity, you get two HDMI 2.0 ports, a DisplayPort 1.4, a 3.5mm headphone jack, and a micro-USB port for the puck. Although the absence of HDMI 2.1 ports might be a slight disappointment for next-gen console users, the HDMI 2.0 ports do support 120Hz. The 360Hz refresh rate, however, is only available on the DisplayPort port.
Panel Performance and the Gaming Experience
Diving into the performance details of the Benq Zowie XL2566K, it becomes evident that the monitor's TN panel, coupled with the whopping 360Hz refresh rate and rapid response time, offers an unrivaled gaming experience.
The TN panel at the core of the XL2566K is a high-performance component that contributes greatly to the speed and responsiveness of the monitor. It is this technology that enables the monitor to attain its swift 0.5ms response time, ensuring quick and smooth transitions between frames, thereby reducing ghosting and motion blur. It's worth noting that this is where TN panels genuinely shine, surpassing the performance of IPS and VA panels in terms of speed and response time.
The monitor's 360Hz refresh rate is a dream come true for competitive gamers. This ultra-fast refresh rate ensures an extraordinarily fluid gaming experience, with almost seamless transitions between frames. It is a feature that, when combined with the lightning-fast response time, significantly enhances the monitor's overall performance in fast-paced, competitive gaming scenarios.
However, it's not just about speed and fluidity. The Zowie XL2566K doesn't compromise on visual quality either. The 1080p resolution may seem modest in comparison to 4K monitors, but it's more than sufficient for competitive gaming, providing a crisp and clear image quality. This resolution also allows the monitor to hit those sky-high frame rates more easily, truly leveraging the power of the 360Hz refresh rate.
One key feature that sets DyAc+ apart from other blur reduction techniques is that it doesn't compromise the monitor's brightness. It is achieved by turning the backlight on and off at a fixed point, reducing unwanted afterimages.
BenQ XL2566K offers Good Color Accuracy
When it comes to color production, the XL2566K delivers decent results and good color accuracy, especially for a TN panel. It renders 98% of the sRGB color space, which although not as vibrant as an IPS or an OLED panel, is still sufficient for most competitive games. This monitor has been designed with competitive gaming in mind, where speed and response time are the most critical factors.
One unique feature of the XL2566K is the Black eQualizer contrast adjustment. This feature improves visibility in dark scenes without overexposing bright areas, providing a significant advantage in games with variable lighting conditions. This feature can be a game-changer, allowing players to spot enemies hiding in dark corners or shadows, which might otherwise be overlooked.
Pricing and Value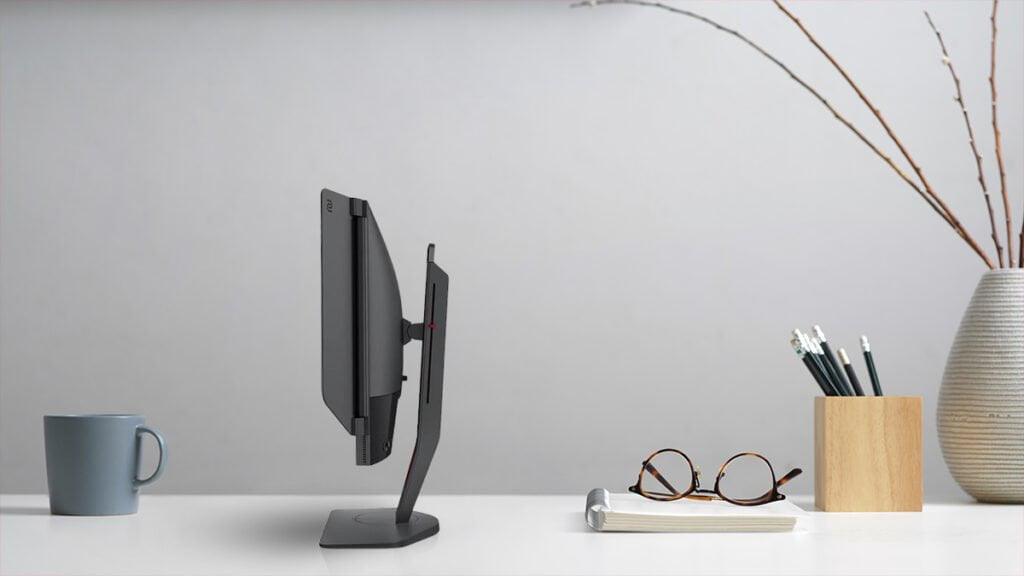 The Zowie XL2566K is priced competitively across different regions, with a retail price of ₹58,500 in India, US$599 in the United States, £549 in the United Kingdom, and AU$1,099 in Australia. While the price tag might seem steep at first glance, it's important to consider the unique features and performance capabilities that this monitor brings to the table.
The primary selling point of the BenqZowie XL2566K is its remarkable 360Hz refresh rate, a feature that is currently rare in the gaming monitor market. It, coupled with the ultra-fast response time and the exclusive DyAc+ blur reduction technology, makes the Zowie XL2566K a specialized product designed specifically for high-stakes competitive gaming, where every millisecond counts.
When comparing the price of the XL2566K with other monitors in the same category, it's important to note that most high-refresh-rate gaming monitors typically fall within a similar price range. For instance, a high-end gaming monitor with a 240Hz refresh rate and similar features could cost anywhere between $500 to $700. However, these monitors usually offer a lower refresh rate and may not include unique features like the DyAc+ technology.
The Zowie XL2566K provides excellent value for its price, particularly for competitive gamers seeking an edge in performance. The monitor offers unique features and exceptional performance that justify its price, making it a worthwhile investment for its target audience.
Is the BenQ XL2566K worth it?
The value of the BenQZowie XL2566K ultimately depends on what you're looking for in a gaming monitor. If you're a competitive esports player or serious about improving your gaming performance, the XL2566K could be a great investment. Its 360Hz refresh rate, fast response time, and DyAc+ blur reduction technology make it an excellent choice for games where reaction time and precision are critical.
However, the monitor uses a TN panel, which, while providing excellent response times and refresh rates, doesn't offer the same color accuracy, deep blacks, and viewing angles as an IPS or VA panel. It makes it less suitable for those seeking a visually rich gaming or multimedia experience.
Furthermore, the monitor's price point might be a consideration for some. At approximately ₹58,500 in India, it's not the most affordable option on the market. However, for those who prioritize speed and performance in their gaming experience, the investment could very well be worth it.
Overall, the BenQ Zowie XL2566K is worth it if you're a competitive gamer seeking a high-performance monitor that can potentially give you an edge in gameplay.
Pros
360Hz refresh rate
Superb low input lag
DyAc+ technology
Excellent color accuracy
Fast pixel response
Cons
No HDMI 2.1
Low pixel density
FAQs
Does BenQ have a 360Hz monitor?
Yes, BenQ does have a 360Hz monitor. It is the Zowie XL2566K, designed specifically for competitive esports gaming.
Is BenQ XL2546K good for gaming?
The BenQ XL2546K is indeed a good choice for gaming, especially in competitive scenarios, thanks to its high refresh rate, swift response time, and blur reduction technology.
Is MSI or BenQ better?
The choice between MSI and BenQ depends on individual preferences and needs. Both offer excellent monitors, but BenQ'sZowie line is often favored by esports professionals for its performance features, while MSI also offers a range of high-quality gaming monitors with varying features to suit different gamers.