Are you looking for the best Gigabyte M28U review online? Stuck finding the best one?
Don't worry.
In this ultimate Gigabyte M28U review, you're going to get answers to all your queries and concerns.
As we know, a high refresh rate (144Hz and higher) and 1080p or 1440p gaming monitors are the norms in the gaming industry.
There aren't many 4K gaming monitors with high refresh rates on the market. As a result, most gamers are still unable to play games at 4K resolution, or even more so when the games have to run at high FPS rates to match a high refresh rate display.
Gigabyte M28U gaming monitor is one of the best in the market to suit the needs of small popular PC gamers who have incredibly powerful computer systems capable of running any games at 4K resolution.
Designed with performance in mind, the Gigabyte M28U is a top-tier gaming monitor. Therefore, to include everything a serious gamer could ask for in a gaming monitor, including an extremely high resolution and fast refresh rate, the M28U has it all.
Keep reading this Gigabyte M28U review guide to the very end to make the smart decision that you're looking for.
Gigabyte M28U Review – Design and Features
The only noticeable difference between the Gigabyte M28U and M28Q is the huge model name on the rear. The display is bezel-free on three sides, however, minimum panel boundaries will still be visible while in use.
It's not an enormous display, but the Gigabyte M28U will be larger than the monitors you often get at work or school. It does not take up much space, but the base's unusual design may interfere with your little peripherals. It is very lightweight at 15.3 pounds, making assembly simple for a single person.
The Gigabyte M28U has a sturdy construction, so there is no need to worry about its fragility if you go for this inexpensive model. The polymers used are robust and sturdy, and the monitor exhibited no evidence of manufacturing problems. We also did not see any wobbling; nevertheless, unintentionally touching the display can momentarily disturb it.
The Gigabyte M28U offers a joystick for all of its operations and an OSD for your convenience, allowing you to spend less time configuring the monitor. The sole additional button is for the KVM capability, which enables rapid switching between two host machines.
And then there's Gigabyte's OSD sidekick app for windows, which makes adjusting the settings with your keyboard and mouse even simpler.
The stand provided with the Gigabyte M28U has the same tilt and height settings as the brand's other affordable products. This is OK for the majority of instances, but it is not optimal for those using twin or triple monitors.
You may also use VESA mounts to circumvent this constraint.
The Gigabyte M28U boasts an abundance of connection functions that are uncommon in budget-friendly monitors.
HDMI 2.1 enables 4K 120Hz operation with the PS5 and Xbox Series X, making this display the most affordable option for those consoles.
The Gigabyte M28U also has a USB-C connector that enables DP Alt Mode. However, it can only give up to 15 watts of power delivery. There are also 3 USB 3.0 connections for devices, allowing you to activate the KVM capability. There is also a headphone jack.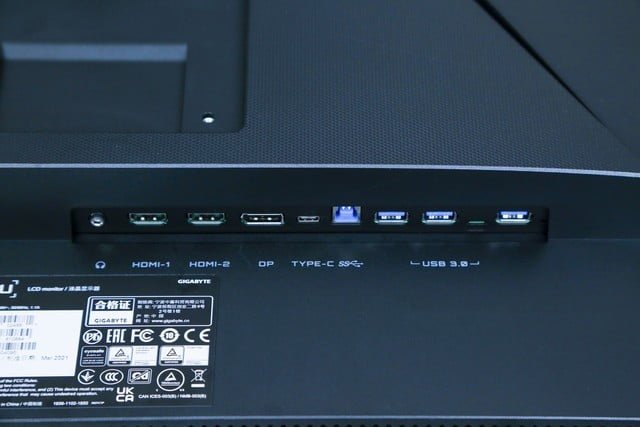 However, the poorest component of the Gigabyte M28U is its speakers, which offer just 3 watts of power apiece. They are adequate for conference calls and some background music, but not for the product's primary use.
However, they are acceptable as add-ons since gamers would utilize headphones or desktop speakers for superior quality and immersion anyway.
Gigabyte M28U Review – Display and Performance
The Gigabyte M28U has a 28-inch IPS screen with a 4K resolution of 3840 x 2160, a 144Hz refresh rate, and a 1ms response time. This model is HDR 400-capable, but more crucially, it is one of the HBR3 monitors that is unaffected by the high bandwidth needs of 4K 144Hz in terms of performance.
4K on a 27- or 28-inch display seems wonderfully crisp, but it might feel claustrophobic due to the high pixel density. This is wonderful for video games and movies, but other activities, like web surfing and document processing, may be hampered.
Text and tiny items may be difficult to read or distinguish for certain people, yet video games and films have stunningly clean details and lines.
Clouding is minor and primarily restricted to the screen's edges on the Gigabyte M28U sample, indicating that panel uniformity was adequate. They are not visible during gameplay, however gloomy settings or black-and-white imagery may enable them to appear.
As with other modern IPS displays, the Gigabyte M28U boasts a good reaction time for fast-paced situations. On overdrive mode using picture quality settings, the motion looked smooth. Even in 120Hz mode, the PS5 or Xbox Series X displays minimal blurring on the display.
The Gigabyte M28U monitor supports both FreeSync and Nvidia's G-Sync Compatible mode. Since it includes HDMI 2.1, it should also enable VRR with next-generation consoles, preventing tearing and stuttering during console gaming.
At 144Hz, input latency is 6ms, thus there is no need for concern when playing your favorite games.
Does Gigabyte M28U come with HDMI 2.1 cable?
Yes. Gigabyte has provided an HDMI 2.1 cable in the box.
How do I update the firmware on my Gigabyte M28U?
Go to TOOLS Update Gateway. Once you've unzipped the firmware file you downloaded from the Gigabyte website, click the Browse button to find it, and then click the Update Gateway button to begin the update. When upgrading the device, do not turn it off.
Gigabyte M28U Review – Final Verdict
Gigabyte M28U is your best bet if you're looking for a reasonably-priced gaming monitor. We're pleased that we won't have to shell out a thousand dollars for HDMI 2.1. However, because of the limits of IPS technology, the 4K 144Hz panel is still constrained by its lack of contrast.
Very nothing can be said about the Gigabyte M28U's features and design that's not positive. It's not as feature-rich as the Aorus models, but keep in mind that you'll have to shell out a lot of money for them. Overall, if you're looking to play at 120Hz or higher on the newest gaming platforms without losing quality, this is a great option.
Frequently Asked Questions (FAQs)
Is the Gigabyte M28U good for PS5?
The Gigabyte M28U provides an outstanding gaming experience. It boasts an exceptional reaction speed and a wealth of gaming capabilities, including variable refresh rate technology support (VRR).
Its HDMI 2.1 bandwidth makes it an excellent option for next-generation console players, making it one of the finest 4k monitors for PS5 as well as the Xbox series.
Does M28U have speakers?
Yes, they do have speakers, but they're the single poorest component of the Gigabyte M28U, which offer just 3 watts of power apiece.