For years, OnePlus has been a prominent player in the smartphone industry. It emerged intending to disrupt the flagship market by offering products with an impressive price-to-performance ratio. Over time, the company has evolved to the point where it can now compete directly with the very flagships it initially sought to challenge. In 2023, OnePlus expanded its reach into the tablet market, with the OnePlus Pad marking its debut in this segment.
The OnePlus Pad boasts several impressive features, including an 11.61-inch LCD display with a resolution of 2800 x 2000 pixels and a brightness of 500 nits. Other notable features include Dolby Vision, HDR 10+ support, a MediaTek Dimensity 9000 chipset, up to 12GB of RAM, a 9510mAh battery with 67W fast charging support, and a unique centered 13MP rear camera.
While it's too early to determine the OnePlus Pad's standing in the competitive tablet market, its specifications and features certainly hold promise. With its attractive design, powerful performance, and highly regarded OxygenOS, the OnePlus Pad seems poised to take on established rivals like the Samsung Galaxy Tab S8 and the Apple iPad Pro. A comprehensive review will provide further insight into how well the OnePlus Pad can truly compete with its contemporaries.
OnePlus Pad Technical specifications
Operating system (at launch)

Android 13 with OxygenOS 13.1


3 x Cortex-A710 @ 2.85GHz

4 x Cortex-A510 @ 1.80GHz

IPS, 2000 x 2800 pixels, 11.61"


1B colors, 144Hz display refresh rate

Dolby vision, HDR 10+ support


Rear : 13MP (4K@30fps) Front : 8MP Bluetooth 5.3(1080p@30fps)
Design and Aesthetics
The OnePlus Pad sports a sleek aluminum body, employing the so-called "Star Orbit" technology for its metal finish. This technique results in a visually appealing matte finish that not only looks great but also feels comfortable to hold.
The body is round at the edges, with a design to offer users a firm and, at the same time, comfortable grip. The buttons are all in the upper left corner: in the upper part, we find two for the volume, and in the side one, there is the power button. For unlocking, you can rely on face recognition through the selfie camera.
Measuring just 6.5mm in thickness and weighing 552 grams, the OnePlus Pad is designed with portability in mind. Its slim profile rivals that of the iPad Pro 12.9 (2022). It ensures a comfortable experience during on-the-go work, long reading sessions, or gaming.
Furthermore, OnePlus has opted for a distinctive Halo Green color for its tablet, deviating from the common black-and-white devices dominating the market. This refreshing choice adds a touch of personality to the OnePlus Pad and may attract users who appreciate a pop of color in their tech gadgets. So, it remains to be seen if OnePlus will introduce additional color options for the tablet in the future.
Display and Screen Features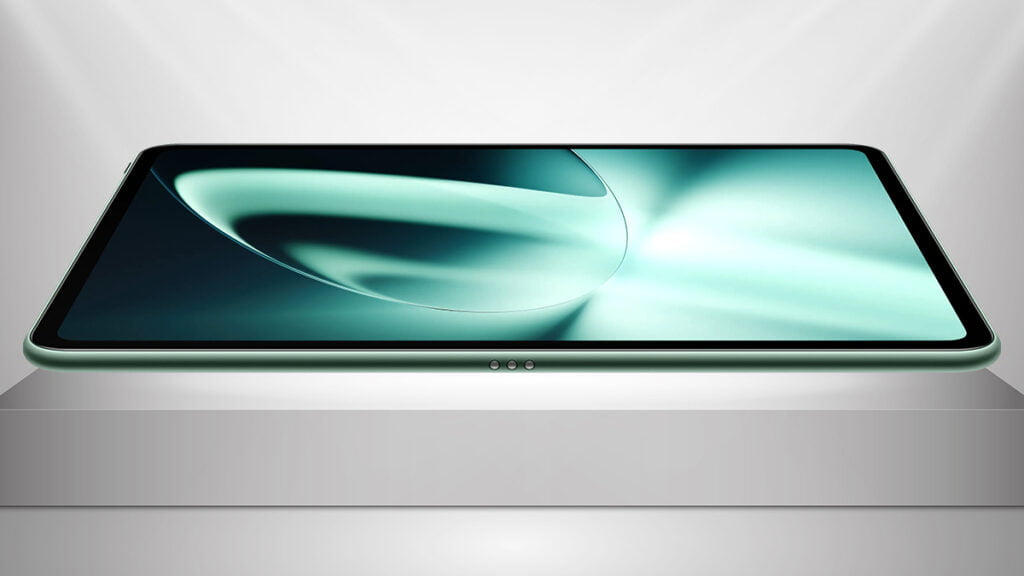 The OnePlus Pad features an impressive 11.61-inch LCD display with a sharp resolution of 2800 x 2000 pixels. This high-resolution display ensures crisp and clear visuals, providing users with an enjoyable viewing experience for work and entertainment.
The tablet's display boasts a high brightness level of 500 nits. This feature, combined with good contrast, results in vibrant colors and excellent contrast, offering a captivating visual experience. Although the display is not OLED like some premium tablets, such as the Samsung Galaxy Tab S8 Ultra, the OnePlus Pad's screen still manages to deliver a top-notch performance with good color accuracy.
The OnePlus Pad's display also supports a refresh rate of up to 144Hz for certain applications, ensuring smooth and fluid motion during gaming or other tasks. This high refresh rate will enhance the overall user experience, making the tablet more enjoyable to use. However, it should be noted that the 144Hz option is reserved for select applications, while the default refresh rate remains at 120Hz.
Display Analysis
Our colorimeter analysis reveals a high-quality display among the LCDs typically found on tablets. In our tests, the maximum brightness measured was approximately 447 nits with an all-white screen (where LCDs perform best) and a contrast ratio of around 1,481:1 for both SDR and HDR content. The display offers satisfactory visibility in sunlight and excellent performance compared to other devices within the same market segment. Moreover, the tablet provides exceptional side-viewing capabilities.
The device includes three colors presets: Vivid, which has a cool white point and coverage close to the DCI-P3 standard. Natural, featuring a neutral white point and coverage adhering to the narrower sRGB standard. And finally, Pro-Real Mode aims to reproduce the original source accurately. The latter is the most precise, while all modes can be adjusted in terms of color temperature using a single slider to shift the image towards colder or warmer hues.
Performance and Hardware
Powering the OnePlus Pad is the high-performance MediaTek Dimensity 9000 chipset, clocked at 3.05GHz. Although this chipset may not compete with the latest Snapdragon 8 Gen 2 found in some 2023 mobile devices, it still ensures a robust performance for the OnePlus Pad, making it suitable for a wide range of tasks and applications.
The OnePlus Pad offers two memory configurations, with options for 8GB RAM+128GB storage and 12 GB RAM+256GB storage. This allows users to choose the configuration that best suits their needs, whether it's for casual browsing or more demanding tasks.
One of the key selling points of the OnePlus Pad is its impressive multitasking capabilities. With up to 12GB of RAM, users can have up to 24 active applications running simultaneously without any performance hiccups. This enhances productivity and makes it easier for users to switch between tasks on the tablet.
Cameras and Imaging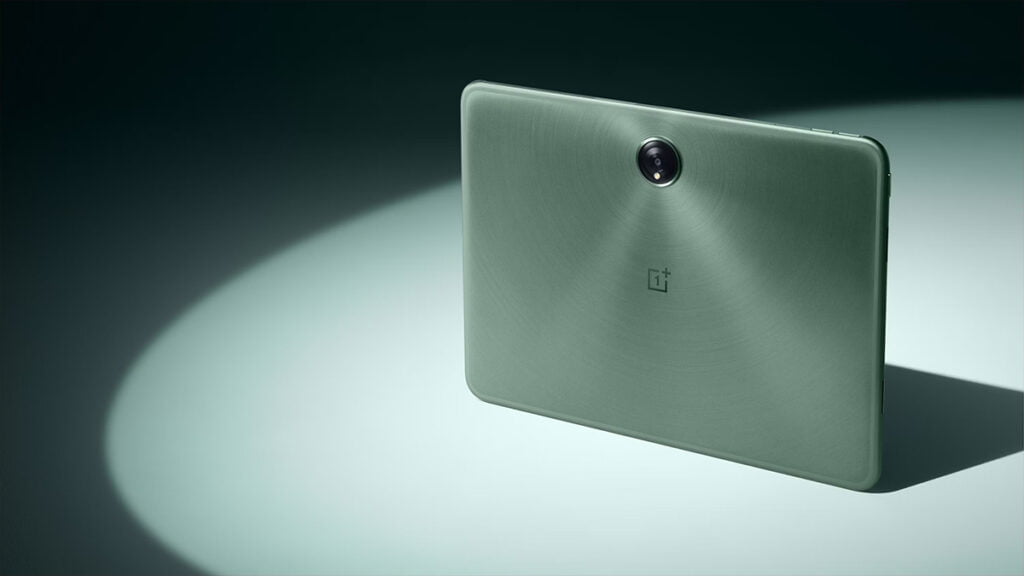 Tablets in this category often compromise on the camera in order to cut production costs, and the OnePlus Pad follows suit. However, the quality of the images it captures is not entirely disappointing. The rear camera features a 13MP sensor and can record 4K videos at 30fps, utilizing a digital image stabilization algorithm (EIS). For video calls, there's an 8MP front-facing camera that can record Full HD videos at 30fps and is also supported by EIS. This camera is integrated into the top display bezel, ensuring a seamless and unobtrusive design. While the front camera's specifications might not be groundbreaking, it should be sufficient for most casual video conferencing and selfie needs.
In well-lit conditions, the OnePlus Pad captures good quality photos, thanks in part to a non-intrusive HDR Auto mode. The tablet delivers a satisfactory level of detail and handles light and shadow fairly well without falling too far behind the capabilities of the latest smartphones. However, the camera's performance declines significantly in low-light environments. Although the Night mode does assist in capturing more light, it is unable to work wonders in terms of detail. The front camera offers a standard performance, managing light and colors effectively while presenting a decent amount of detail.
OnePlus Pad Accessories
OnePlus also provides two of the most significant productivity accessories, the OnePlus Magnetic Keyboard and the OnePlus Stylo.
The OnePlus Magnetic Keyboard is a must-have accessory for those considering replacing their laptop with the OnePlus Pad in certain situations. It facilitates much easier text input compared to the tablet's on-screen keyboard and boasts exceptional build quality.
The keyboard attaches quickly and easily to the back of the tablet. By aligning the case and tablet connectors, the magnetic system ensures perfect positioning, making the system instantly ready for use. The island-style keys are well-spaced, and the key travel is sufficient for comfortable typing during extended sessions.
When combined with the split-screen or windowed app capabilities, the OnePlus Pad and Magnetic Keyboard create a compact laptop alternative. While a more desktop-oriented interface for windowed app usage is somewhat lacking, Android gestures help users quickly adapt to this new way of utilizing the device.
The OnePlus Stylo is a dedicated stylus that magnetically attaches to either side of the tablet and charges simultaneously. According to official information, it has a latency of 2ms, and in daily use, the writing and drawing experience feels similar to that on paper. The stylus supports 4096 pressure levels and a maximum tilt angle of 60 degrees.
Audio and Connectivity
The OnePlus Pad is equipped with a Dolby Atmos-enabled quad-speaker system, delivering immersive and high-quality audio to complement its impressive visuals. This audio setup ensures a rich and dynamic sound experience, whether you're watching movies, playing games, or listening to music on the tablet.
In terms of connectivity, the OnePlus Pad supports Wi-Fi but does not offer 4G or 5G configurations. It means that users will need to rely on Wi-Fi for internet access and networking tasks. However, the option to use a smartphone's hotspot remains available for those who need to stay connected while on the go.
Software and User Interface
The OnePlus Pad runs on OxygenOS 13, which is based on Android 13, providing a seamless and familiar user interface for those already acquainted with OnePlus devices. This unique version of OxygenOS delivers a tailored experience for tablet users, ensuring an intuitive and enjoyable user experience.
OxygenOS 13 on the OnePlus Pad comes with several multitasking features, such as the ability to display two apps side-by-side, making it easy to work and manage multiple tasks simultaneously. The large screen of the OnePlus Pad further enhances this multitasking experience, providing ample space to comfortably work with multiple applications. Although the exact duration of software and security updates for the OnePlus Pad is yet to be determined, OnePlus's commitment to five years of support is a positive sign for long-term usability.
OnePlus Pad Battery Life
The OnePlus Pad boasts a massive 9510mAh battery, which, on paper, promises to outperform some of the best tablets of 2023. According to OnePlus, users can expect over 12.4 hours of video playback and up to a month of standby time from a single charge. For a tablet in this category, standby time is even more crucial as users typically only operate the device during specific times of the day, requiring it to be consistently ready for use.
To ensure that the OnePlus Pad charges quickly and efficiently, it supports 67W fast charging. This feature allows users to charge their tablet from zero to full in approximately 80 minutes, minimizing downtime and making it easy to recharge the device in between usage sessions. The fast-charging capability further enhances the overall user experience by providing a reliable and convenient charging solution.
In our Wi-Fi battery life test, the OnePlus tablet performed remarkably well, lasting 13 hours and 30 minutes. AI further optimizes battery life by reducing energy consumption for individual apps. This is achieved by analyzing temperature data from various hardware components (CPU, camera, Wi-Fi) and adjusting multitasking and gaming functions accordingly.
In the test, the OnePlus Pad demonstrated its readiness for use at all times, enduring several hours of operation and maintaining excellent performance even during extended idle periods. The 67W SUPERVOOC fast charging feature serves as a valuable addition, making the 9510mAh battery even more advantageous.
Conclusion
The OnePlus Pad has made a strong entry into the tablet market, showcasing the brand's commitment to delivering high-quality products at competitive prices. This device offers a blend of impressive features, such as a vibrant display, powerful performance, and long-lasting battery life, while also providing optional accessories like the Magnetic Keyboard and OnePlus Stylo for enhanced productivity. Although the camera and display technology may not be on par with some of the top-tier competitors, the OnePlus Pad still holds its own as a solid tablet choice for both casual users and professionals alike. If you're in the market for a versatile, reliable, and stylish tablet, the OnePlus Pad is definitely worth considering.