Are you looking for the best Jackery Explorer 1000 review article? Stuck finding the best one?
Don't worry, just keep reading to get answers to all your queries.
With a 1000-watt solar generator, Jackery has established itself as a leader in the market for small, portable solar generators.
An orange and grey body with a strong integrated handle, the Explorer 1000 is the same size as a 12-pack cooler.
There are many reasons why people love the Jackery Explorer 1000, but three stand out. Its amazing build quality, remarkable power efficiency, and small size. Because of these three characteristics, it's a great camping solar generator. And if you're an RV owner, you should check it out.
Let's dig deep about this product in this ultimate Jackery Explorer 1000 review article.
Jackery Explorer 1000 Review – Design
As far as portable batteries go, the Jackery Explorer 1000 is one of the best we've ever seen. It weighs 22 pounds (nearly 10 kilograms). The Jackery Explorer 1000 is featherweight when compared to some of its 1000W counterparts, which may weigh up to 40 lbs.
That makes the Explorer 1000 a little more portable, which the built-in strong carrying handle does assist with. Jackery chose the plastic chassis that encloses the power station because of its modest weight and ease of assembly which is always a good thing.
Jackery Explorer 1000 Review – Power Output
If its name wasn't already clear, the Explorer 1000 is a beast. When the lights go out, a 1002W battery (21.6V, 46.4 amp) can power even a home refrigerator, as long as it doesn't exceed 1000W in power consumption. The only restriction is the overall power consumption, which you should bear in mind while connecting as many gadgets as you'd like.
Because there are so many ports to choose from with this product you will be able to connect almost any number of devices you choose. Two USB-A ports, one of which supports Quick Charge 3.0, two USB-C ports, and three 100V AC outlets are all included in your package. You will see the input and output wattage, capacity, and remaining percentage on the top of the unit.
There are three sets of buttons that you need to push to turn on and off each of these groupings. This is because while the power station is rocking back and forth in your trunk, you might accidentally press those buttons. This is one of the best safety measures in the industry
A 300-watt rice cooker uses just 4 percent of its power for 15 minutes, but a 660-watt rice cooker uses 20 percent more power for the same amount of time.
While the Jackery Explorer 1000 satisfies the very minimal requirements for USB-C power, it's precisely that. You can charge a variety of smartphones and tablets using 18W Power Delivery, but larger machines like laptops and MacBook Pros aren't an option.
Jackery Explorer 1000 Review – Charging
Because the Explorer 1000 isn't a generator, you will need to re-charge the battery. Despite its decent size, the power station still requires charging. The inverter charges the Explorer 1000 from 38 percent to 100 percent in 4 hours, which is about on par with the promised 7-hour charging time for this particular model of Explorer. This is one area where Jackery lags behind the competitors, with a maximum input of 200W.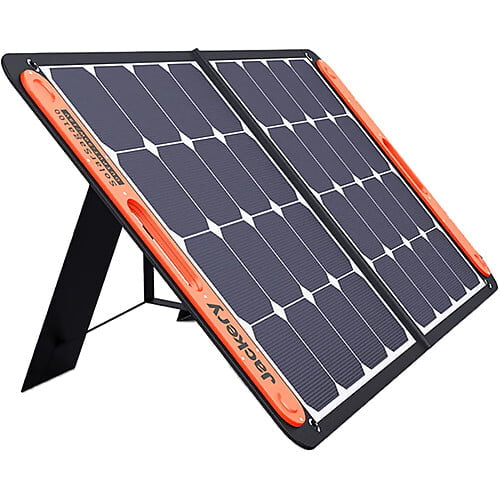 With the option of solar charging, things become a little more fascinating, but they also get a little more difficult. Only two of the Jackery's 100W SolarSaga charging panels can be used at once to recharge the battery. Only one solar panel may be connected to the Explorer 1000 at a time, therefore you'll need a separate Y-cable, which Jackery refers to as the Explorer 1000 Solar Generator.
However, solar charging is slower, and the amount of sunshine that is available has a big impact on its charging speed. It can generate only 85W on a sunny day, and 30W on a gloomy one, using a single solar panel.
Total in all, it will take 6 hours to get from 42 percent to 96 percent charge on the Explorer 1000 using solar charging, although Jackery claims it takes around 8 hours.
Final verdict – should you buy it?
The Jackery Explorer 1000 Solar Generator has pleased us. For lengthy off-grid usage, the device is stylish, lightweight, and easy to operate. This generator has served us well during power outages both at home and on the road, as well as when we've taken it camping.
Because it works so well as a stand-alone device or when the portable panels are linked to your camper's main lithium battery bank, truck camper and van owners will like this solar generator.
When compared to a similar gasoline-powered Honda EU1000i, the $1,500 price of the Jackery Explorer 1000 Solar Generator is $300 cheaper. The choice is yours. A 5-gallon can of gasoline and two solar panels make Jackery's power center 6 pounds lighter than Honda's, but when you add in the weight of the two solar panels, the weights of the two units are virtually the same.
The choice is either the noisy gasoline-powered generator or a quiet solar generator, both of which produce their toxic emissions. That's where it all boils down to.
Because of all of these advantages and the fact that the Jackery can be used indoors, it's an easy decision.
On a scale of 1 to 5, with 1 being the lowest and 5 being the greatest, we happily offer the Jackery Explorer 1000 Solar Generator a rating of 5 stars.
Definitely worth the money.
How many years will a Jackery 1000 last?
There are 500 cycles in the Jackery's battery. Even while it should last you for two to three years on the road, it's significantly less than the cost of standalone batteries.
The plastic used in the Jackery Explorer is robust and sturdy. This should not cause any issues, but since it is so hefty, an accident might happen. This could only fail in the most unusual of conditions. But keep in mind that the Explorer 1000 and the solar panels are not water-resistant.
There are cautions on the package to keep these gadgets out of the water. In addition, the Jackery comes with a two-year guarantee.
What can the Jackery 1000 power?
It can power practically everything you can fit in your trunk. The blender, coffee machine, and mini-fridge may all be powered by the three 110V pure sine wave outlets.
Frequently Asked Question (FAQs)
Is Jackery any good?
They do a great job and are up there with the finest folding panels on the market. Two SolarSaga 100w solar panels combined with a Jackery Explorer 1000 portable power station. Everything you'll need for a trip away from the grid.
Should I leave my Jackery plugged in all the time?
The Jackery will always be charged and ready to use if you keep it connected to your wall. To maintain the battery life of your Explorer 1000, Jackery suggests that you do a full battery drain every three months.