When we talk about high-end smartwatches, certain giants like Apple, Samsung, and Google are the usual suspects. Their dominance often overshadows the lesser-known gems, particularly for those using Android phones. Surprisingly, Mobvoi, a Chinese tech sensation, has subtly and steadily been marking its territory in the European and North American markets since 2015 under its TicWatch brand. Fast forward eight years, and they present their latest masterpiece – the Mobvoi TicWatch Pro 5.
This smartwatch boasts a combination of durability and style, remarkable tracking capabilities, and impressive battery life, positioning it as a strong contender in the smartwatch market. Dive into our comprehensive Mobvoi TicWatch Pro 5 review to discover more about this intriguing timepiece.
Premium and well-built smartwatch

Accurate fitness tracking

Vibrant and bright AMOLED Display

Dual display technology saves battery life

Available in one size only

Android only compatibility
Design & Build
Mobvoi TicWatch Pro 5 proudly showcases a sleek, circular face, exclusively in a mature obsidian shade, accompanied by a contrasting black silicone strap. This watch comes with a rotating central crown on its right paired with a flat, textured button reminiscent of a nimble alert slider. The bezel boasts a glossy knurled texture, whereas the body enjoys a more understated matte finish – a smart choice that seems to fend off concerns of easy scuffing, unlike the glossy edges of competitors like the Pixel Watch.
The TicWatch Pro 5's display is fortified with Corning Gorilla Glass, amplified by a fingerprint-resistant layer. Not just aesthetically pleasing, it ensures the face remains clear and elegant through regular wear.
While the design is versatile enough to complement a range of outfits, it slightly leans towards the minimalistic side. However, its compatibility with 24mm straps provides an opportunity for users to add a personal touch or bring in that extra pop of style.
Constructed predominantly from metal, the TicWatch Pro 5 manages to keep its weight in check. The mentioned 44.3g pertains to the watch body alone, with the silicon strap contributing minimally to the overall weight. Its size is comparable to its peers in the market. Although it's on the chunkier side, it remains comfortable for most wrists. However, those with slender wrists might find its one-size-fits-all approach a tad limiting.
Here's where the Mobvoi TicWatch Pro 5 truly shines. Upgrading from its predecessor's IP68 rating, it now boasts a water resistance of up to 5ATM. And the MIL-STD-810H durability rating? That's not just jargon; it's an assurance. Based on U.S. Military Standards, this watch has been tested against different environmental adversities, ensuring it's equipped to tackle even the unpredictable British rain.
Displays
Mobvoi's pioneering dual-layer display has evolved through several generations, and with each iteration, it manages to impress more and more. The TicWatch Pro 5's innovative setup harmoniously combines an OLED display with a low-power LCD panel situated above it. This strategic design effortlessly takes care of the always-on functionality, ensuring you have essential details at a glance without heavily consuming battery power.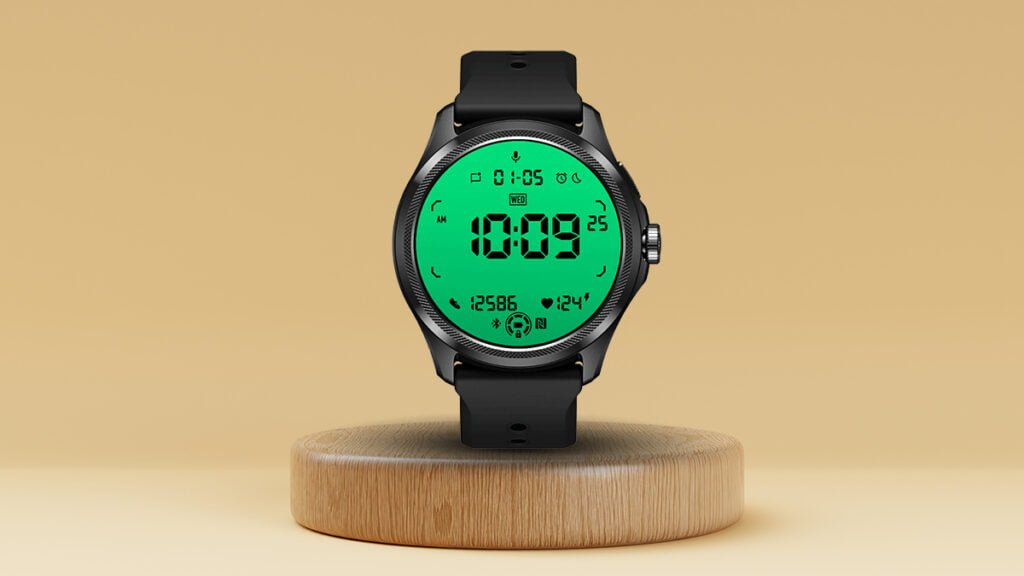 What's Fresh in the TicWatch Pro 5? This generation introduces some refreshing features. The ultra-low-power display now boasts multiple "tiles" that provide a snapshot of your health metrics, such as current heart rate, estimated daily calorie burn, and even an integrated compass. While many might not frequently use these features in the LCD mode, their presence provides added convenience, eliminating the need to activate the OLED screen for such brief interactions.
Also Read:Garmin Forerunner 265 Review
Mobvoi's ingenuity shines here as they optimize the limited space of the top screen, equipping users with a wealth of information and reducing the need to engage the battery-intensive OLED panel frequently.
When it does come time to utilize the watch's OLED screen, the transition is seamless, with the LCD layer becoming completely imperceptible. This primary OLED display is commendably vibrant, sporting a 60 Hz panel with strikingly rich colors. It's also designed for practicality, ensuring adequate brightness for outdoor visibility.
Software & Features
At its core, the TicWatch Pro 5 confidently operates on Wear OS 3.5 – the most recent rendition of Google's software as of this review. While Wear OS 4 is on the horizon, Mobvoi's track record suggests they might not be the first to jump onto the update bandwagon. That said, the existing software is nothing short of impressive. Google's meticulous refinement over the years manifests in a polished and intuitive interface on the Pro 5.
The user-friendly nature of Wear OS ensures even novices will feel right at home. With intuitive gestures like swiping down for quick settings, up for notifications, and horizontal navigation for summary screens, getting around is a breeze. The ease extends to the app ecosystem, with the Google Play Store allowing direct downloads to the watch.
Mobvoi couldn't resist adding their touch, bundling the watch with ten unique 'Tic' tools. Ranging from exercise initiations and vital signs monitoring to breathing exercises, they seem to cover all bases.
The initial setup, involving connecting the TicWatch Pro 5 to Mobvoi's Health companion app, is relatively hassle-free. But what follows might test your patience. The Health app, while feature-rich, suffers from a chaotic design, making it a labyrinth of confusing menus. Simple tasks like gleaning key insights can feel cumbersome.
The redeeming feature? Customizing the watch face is straightforward, offering variations in design and displayed complications. Venturing into the settings, users can also tailor which phone apps can ping notifications to their wrist.
It's commendable how Mobvoi manages to pack a plethora of functionalities into the Pro 5. Apart from standard health metrics, users can make calls, text, jot down notes, enjoy music, and even use the face as a flashlight. These features don't just exist; they excel in their execution.
Fitness and Health Tracking
Embedded within the TicWatch Pro 5 is an impressive array of health and fitness trackers. Beyond the essentials—like step counting and all-day heart rate monitoring—the watch delves deep into your wellness metrics. With a few taps, you can assess your blood oxygen saturation and respiratory rate and even get a pulse on your stress levels.
Yet, in the spirit of decluttering, it's worth noting that the TicWatch houses each of these features as distinct apps. While it does centralize them in the Mobvoi Health app on your smartphone, the on-watch organization might feel a tad scattered. For users seeking a streamlined experience, the inability to customize or discard specific apps might be a drawback. After all, the influx of pre-installed trackers could leave users swiping through a plethora of apps before reaching their personal additions.
Also Read:Dizo Watch R Talk: Revolutionizing Budget Smartwatches
While we might not have scientific instruments at hand to validate Mobvoi's precision, the TicWatch Pro 5's results resonated with authenticity. A particularly innovative touch is the dynamic backlight on the low-power display during workouts. As your heart rate ascends, the display transitions to an amber hue, deepening to a warning red as you inch toward potential overexertion. It's a tactile reminder to pace oneself, merging aesthetics with functionality.
Many fitness enthusiasts swear by platforms like Google Fit and Strava. It's commendable that the TicWatch Pro 5 seamlessly integrates with these industry favorites. And for those seeking aesthetic cohesion, the watch face can be tailored to exhibit Google Fit's metrics. However, during this switch, we observed a slight misalignment in step counts between Mobvoi Health and Google Fit. But realistically, unless you're toggling between the two for comparison—as we did during this review—it's a negligible hiccup.
Battery Life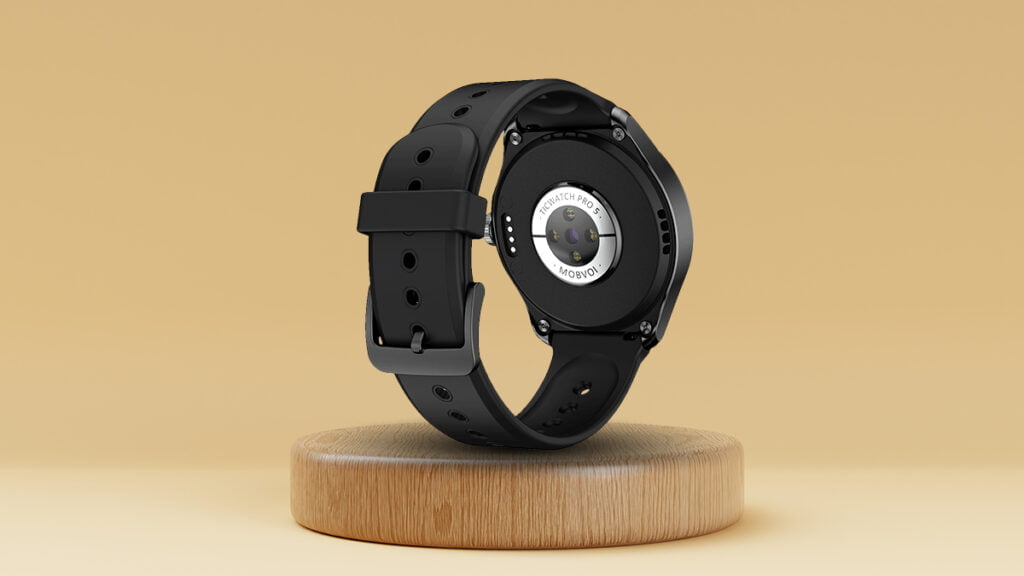 The TicWatch Pro 5 shatters the notion that a high-performance smartwatch can't boast impressive battery longevity. Its 628mAh battery outpaces both the Samsung Galaxy Watch 5 Pro and the Apple Watch Ultra. While many smartwatches falter in this domain, the TicWatch stands tall with a promised 80-hour lifespan, echoing the claims of the Galaxy Watch.
Real-world use substantiates these claims, as the TicWatch Pro 5 dazzled in endurance tests, clocking in an impressive 75 hours with typical usage. At the day's end, a remarkable 68% juice remained. Even under intense demands, it held its own for 66.5 hours. In contrast, its competitors, the Apple Watch Ultra and the Galaxy Watch 5 Pro, lasted a commendable 57 hours.
Charging the TicWatch is a breeze. A mere half-hour charge revitalizes it to 65%. For those always on the go, a 15-minute top-up ensures you're powered for the day.
One of the secrets behind its stamina is the ULP (Ultra-Low Power) mode. By default, it's active, but adventurers can switch to the more power-intensive AMOLED display if desired. The dynamic ULP mode kicks in when the watch is dormant, seamlessly reverting to AMOLED upon interaction. Further customization allows you to choose from 18 vibrant backlight colors. For fitness enthusiasts, it syncs with the TicExercise app to alter colors based on heart rate zones. Even in ULP mode, a twist of the crown grants you instant access to essential metrics.
However, it's worth noting that while the TicWatch Pro 5 is a marathoner among smartwatches, it doesn't quite match the stamina of dedicated fitness trackers and specialized sports watches that can run for weeks. Still, within the realm of multi-functional smartwatches, the TicWatch Pro 5 is undeniably a battery behemoth.
Is TicWatch Pro 5 worth it?
Mobvoi has truly elevated its game with the TicWatch Pro 5, making it a tantalizing choice for Android users.
First off, its design is a masterstroke — a blend of rugged durability meeting military standards and contemporary aesthetics. The watch's OLED display further accentuates its appeal, rendering content vividly despite the screen's constraints.
Remember the battery issues with 2022's TicWatch Pro 3 Ultra? Those are a thing of the past. Coupled with Google's streamlined Wear OS, designed for touch and mechanical interactions, the TicWatch Pro 5 ensures you're powered up and navigating smoothly.
The Mobvoi app can be a maze to navigate, often overwhelming users. The absence of a virtual assistant and LTE makes it lean heavily on your phone, somewhat diminishing its standalone prowess.
Yet, if you're yearning for a break from the usual smartwatch brands associated with big phone manufacturers, the TicWatch Pro 5 beckons. In the world of Android-compatible wearables, it's undeniably a front-runner.
Pricing
India: ₹29,999
US: $349
UK: £329.99
Australia: AU$519.99
Positioned at a premium tier, the TicWatch Pro 5's price tag might initially give some pause, especially when compared to budget-friendly fitness trackers. However, put it side by side with its competitors like the Google Pixel Watch or the Galaxy Watch 5, it shines through as a potential value-for-money proposition.
Its price tag, hovering in the medium-high range, reflects its dual charm of a luxe design complemented by robust internals. Released on May 24, 2023, savvy shoppers might want to earmark this watch for potential markdowns during annual shopping extravaganzas like Black Friday.
In sum, if you're weighing functionality against cost, the TicWatch Pro 5 does strike a harmonious balance.
FAQs
What colors are the TicWatch Pro 5?
The TicWatch Pro 5 is available in the Obsidian color option. It's a sleek and versatile choice for those seeking a contemporary look.
Is the TicWatch Pro 5 waterproof?
The TicWatch Pro 5 boasts a 5ATM water resistance rating. This means it can confidently handle depths of up to 50 meters for a duration of 10 minutes. Thus, it offers a good level of protection against water exposure for users.
Which country brand is Mobvoi?
Mobvoi is a tech company based in China. They are known for their innovative smartwatches and AI technologies.